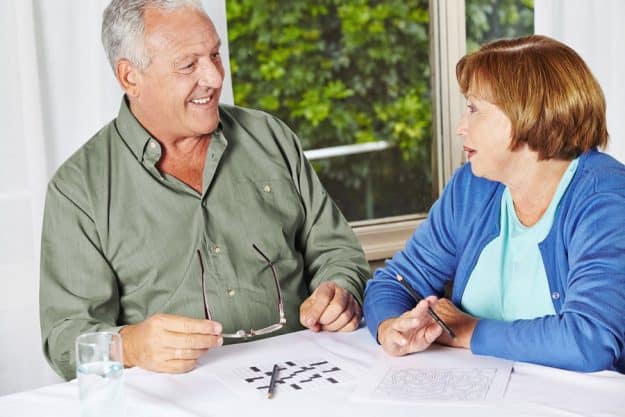 Common Dementia Risk Factors
We've all been there; that moment where you simply cannot remember why you walked into a room. Or, maybe you've misplaced your keys, glasses or forgotten where you parked your car. These momentary lapses of memory are often called "senior moments," and experts agree that they are perfectly normal. They aren't necessarily warning signs of dementia.
Our memories begin to diminish as we age for a variety of reasons. Our ability to form and retrieve memories decreases as the area of the brain known as the hippocampus deteriorates. Decrease in blood-flow to the brain can also affect memory and cognitive skills in seniors. Plus, some of the hormones that protect and repair brain cells also decline with age.
While certain dementia risk factors cannot be changed, like your family history, your genetic makeup, and your age itself, studies have shown promising results in regards to your lifestyle and preventing dementia. Several of these studies revealed that even making small adjustments to your daily life can not only slow down the progression of the disease, but can also reverse some of the cognitive decline that may already have occurred.
Preventing Dementia through Healthy Lifestyle Choices
While research for a cure for dementia continues, it's important to incorporate healthy habits that are known to be effective in preventing and delaying some of the symptoms. Plus, living a healthy lifestyle not only reduces the risk of cognitive decline, but also decreases the risk for the onset of other chronic conditions, like type 2 diabetes, heart disease, high blood pressure, osteoporosis, and more.
So, how can you fight dementia? Start by adding these healthy habits to your daily routine:
Keep your brain active. Set aside time every day to keep your brain active, as intellectual stimulation is also associated with a lower risk for dementia. Incorporate crossword puzzles, brain teasers or strategy games into your daily routine. Or, you can even try an activity as simple as memorizing shopping lists.
Enjoy a nutritious diet. A healthy diet not only also helps you maintain an ideal weight and reduces the risk for other chronic conditions, but it can help decrease the for cognitive decline. Eat meals consisting of fruits, vegetables, whole grains and little added fat or sugar.
Engage in regular physical activity. Regular exercise offers a variety of benefits to seniors' physical health, but studies also show that it may help protect the brain. As exercise gets the blood flowing, the number of small blood vessels that supply blood to the brain increase. Plus, exercise also helps stimulate the brain's ability to maintain connections and make new ones — both of which are vital in healthy cognition.
Maintain social connections. Maintaining a strong support network and continuing to build relationships in later years may help in preventing dementia. Humans thrive in social settings, so find activities that keep you involved in the world around you, like volunteering, joining a club, taking a senior fitness class, or even just scheduling weekly lunch dates with family or friends.
Manage your stress levels. Chronic stress leads to shrinkage in a key memory area of the brain, which hampers nerve growth. When you're suffering from high levels of stress, both your body and brain health can be negatively affected. Try some deep-breathing exercises and add time every day to indulge in activities you enjoy.
Get quality sleep. Many studies reveal a link between poor sleep and a higher level of beta-amyloids, the brain-clogging proteins that further interfere with sleep. Plus, deep sleep is necessary for the mind to recover, form memories, and flush out toxins. A common myth of aging is that seniors don't require as much sleep as their younger counterparts, but it's recommended to get seven to eight hours of sleep nightly. Create a relaxing bedtime routine, eliminating stimulating activities, caffeine and late afternoon naps to ensure you're sleeping as soundly as possible.
Quit those unhealthy habits. You can enjoy that glass of wine with dinner, but bad habits like excessive drinking or smoking can have the same negative effects on your mind as they do on your body. It's time to cut these habits out of your life as soon as possible.
An Enriching Lifestyle in Chelsea at Silver Maples
At Silver Maples Retirement Neighborhood, we believe life doesn't have to slow down as you get older! We offer countless life-enriching opportunities to keep your mind, body and soul as healthy and active as possible, all in a vibrant, beautiful setting which offers many comfortable senior living options. Contact us today to schedule your personal tour to see all that our beautiful community has to offer.