About Silver Maples Retirement Community
Silver Maples of Chelsea is a vibrant, non-profit Life Plan community, that excels at creating and supporting a positive aging experience. Founded in 1997, this trendy, upscale retirement neighborhood offers both independent living and licensed assisted living accommodations for those 62 years and older.
Silver Maples is known for its warm sense of community and family, which is fostered by positive, compassionate leadership and embraced by staff and residents alike. Through enriching experiences, residents develop meaningful relationships among friends, family, and the greater community. Silver Maples is committed to providing a healthy, secure, and supportive place for older adults to call home.
Silver Maples is a locally owned 501(c)(3) non-profit organization that is jointly sponsored by 5 Healthy Towns Foundation and Silver Maples, Inc.
Today, our retirement neighborhood offers 33 Independent Living Villas, 77 Independent Living Apartments and 58 Assisted Living Apartments all nestled on over 21 acres of serene land and woods. We're also just a few minutes away from Chelsea's downtown area and 15 minutes from Ann Arbor, giving you plenty of opportunities to enjoy the active lifestyle you enjoy.
Silver Maples Retirement Neighborhood is a vibrant community that excels at creating and supporting a positive aging experience. From fine dining and enriching activities to exciting group outings in Ann Arbor, there's never a dull moment at our retirement community.
Located just 15 miles west of Ann Arbor, Chelsea offers the casual pace and convenience of a small town with world-class entertainment, state-of-the-art health facilities, shopping, dining, festivals and educational programs for all ages.
The hallmark of Silver Maples has always been our sense of community and family, fostered by positive, compassionate leadership, which is embraced and carried out by all. You feel the warmth and vibrant energy the moment you walk in the door.
Diversity & Inclusion at Silver Maples
Silver Maples works to foster, cultivate and preserve a culture of diversity and inclusion. We embrace and encourage what makes each staff member and resident unique, regardless of age, gender, ethnicity, political affiliation, physical or mental ability, race, religion, sexual orientation, or socio-economic status.
The collective sum of the individual differences, life experiences, knowledge, self-expression, unique capabilities and talent that our employees and residents bring to Silver Maples is a significant part of not only our culture, but our reputation and company's achievement as well.
Embracing and encouraging our differences and learning from each other's background and experiences makes our community whole.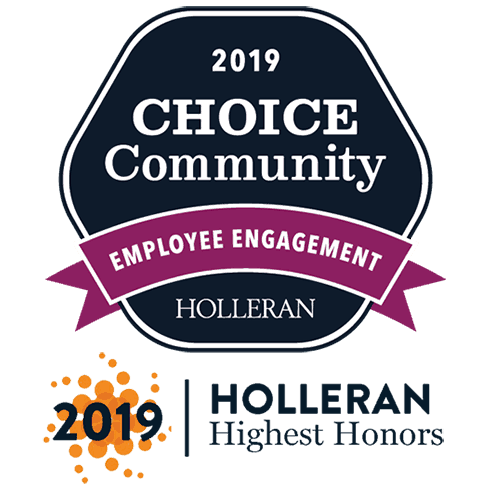 2019 Excellence Award & Highest Honors
Employee Engagement
Get more information about senior living near you