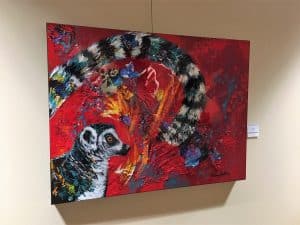 In July/August, Gallery 100 at Silver Maples features "From Lens to Canvas" an exhibition by photographer John Zink and painter Lindsey Dahl.
Local photographer John Zink, using a Nikon D750 and D500 specializes in nature and animal photography. While John's work represents animals and nature as they are, painter Lindsey Dahl is known for her incredibly bold, colorful representations of animals and nature scenes.
Their two styles and mediums complement each other to bring nature indoors for a whimsical, engaging show, including a few collaborative pieces. All pieces in the show are for sale.
Additional showcase details can be found on our Facebook page which makes it easy to share with friends and family.
Gallery 100 is located at 100 Silver Maples Drive and is open to the public Monday-Friday 8:30am-5pm, Saturday/Sunday 10am-5pm.