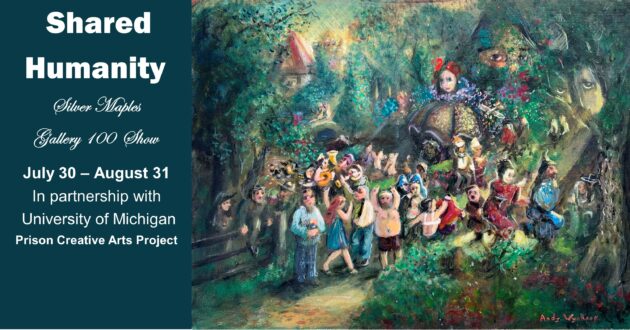 Silver Maples has partnered with the University of Michigan's Prison Creative Arts Project for this Gallery 100 show. View art from the PCAP's private collection. The artwork is for sale and will be on display from July 30 through August 31.
According to the Curator and Arts Programming Coordinator of PCAP, Sarah Unrath, "the exhibition is designed to connect the viewer to the artist through the wide gamut of their human experiences. Our hope is to challenge the lens through which the exhibit audience looks at people in prison."
There is a special artist storytelling event that will take place at Silver Maples on Saturday, August 6 from 2:00pm-3:00pm in the Maples Room. In this hour, we look into the lives of artists who created work in prison. Hear first-hand about their lived experiences and the impact art-making had on their time behind the walls. Hosted by the Prison Creative Arts Project. Admission is free and open to the public.
Silver Maples Gallery 100 is open Monday-Friday 10:00am-5:00pm and Saturday-Sunday 10:00am-3:00pm.