The Benefits of Social Activities for Seniors
You already know that staying physically active in your autumn years offers a variety of health benefits, like lessening chronic pain, delaying and preventing certain diseases, and helping you recover faster from an illness or injury. And, while exercise is extremely important for a high quality of life, the connections you make with others and the relationships you continue to build also have a major impact on your overall wellness.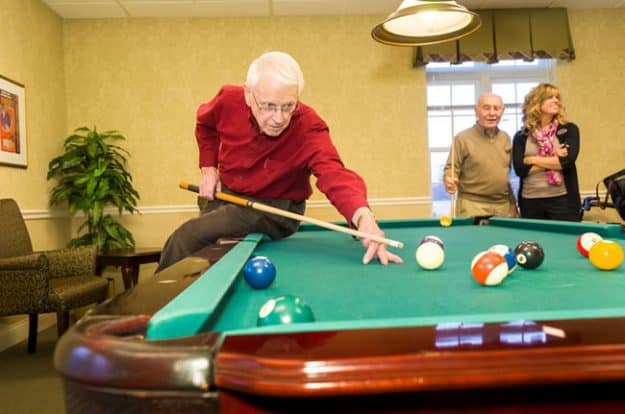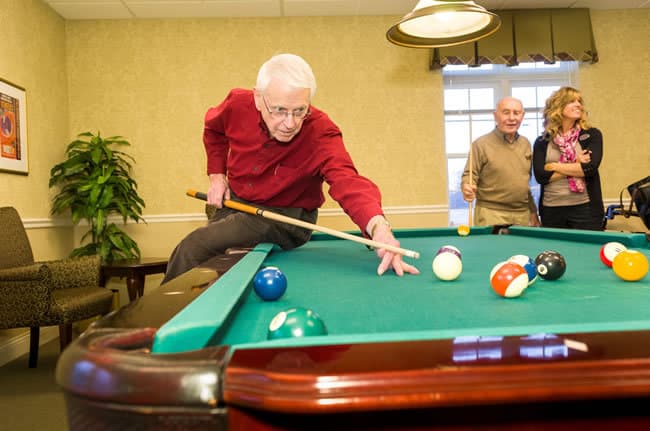 Studies show that seniors who stay socially active and engaged experience a variety of benefits, including:
Better cognitive function. Social activities keep us sharp and mentally engaged, and this is important to prevent the onset of dementia or Alzheimer's disease.
Maintaining good emotional health. Connecting with others helps keep you in a positive mood, which in turn wards off depression.
Improving physical health. Socially active seniors tend to be more physically active, too. Plus, you tend to eat more and make better food choices when you eat with others.
Boosted immune system. Studies show that seniors who stay engaged with others, and life around them, have higher levels of immune-system functioning.
Enjoying restful sleep. If you have difficulty sleeping at night, it could be that you're feeling isolated and lonely. Research shows that people who have more fulfilling relationships in their lives tend to sleep better than those who don't.
Increased longevity. Live a longer, happier life by keeping your social circle strong. Friends and loved ones help you deal with life's daily stresses, and are often key to encouraging you to live a healthier lifestyle, too.
Activities to Keep You Engaged and Socially Active
In addition to the health benefits above, staying connected with others helps give you a sense of purpose and a true sense of belonging. What are some ways to get involved with your peers? Here are just a few suggestions:
Join a club or group. Think about activities that interest you. Do you like gardening? Golfing? Reading? Meeting up with others on a regular basis is a great way to meet new people and enjoy experiences with those who share your interests.
Become a volunteer. Volunteering within your local community provides a sense of accomplishment and purpose that can't be denied. Many hospitals, schools, community centers and animal shelters are always looking for reliable volunteers of all ages.
Enjoy lifelong learning opportunities. Many colleges or adult education centers provide classes designed specifically for seniors where you can continue to learn new things and expand your mind.
Join a senior fitness center. If a regular gym seems too intimidating, consider trying out a fitness center specifically for the older generation. You'll meet other active seniors who are looking to stay healthy and physically fit.
Reach out to family. When you've got free time, offer to babysit grandkids or take a loved one out to lunch. These are great ways to maintain those familial relationships and stay involved in the lives of those who mean the most to you.
Try out new technology. Don't be leery of those computers and tablets! They provide the perfect way for you to connect via social media, email or Skype with friends or family who don't live nearby.
Pick up a part-time job. Going back to work is another great way to keep your mind stimulated and engaged. Plus, as a bonus, you'll make a little extra spending money to tuck away for a rainy day.
Make New Friends and Try Something New at Silver Maples
At Silver Maples, we recognize that the benefits of staying socially active, connected and engaged will last far into the future for our residents. When you move to our retirement neighborhood, you'll enjoy choosing from a wide variety of life enrichment programs, events and outings, beautiful common areas to catch up with friends, and access to health and wellness programs all designed to keep you happy and thriving.
Take it from residents, Dick and Ginny, who say "At Silver Maples, we felt welcomed and part of the community right at the outset. There's such a breadth and depth of things to do, whether it's going to the theater, attending continuing ed classes, enjoying a live concert, going to Happy Hour, or just having coffee with friends. Our social circle has greatly expanded. We've made so many good friends here; and it's not just couples, it's individuals too. There's just so many neat people here to connect with."
We welcome you to come experience Silver Maples Retirement Neighborhood for yourself. We believe that meeting new friends and discovering new interests is truly what life is all about. Contact us today to schedule your personal tour.