Chelsea's Vibrant Art Scene
Chelsea is a small, charming city situated just 15 minutes west of Ann Arbor, Michigan. Officially founded in 1850 by the Congdon brothers, Chelsea boasts historic architecture both downtown and in nearby residential areas which adds to its appeal. In fact, the downtown business district was recently included on the National Register of Historic Places.
The Chelsea community is close-knit, offering that small-town American feel with its beautiful Victorian neighborhoods and historical Main Street buildings. Many local artists live and work within the city which speaks volumes. And, with the city's many options for dining, shopping, entertainment, and vibrant arts and culture, residents can always find inspiring, interesting ways to pass the time.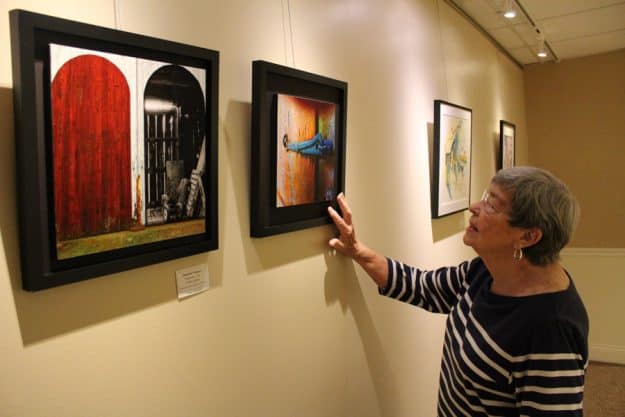 Top Chelsea Attractions for Arts and Culture
Chelsea is particularly known for its thriving art scene, offering a variety of yearly art fairs and festivals. Plus, there are local art galleries, theater performances, and musical arts that add to the city's culture. The following list is just a quick snapshot of some of the amazing Chelsea attractions for the arts:
Chelsea Art Fairs and Festivals
Chelsea Painters Art Fair: Every year, the Chelsea Painters Art Fair is held the first full weekend in June and attracts visitors from not just the local area, but Ohio and Indiana, too. It's known as the area's premier fine arts fair, featuring work from 25 highly accomplished artists. Now in its 44th year, the Art Fair will be held right here in the Courtyard at Silver Maples on June 3 and 4. For more information visit chelseapainters.com/blog/art-fair/chelsea-painters-art-fair.html
Chelsea Art Market: Held in historic downtown Chelsea, the Chelsea Art Market is a juried event limited to 50 local and regional arts and crafts people with exceptional talents. The event brings in over 15,000 visitors annually, featuring not only amazing art and craftwork, but also live music, delicious local food and beverages, and activities the entire family will enjoy. The Chelsea Art Market takes place on July 28 and 29 this year. For more information visit chelseafestivals.com/festival/artmarket
Sounds & Sights on Thursday Nights: Chelsea also boasts a weekly music festival, Sounds & Sights on Thursday Nights, which attracts visitors from all across Michigan. Performances take place outdoors at various spots throughout downtown Chelsea, Michigan from June 8th to August 17th from 6:30 – 8:30pm. Downtown is buzzing with live music on every street corner, featuring both well-known and new musicians and entertainers. The event features blues, folk, jazz, rock, comedy, and more. It's a fabulous event for groups of friends, couples, or even an outing with the grandkids!  The fun kicks off on June 8th from 6:30 – 8:30pm, and runs every Thursday evening until August 17th. For a complete list of this year's lineup, visit chelseafestivals.com/soundsights.
Sounds & Sights Festival: This annual summer event, which began over 30 years ago, is held in historic Chelsea, Michigan and is a highlight of summer, attracting visitors from all over the state. The two day, three-night event features a live music and social tent, indie art market, kids' entertainment and activities, a classic car show, and so much more! Visit chelseafestivals.com for more event details.
Harvest Art Market: This annual fall event began in 2008, and is held in the Maples Room at Silver Maples Retirement Neighborhood.  It's the best little art market west of Ann Arbor and east of Kalamazoo!  It features a fabulous "market mix" of great wares created by more than 25 wonderful artisans that are creating in so many types of media: vintage fare and folk art, glass and mosaics, watercolor, pottery, mixed media, funky and fashion jewelry, food art & edibles, fiber art, photography…and so much more!
Chelsea Art Galleries
Silver Maples' Gallery 100: The Gallery 100 at Silver Maples is a wonderful gallery for local artists to showcase their talents and works of art. Residents of Silver Maples and the surrounding community delight in seeing a diverse selection of art showcases ranging from watercolor, photography, stained glass, fiber arts and heritage quilts, to mixed media, unique dolls, and even vintage Hondas. It's managed by Lois DeLeon, a resident of Silver Maples since 2007, who is using her passion for art and experience in art curating to add to the unique amenities that are available at Silver Maples Retirement Neighborhood. Showcases turnover every two (2) months which means you'll want to visit often to check the new showcase!
Sculpture Walk in Chelsea: This year long community arts project features juried sculptures that are installed in 12 locations in downtown Chelsea. Guided tours are hosted by the River Gallery throughout the year, in conjunction with the Chelsea District Library.  All tours meet in the main lobby of the Chelsea District Library, and are free and open to the public. Brochures are available at the Chelsea District Library and Chelsea Area Chamber of Commerce if you decide to do a self-guided walking tour of the exhibit. chelseamich.com/sculpture-walk
Darwin's Studio: Darwin's has been recognized as "one of the premier stained glass artisans in the Midwest" by the Ann Arbor News. Located on Chelsea's west side, you'll find an enormous barn filled to the brim with beautiful stained glass doors, privacy screens, ceiling domes, lampshades, and more. darwinstudio.com
To learn more about art, music and events in Chelsea, visit Chelsea's community events website at ChelseaMich.com. There you will find the latest happenings from live music and theatre to author visits, farm tours, sculpture walks, and much more.
Performing Arts in Chelsea
Kaleidoscope Concert Series: This popular concert series began in 2009 and was made possible through a 3-year grant from the Chelsea Community Foundation and the Community Foundation of Southeast Michigan which stipulated that community support would be needed for subsequent years.  Thankfully many community members and businesses saw the value of the concert series and pledged support for additional years.  Concerts are held in the Maples Room at Silver Maples Retirement Neighborhood and run from September through April each year.  Musical performances vary from big band, folk, and swing, to light pop and jazz.
Sonic Sundays: Annually in January and February, the Chelsea District Library hosts this wonderful music series. These six (6) hour-long concerts take place on Sunday afternoons in various venues throughout Chelsea, including the Chelsea Library, Chelsea Alehouse, and Silver Maples Retirement Neighborhood. Half of the concerts are specifically targeted to appeal to a young audience, but all performances are family friendly. chelseadistrictlibrary.org/sonic-sundays
Purple Rose Theatre Company: Founded in 1991 by Chelsea native and acclaimed actor, Jeff Daniels, The Purple Rose Theatre Company has grown from works being performed in the humble "Garage Theatre," the used car and bus garage owned by Daniels' grandfather, to its major renovation in 2001. Audiences travel from as far as 90 miles away to enjoy the quality, professional productions offered at affordable prices in historic downtown Chelsea. For more information visit purplerosetheatre.org
Chelsea Chamber Players: This great organization provides live music concerts to the people of Chelsea and surrounding communities.  Additionally, they enjoy coordinating educational experiences for the various communities through workshops in schools and summer music camp opportunities.  For more information visit chelseachamberplayers.com
Art in Surrounding Communities
While Chelsea certainly offers many opportunities to enjoy various forms of art, there are several surrounding communities who offer fabulous festivals, fairs, exhibits and musical performances.
Ann Arbor Art Fair: Located just minutes from Chelsea, the Ann Arbor Art Fair draws over 500,000 attendees from across the country. There are actually four fairs going on at the same time:
The Ann Arbor Street Art Fair
The State Street Area Art Fair
The Ann Arbor Summer Art Fair
Ann Arbor's South University Art Fair
Head to Ann Arbor from July 20-23 to find that next amazing piece for your home, or to simply find some inspiration while viewing the latest unique arts and crafts.  For more information visit visitannarbor.org/artfair
University of Michigan Museum of Art: You can spend an entire day at UMMA  just wandering through all the amazing exhibitions, or take part in a free guided tour. While you're on the campus there in Ann Arbor, you can also check out the new Stamps Gallery, which just opened in February by U of M's Stamps School of Art and Design in the McKinley Town Center. For more information visit umma.umich.edu
University of Michigan Musical Society: Housed on the campus of the University of Michigan in Ann Arbor, UMS is one of the oldest performing arts presenters in the country. In 2014, UMS was awarded the National Medal of Arts, the nation's highest public artistic honor, by President Obama. Over 60 performances of music, dance, and theater are held every year, plus over 100 free educational activities every season. For more information visit ums.org
The Ark in Ann Arbor: The Ark is renowned for folk and roots music, featuring performers that are just entering the scene or classic figures from the genre. The intimate, 400-seat club hosts over 300 performances every year.  For more information visit theark.org
Wharton Center for Performing Arts: Located just about an hour north of Chelsea in East Lansing on the campus of Michigan State University, the Wharton Center offers a wide variety of high quality performing arts and events. From musical performances by top artists to lectures and Broadway plays, the Wharton Center offers something for everyone throughout the entire year. For more information visit www.whartoncenter.com
The Art Scene is Alive and Well at Silver Maples
Residents enjoy a lifestyle rich in arts and culture at Silver Maples Retirement Neighborhood.  Individuals enjoy strolling through our on-site Gallery 100 and attending the annual Harvest Art Market, and delight in the various musical performance  that are available through our Kaleidoscope Concert Series. Cultural happenings on campus or in surrounding communities, like Ann Arbor and beyond, are a major part of our community and the lifestyle that is enjoyed. If the arts has always been a part of your life or even a new passion, you'll want to stop by and see all that is available for you at Silver Maples.
Contact us today to schedule your personal tour and explore all that our beautiful retirement neighborhood has to offer.