To stay healthy and pain-free as you age, it's common for older adults to be prescribed a variety of different medications that can improve your quality of life. In fact, many of these medications allow you to live a longer, more independent lifestyle by managing various chronic conditions. However, when you combine your prescription medications with over-the-counter drugs like aspirin or antacids, and then add in supplements for essential vitamins, medication safety becomes of utmost importance to ensure you don't experience negative side effects.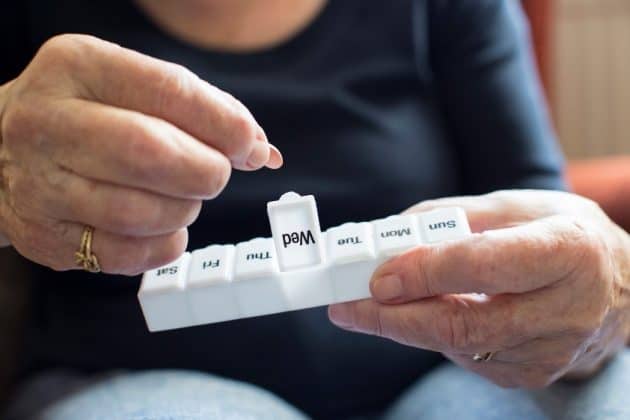 Polypharmacy and Seniors
It's estimated that the average adult over the age of 65 takes anywhere from two to seven different prescription medications daily. This has been coined polypharmacy, and it's a growing concern among the senior population due to the dangerous effects taking so many different drugs at once can have. Various medications can conflict against each other, possibly damaging different systems and organs within the body.
Polypharmacy becomes dangerous when different doctors prescribe medications that can counteract each other, especially when they aren't aware of the medications others have already prescribed. Or, maybe you use different pharmacies to fill various prescriptions, or even fill them online for the sake of convenience. It's vital that you are as educated as you can be about the side effects and interactions of any meds you're currently taking to avoid a potentially life-threatening situation.
Medication Management Tips to Keep You Safe
If you're taking a variety of prescribed and over-the-counter medications at once, it's common to experience some issues. For instance, remembering the exact time of the day you should be taking certain pills, or which need to be taken with food or on an empty stomach. Additionally, older adults metabolize medications differently. If you aren't taking your meds exactly as prescribed, you could be risking your health.
To avoid negative side effects and consequences of polypharmacy, here are a few medication management tips to keep in mind:
Create a list of your medications. Write down all your medications, both prescription and over-the-counter, that you take daily. Think of this list as a master document of your meds, including information like what the medication is for, the time of day each drug should be taken, the dosage and any special instructions, like taking with a meal or a full glass of water.
Review the list with your physician regularly. Every time you visit your primary care physician, plan on bringing the medication list along with you. This way, your doctor will be aware of all medications you're currently taking and can review them with you. You'll be able to stay abreast of potential hazards, like inappropriate dosages or possible dangerous interactions. Make notes about any new or additional instructions regarding your current prescriptions. If you're prescribed any new medications, make sure you fully understand why each was prescribed.
Use the same pharmacy when ordering all prescriptions. When you utilize the same pharmacy for all your medications, the pharmacist can better monitor medications and help eliminate possible side effects. Plus, he or she can stay on top of any adverse reactions you may have to new drugs.
Stay on top of ordering refills. Do you find yourself waiting until you're down to your last few pills before ordering refills? It's important to keep in mind that often, even just skipping one dose can cause issues in your treatment program. Instead, make sure you're refilling prescriptions at least a week in advance to avoid running out completely.
Set medication reminders. Setting reminders to take your medications on a smartphone or special alarm clock will ensure you're not accidentally skipping dosages. Also, if you miss a medication, do you know what to do? Do you wait and take it at the next scheduled time, or should it be taken as soon as it's remembered? Make notes about this on your master list, and if you aren't sure, consult your doctor or pharmacist.
Correctly store your medications. First, remember to keep medications out of reach of both children and pets. Secondly, it's important to read the labels carefully to ensure medications are being stored in the right place. For instance, while many people store medications in their bathrooms, this might not be the best place, as the bathroom can be warm and damp, causing drugs to break down faster. Plus, some medications may need to be stored in the refrigerator.
Enjoy a Vibrant Lifestyle at Silver Maples of Chelsea
At Silver Maples Retirement Neighborhood, we offer a variety of senior living options designed to fit your needs, now and in the future. With a warm, compassionate staff who become your family and the engaging lifestyle you'll lead, you'll probably wonder why you didn't make the move sooner.
We invite you to stop by so you can experience first-hand what makes our senior living neighborhood so unique. Not ready to come for a visit – that's ok.  We invite you to read some of the personal stories and testimonials shared by residents, their families and our staff or check us out on social media to get a peek at daily life at Silver Maples. We're eager to discuss options when you're ready, so contact us when you would like to chat and learn more.