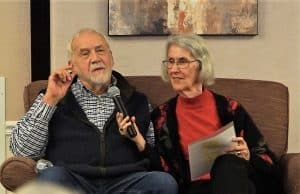 Today is "National Write Your Story Day" – a day encouraging all of us to put pen to paper, or fingers to keyboard, to share a story. Everyone has a story to share, but unfortunately many times we discover those stories when we attend funerals and memorial services.
Barbara Brown Zikmund, (often called "BBZ") has been an active and involved Silver Maples resident for five years.  As she attended the funerals and memorial services of residents and heard their stories posthumously, she has yearned to know more about her neighbors.
"I felt cheated," Barbara explains, "because I was missing wonderful conversations with the people who make this place so special. Residents eat together and share many experiences, but many of us know little about people's lives before they moved to Silver Maples."
After viewing an interview of a Silver Maples resident on a local television show, Barbara set out to develop a program to expand and enrich the community.  Once a month she interviews someone in an informal manner to tell their story.  The whole community is invited to "listen in."  She calls it "Silver Maples is People."
These once a month sessions are not performances or "show and tell presentations."  They are conversations. There are no videos, no bright lights.  She meets with those being interviewed, and together they decide what they want to share.  There are no embarrassments or surprises.  People explain where they grew up; they tell stories about their family, their jobs, their successes and even their failures. We hear family jokes and we laugh together.
The conversations are natural, engaging, and seemingly effortless. That is all due to the hours Barbara spends with that month's featured resident prior to the official interview, chatting over tea, loosely mapping out their life story, and making note of particular milestones and moments that might be shared.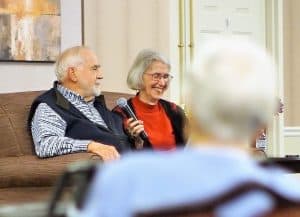 "Silver Maples Is People" occurs monthly and typically draws over 100 neighbors and friends who are interested in learning more about the featured resident.
Barbara is always encouraging people to suggest names for future sessions.  She says that she has made many friends, and insists that Silver Maples is a better place to live because we share stories.
When people ask, "What makes Silver Maples so unique?" we believe that it's the people—the residents and the staff.  There is a feeling the moment you walk through the door that has nothing to do with the building architecture, beautifully landscaped grounds or even the amazing services; it's the people who live and work here and the connections among them.
These connections are enhanced by Barbara's second Friday monthly interviews that typically draw over 100 neighbors and friends. You can hear a warm chuckle from the audience when BBZ starts the interview by saying, "this is just a conversation between you and me, with about 100 of your friends "listening in." "Silver Maples is People" is consistently the best-attended program at Silver Maples.
In honor of National Write Down Your Story Day, consider sharing your personal story.  Recounting the moment when a spark of inspiration occurred that changed the course of your life, or reflecting on the decisions you made (both good and bad) that led you to where you are today. Stories are more intriguing than we realize. So remember a moment, write it down and share it.  That is a gift that is worth more than you know, especially to your family and close friends.