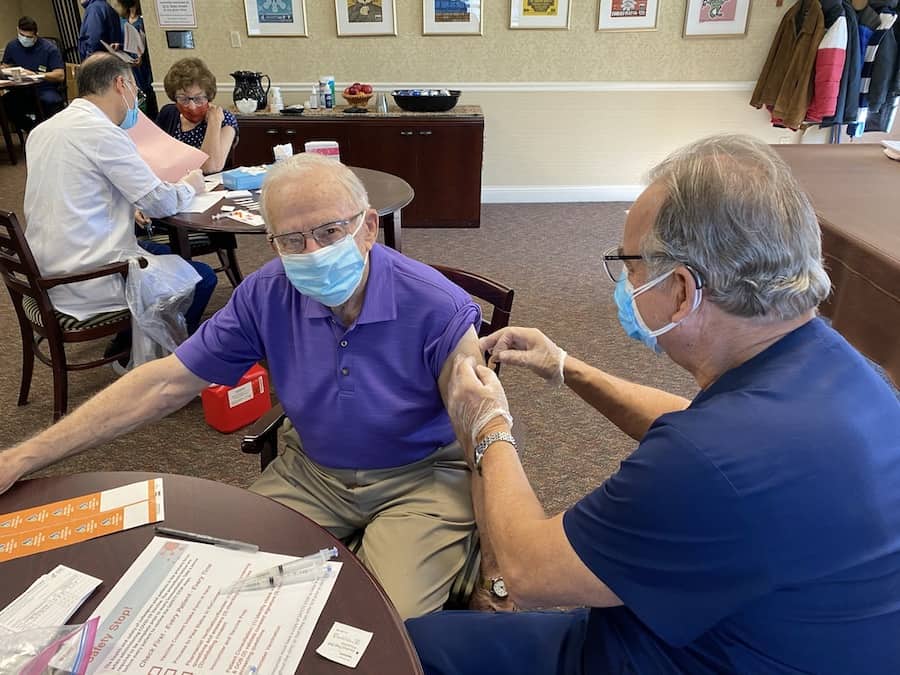 Silver Maples Residents and Staff Enjoy Safe and Convenient On-Site COVID-19 Vaccination Clinics
Here at Silver Maples of Chelsea, we're starting to see the light at the end of the tunnel of our long COVID-19 journey. It's been nearly a year since we had to shut our doors to visitors, completely change the dining and programming processes, and focus entirely on keeping our residents safe. The efforts—mirroring the changes and sacrifices we all have made to weather this pandemic—are certainly paying off, as there has not been a single resident diagnosed with COVID-19. 
As many in the 65+ age group struggle to find opportunities to receive vaccines, Silver Maples residents and staff were fortunate to have access to in-house clinics operated by CVS Pharmacy. Each vaccine clinic offered brought a day of excitement and hope. And that hope stretched beyond Silver Maples staff, residents, and families. Our on-site vaccine clinics were meticulously coordinated to be safe, efficient and fun. Residents and staff who were vaccinated were offered an "I Got The Shot" Silver Maples button to commemorate the day and an individually wrapped anti-COVID cookie for the road. During the 12-minute post-shot observation, attendees also had the opportunity to pose with our "We're in this Together" photo frame and share why they chose to get the vaccine.  Shirley Lancaster, who has lived at Silver Maples five years along with her husband Tom, appreciated the convenience of having the on-site clinic. "[hosting the clinic] was a great idea. It went as smoothly as it could go; there were no hitches!" 
At this point, more than 200 residents and staff have received at least one dose of the Moderna vaccine, including 100% of our Meadows Assisted Living residents, who, more than two-weeks out from their second dose, have reached peak immunity. Sara Smith, who has been a Resident Care Associate in the Meadows for nearly 7 years was so inspired by the Meadows Residents being 100% vaccinated, she shared "our residents were willing to protect me, so I was vaccinated to protect them too!" 
"With our entire Assisted Living Resident population receiving both vaccines, we feel a sense of relief and hope as we continue to weather the pandemic" said Connie Napier, Director of the Meadows Assisted Living.
Though mask-wearing and social distancing will continue to be a part of our lives for a while, as more of our residents and staff continue to receive vaccinations, life starts taking steps toward "normal." With restaurants re-opening, albeit with limited capacity, residents are once again able to dine together and make connections with neighbors and friends. 
The quest of "shots in arms" is important, and a key step is ensuring that no dose is wasted. Silver Maples maintained a standby list of eligible community members, and at the end of the clinic day, 19 others were able to receive their vaccines, and will be returning to get their second dose when the final in-house clinic is offered in early March.
"Organizing on-site Vaccination Clinics with CVS offered our residents the comfort of staying indoors, while the CVS staff brought in all of the needed supplies," said Silver Maples Director and CEO Julie Deppner. "The staff, residents and community members who were able to participate in these onsite clinics feel so incredibly fortunate for this life-saving opportunity."
Visit the Silver Maples Facebook page to see photos from our on-site COVID-19 Vaccination Clinics.