Driving is a symbol of independence, freedom and control. It's a rite of passage as we enter our high school years, and an area we hold tightly to as we pass into our autumn years. As we age, we're increasingly aware of physical and cognitive changes that affect our driving skills and make common actions, like turning our head to check for oncoming traffic or our reaction time when braking, more challenging. When operating a motor vehicle, it's essential we understand the rules of the road, but it's equally important that we're still able to physically respond to traffic hazards.
In this post, we'll share advice from AAA and other reliable sources that can help you safely stay behind the wheel for many miles to come. We'll also explore just how liberating it can be to give up those keys in favor of alternative transportation options that make getting around easier, convenient, and more fun than you might have thought!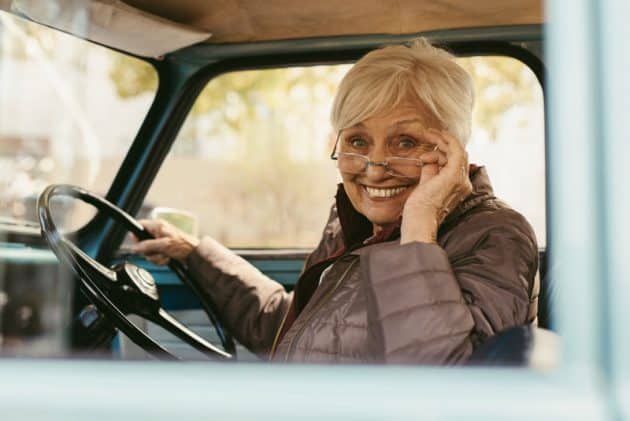 Safe Driving for Seniors: 3 Road-Ready Tips
Whether we like it or not, our driving abilities change as we age. Here are a few tips to consider as you hit the road to ensure your safety and the safety of others when driving.
Give Yourself and Your Vehicle a Check Up
Organizations like AAA offer easy-to-use self-assessments that can help you objectively measure your current driving abilities. Check-ups like these can go a long way in determining what – if any – additional precautions you should be taking out there on the open road. While you're at it, now is a great time to get your vehicle into a repair shop you trust. They can help you identify any potential problems that could affect how your car performs in those critical moments.
Silence That Cell Phone
Distracted driving is a leading cause of automobile-related accidents and injuries regardless of your age. Before you hit the open road, we recommend you put your phone on silent or to activate "Do Not Disturb" mode. GPS navigation systems are an easy way to get to your destination, just be sure to enter your destination before you begin driving, and never fiddle with the settings while you're moving. If you need to make adjustments, find a safe place to pull over and put the vehicle in park.
Understand Your Limitations and Make Adjustments
Aging often introduces physical limitations that may affect your ability to safely and comfortably operate a vehicle. If vision is a problem, avoid driving at night or in low-visibility conditions like rain and snow. Or, if the range of motion in your arms, neck or legs is a factor, try adjusting your seat and your mirrors to find a more natural position. It may be a good excuse to purchase a newer vehicle that can better meet your needs. Newer vehicle models often include convenience and safety features seniors love such as push-button start, larger digital speedometer and displays, parking aides, blind spot and lane departure alerts, adaptive cruise control, and so much more.
Hang Up the Keys, Not Your Independence
At Silver Maples, we understand that driving is about more than getting from point A to point B. It's about your independence which is an area we look to help you maintain as long as possible. If, however, you're noticing changes that are affecting your ability to drive safely, take the initiative to explore what life after driving can look like. Fortunately, we live in an age where multiple alternative transportation solutions such as cabs, bus services and ride-sharing options like Uber and Lyft are available (depending where you live). Hanging up the keys doesn't have to be the end of the road; it can be an interesting beginning and a way to connect and provide purpose to a family member or friend who is eager to help out. Plus, it's always best and quite liberating if you make the decision for yourself vs. waiting to be told it's time to hang up those keys. Still not convinced? Take it from a lady who made the decision to give up her keys several years ago and has never looked back.
Lois DeLeon joined our vibrant retirement neighborhood nearly 12 years ago; while she initially brought her car when she made the move, she found that it sat unused due to the transportation options she found available in the community. "There is life after driving," says Lois. "You're not giving up your independence when you give up the keys, you're giving up a form of convenience – these are two very different things. If you run out of dish soap you can't just jump in your car to get more, you have to plan ahead. I've done very well without driving, and I'm just as independent as ever."
That's because Lois has access to free local transportation – including personal appointments – as part of the services and amenities offered to residents of Silver Maples. When the rubber meets the road, there really is no reason to fear retiring those keys once and for all. Making the decision yourself can be liberating and sends a positive message to your family and friends that your safety and the safety of others is important to you. Change is what life is all about, don't be afraid to explore alternative methods to maintain your independence.
Learn More About Silver Maples of Chelsea
At Silver Maples we're passionate about providing a safe and vibrant environment that allows you to maintain the independence you appreciate, while receiving compassionate support when you need it.
Still exploring your retirement living options and not quite ready for a visit? Get to know us from afar by visiting our website. There you'll find informative videos, personal stories, and testimonials from residents, their families, and our staff. You can even request more information to receive our brochure packet full of great information. Or, feel free to connect with us through social media to get a peek at daily life at Silver Maples. Contact us when you're ready to learn more, we're eager to discuss options and help you enjoy a lifestyle and support system you and your family will love.