Silver Maples will host an unveiling reception for the Ann Arbor Fiberarts Guild exhibit in the Gallery 100 on Sunday, June 26, from 3:30 to 5 p.m.  "Circles of Life," a collaborative piece designed and executed by six members of the Fiberarts Guild and several residents of Silver Maples, will be presented to Silver Maples to become part of their permanent collection.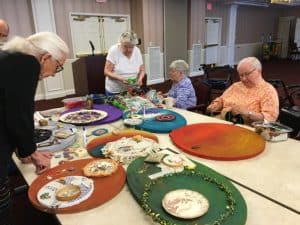 "Circles of Life" was conceived as a cooperative effort between the Fiberarts Guild and Silver Maples to engage residents and members in a joint venture.  Fiberarts Guild members brought materials, and residents offered personal treasures, which together have formed a wall hanging approximately 4′ by 6′.
Lois deLeon, resident coordinator for Gallery 100, said she's thrilled to be a part of the project as offers more in the end than a piece of art.
"One of the things that's so special about this exhibition is how it continues and strengthens the connections between Silver Maples and the AAFG"
That being said, she's looking forward to seeing the finished piece installed.
"Our initial idea was one of 'interesting things," but moved to "Circles of Life" after a brainstorming meeting with the Guild artists.
In fact, it was deLeon's suggestion of the seven stages of man, from Shakespeare's "As You Like It," that helped focus the project, said Helen Welford, AAFG member and deLeon's primary contact with the organization.
Before too long, retired Wayne State University professor and artist Urban Jupena joined the discussion and project.  Both artists worked closely with other Guild artists and Silver Maples residents.
The personal treasures incorporated into the installation include a "key to the city," earrings from Venice, a key from an old Silver Maples bus, a letter from a former elementary student to their now retired teacher, and so much more.  Silver Maples residents have created many of the mini pieces that are featured in the circles of life: Growth, Engagement, Hope, Joy, Travel, Life, Content, Garden.
The  unveiling will take place during a wine and cheese reception at Silver Maples, 100 Silver Maples Dr., Chelsea, MI.  For more info, visit www.silvermaples.org