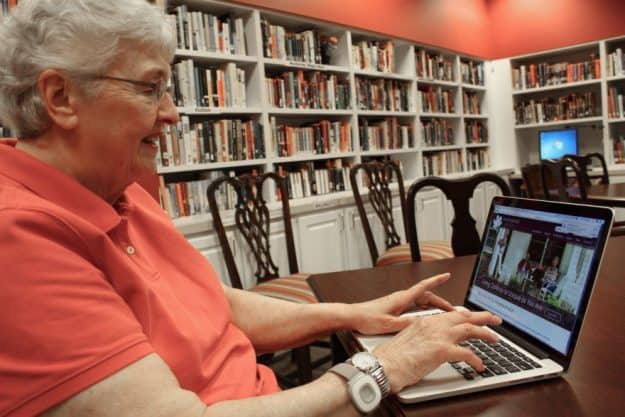 According to recent information from Pew Research Center, older Americans who regularly use the internet feel technology has played a positive role in their everyday lives. Although seniors are notoriously late to adopting and embracing new forms of technology, seniors today are staying connected digitally more than ever before.
Seniors and Technology: Embracing Tech for an Engaging Lifestyle
In fact, it's reported that seniors who utilize technology stay better engaged in the world around them. They have more options for staying in touch with their friends and loved ones, and they play a more active role in their communities. The internet has truly opened doors for older adults.
The Benefits of Technology for Seniors
Technology is becoming more integral to seniors' daily lives with each passing day, helping them live longer, healthier and safer. Some of the ways technology benefits seniors include:
Opportunities for social engagement. 34 percent of Americans age 65 and older use social networking sites like Facebook and Twitter, a number that continues to increase each year. Social media, email and applications like Skype provide great ways for seniors to stay connected with friends and family all over the world, a great benefit to those who may have once been geographically isolated from loved ones.
Improved mental health. Technology for seniors also helps improve cognition and memory through a variety of online "brain games." These games not only improve mental health, but they're fun, too! Plus, some games can even be played with others online, providing another opportunity for social interaction.
Community involvement. There is an abundance of online community groups offering a way for seniors to meet others who share similar interests. You can join online groups to discuss your favorite books, movies, television shows, hobbies, crafting ideas, and more. Plus, you can share experiences with others who may be dealing with the same health conditions you might be encountering yourself to gain helpful information or support.
Access to immediate coverage of news and events. Another great benefit of technology for seniors is the fact that you have immediate access to all the latest news stories and current events. Of course, plenty of older adults still enjoy reading their morning paper with a cup of coffee or winding down in the evening to the nightly news, but online news tends to offer more timely coverage of the latest happenings around the world.
Provides peace of mind in case of emergency situations. Should an emergency arise, technology is there to keep you safe. For instance, wireless monitoring devices, surveillance cameras, and door or window alarms can provide peace of mind that you're safe and secure in your home, with help just the push of a button away.
Technology Enhances Life at Silver Maples
At Silver Maples, we love sharing the conveniences and fun engagement that technology can provide. Residents enjoy our various "How To" classes which highlight Facebook, Instagram and Shutterfly, and they love getting familiar with our personal website and convenient features it offers in conducting everyday tasks. While many of our residents have their own computers, we do provide computers for public use in our easily accessible, cozy library. For those who might need a little guidance, we offer personal computer assistance through our life enrichment programs.
Residents at Silver Maples enjoy countless opportunities to keep their mind, body and soul as healthy and active as possible. Are you looking for an engaging place to enjoy life? Contact us today to schedule your personal tour and see the various senior living options and services our retirement neighborhood has to offer.