Dining Options at Silver Maples
Dining at Silver Maples is remarkable – there's no other way to say it.  The quality and variety of choices our residents enjoy exceed all expectations.  Residents and their guests may choose from restaurant-style formal dining, or choose to eat in our Bistro 100 or Courtyard Café for a more contemporary setting.  In all venues culinary wellness, made from scratch with fresh ingredients is what you'll enjoy, where special diets don't upset us. And, did we mention how great the desserts taste?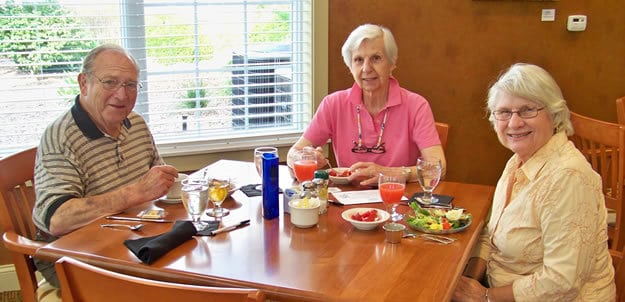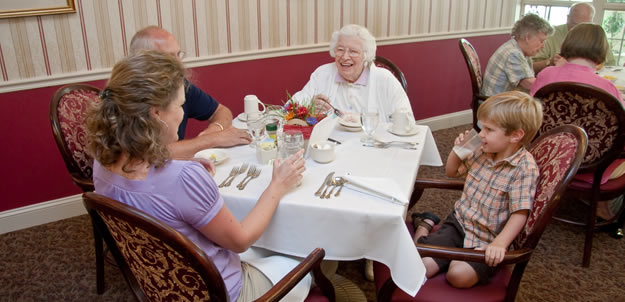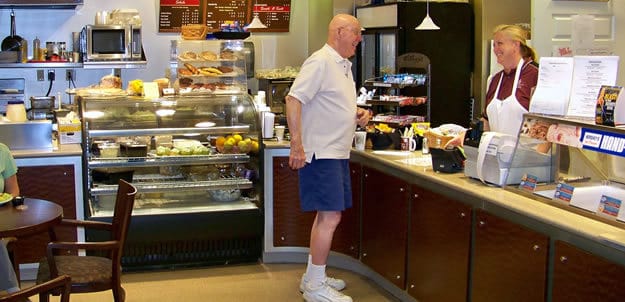 Restaurant-style Dining
The Trellis Dining Room is an elegant and delightful affair, serving Independent Living residents in a peaceful atmosphere. The Arbor Room offers assisted living residents a comparable dining experience. Both settings feature easy to read menus which offer multiple entree options at each meal. Well trained staff and deliciously prepared food make every meal an enjoyable experience.
When dining at Silver Maples of Chelsea, residents can be sure that they are receiving top quality cuisine. Trained chefs assure that food is properly prepared and served in an attractive and timely manner. The chefs are always accommodating to different health and diet concerns and strive to make sure all needs are met, with the aid of a licensed dietician.
The dining staff makes every holiday a special event here at Silver Maples. Many holidays feature a magnificent brunch for the residents and their guests. Summer holidays are celebrated with festive barbecues in our beautiful courtyard. Our chefs also offer themed meals throughout the year, including musical accompaniment, in collaboration with our activities staff.
Private Dining
The Silver Maples private dining room is also available for those quaint get-togethers with family and friends. This is a perfect place to hold private birthday parties, family meetings or other celebrations. There is no fee for the room; you simply need to reserve the space in advance. The private dining room can comfortably seat 8-10 people.
Casual Dining
The Courtyard Café serves our residents in a casual venue. Whether you are looking for a quick bite to eat, an impromptu get-together with family and friends, or to read the morning paper, the Café is the perfect place!
Breakfast features made-to-order omelets, fresh fruit, muffins and an assortment of pastries. Gourmet coffees and teas are brewed all day long. At lunchtime, treat yourself to one of our daily specials such as a grilled sandwich, custom-made deli sandwich, soups and an assortment of pastas and salads. The cafe also offers soft drinks, snacks and hand-dipped ice cream…a popular treat with residents, staff and especially young visiting guests. Dine in or carry out! Open to the public Monday through Friday from 8am to 3pm and Saturday/ Sunday from 10am to 2pm.
The Bistro 100 offers a warm, casual and comfortable dining experience featuring delicious grilled meats and seafood with fresh salads made daily. Prepared individually to order, the menu highlights some of the fresh seasonal fruits and vegetables grown locally.
See our Residents page to take a peek at our dining room and cafe menus.