Welcome to Our Senior Living Community
Silver Maples Retirement Neighborhood in Chelsea, MI is located on 21 wooded acres just 15 minutes from Ann Arbor, and is a place you can truly call home. We offer independent senior living and assisted living options for individuals and couples alike. We invite you to explore our unique comfortably sized and carefully planned senior living community and experience all the warmth, friendship, and passion for life Silver Maples has to offer. You truly feel the difference when you walk in our front door
What a great community to see mom enjoy her life without having to worry.
It has been almost a month since my mom passed. She lived both in the independent living apartments and assisted living apartments at Silver Maples. We were very happy that my mom could be close to us in Chelsea and part of such a wonderful community. I miss my mom and I miss Silver Maples. Each time I drive to town I think of stopping at Silver Maples. Then I remind myself, no mom is not there anymore. The sense of loss goes beyond mom to the loss of a whole community of people that would greet us, tell us how much they loved my mom and her dog, and who supported us in the care of our mother. We (our family, staff and residents of Silver Maples) shared many times of happiness including when she won first prize for her Halloween costume (She looked forward to Halloween every year.) and sadness knowing she was near end of life. Thanks Silver Maples. Each time I drive by I will be thinking....I wonder how everyone is doing! Take care.
This facility provides many opportunities for residents to interact with each other and with the community, helping to keep them alert, active, and involved while enjoying music and other pastimes that they have participated in for a lifetime.
We recently moved my grandfather into Silver Maples. The staff has been such a blessing to us during a very crazy transitional time. Everyone has been cheerful and willing to accommodate our requests. And both staff and residents alike have been kind to my kids (who are admittedly a little too excited to be on their best behavior regarding "walking feet" only in the halls). We are really grateful for the wonderful experience so far.
A fantastic place with vibrant community. Loving individuals who support each other. So many activities, and continued learning opportunities with engaged, intellectually active residents. I am so happy my mom lives here.
Everyone I know who lives there loves it. We've been to many programs where people of all ages are enjoying themselves. This place has heart.
Warm and caring staff, awesome residents
Hello, Folks, After I moved into Silver Maples, my friends asked me how I liked it. Without wasting a breath, I told them "I love it". My next sentence was usually, "I should have moved in five years ago". Easy to say that. I'll tell you why. Ready: Here goes: Friendly? Couldn't be friendlier. Residents? All kind and all kinds and very welcoming. Activities? Take your choice of concerts, travel,, shoot pool, Wii bowling, bridge, euchre, pinochle, bingo for babes and guys, horse shoes, croquet, and more. Or you can choose to do nothing.!! It's your choice. Staff? Like family, nothing less. FOOD? I dare you to find better. Local driving needs? Our bus will take you there and back. Am I prejudiced? You bet. Give a holler if you come to visit. Be glad to show you around.
Silver Maples is the ideal retirement community for smart, educated, engaged, and lively seniors who are looking for a strong community with which to enjoy an outstanding quality of life after they downsize. It has been one of the best choices my parents have made for their retirement. I look forward to moving there when I grow up.
Compassionate care. Great social networking. Stimulating environment throughout the campus. GREAT staff and planned activities.
Absolutely the most amazing circle of care and compassion a family could ask for their loved ones. The level of support from all staff, the amenities and proximity to medical facilities and the beautiful vibrant city of Chelsea are superior to any in Southeastern Michigan.
My parents moved to Silver Maples a little over one year ago. It has exceeded their expectations. They have enjoyed the many programs, trips, activities, well prepared food, social gatherings, close proximity to a health and wellness center, doctor offices and community hospital. Chelsea is a wonderful town that offers much for a senior to do including adult extended learning courses, plays, varied dining and boutique shopping. Both staff and residents were very welcoming giving it a family feel. All of these things made the adjustment to retirement community living easy.
Bronwyn Heuser Barricklow
My mom moved to Silver Maples 8 years ago not knowing anyone and fearful of losing her independence without a drivers license. She quickly found a loving group of friends and staff. During her stay she never lacked things to do; bridge, movies, parties, art shows , exercise classes, books galore, trips to concerts and interesting places. Driving was never an issue as she could always find transportation. The staff embraced her like family. Her final year was in Assisted Living where she received warm and constant care. We are so grateful for Silver Maples and highly recommend it.
Get more information about senior living near you
Silver Maples News & Blog
There's never a dull moment in our retirement neighborhood! Here you can access the latest news about our vibrant senior living community, interesting blog posts, and the latest Silver Maples event details that are open to the public.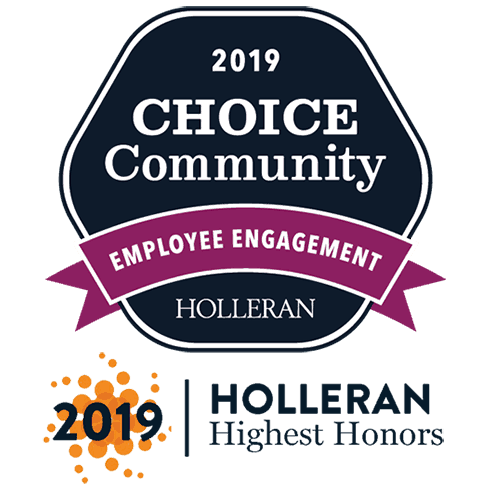 2019 Excellence Award & Highest Honors
Employee Engagement