Today, seniors can choose from a variety of living options designed to meet their unique needs and lifestyles. As you begin to research retirement neighborhoods, you might find yourself wondering what type of community is right for you, not just today, but for your future, too. And, it's important to keep in mind that the average life expectancy is on the rise. While your health and family history play a role in your longevity, many seniors are celebrating birthdays far beyond the age of 80.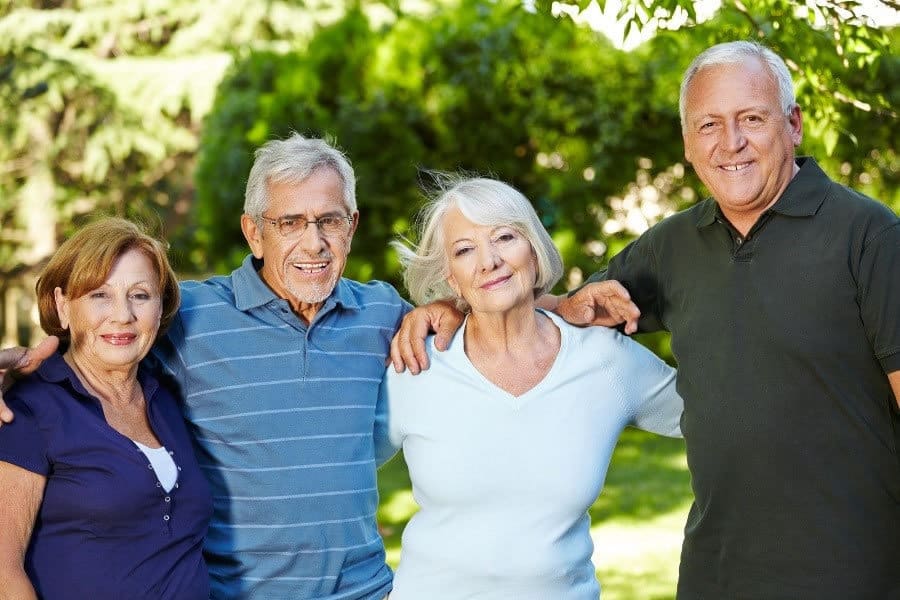 Senior Housing Options Today
When it's time to downsize your home, whether because you're ready to enjoy a maintenance-free lifestyle or you're starting to experience a slight decline in your current health, knowing more about the options available and the services provided at each can ensure you're making an informed decision.
Two of the most popular senior housing options include assisted living communities and independent living communities. Let's take a deeper look at each type of senior community to help you choose the right home for your future.
Assisted Living Communities
Perhaps some of your chronic conditions have recently worsened, and you're finding it difficult to move easily around your home. Dressing and bathing have become troublesome, and you can't maintain your home as well as you used to. Or, perhaps you recently suffered a fall and spent some time in a rehabilitation center. Now that it's time to move back home, you might be concerned about how well you'll be able to function on your own.
These are both two strong cases for choosing an assisted living community. Assisted living communities allow residents to thrive, providing just the right level of support when it is needed most. You'll enjoy your own apartment that can be personalized to your individual taste, with the comfort of knowing that care from a compassionate team of professionals is available around-the-clock.
Assisted living communities don't just provide healthcare and help with daily living activities like bathing, dressing, and medication management. You'll also enjoy a variety of convenient services and amenities like daily housekeeping, well prepared meals with a variety of choices, transportation to off-campus events and appointments, and social activities to allow you to grow meaningful relationships with your neighbors.
Independent Living Communities
On the other hand, if you're living an active lifestyle and have few medical conditions, you can consider choosing an independent living community. Independent living communities for seniors are ideal for those who are healthy and engaged in life, and are looking to make the most of their retirement years with a setting that offers convenience and opportunities to easily engage and connect with neighbors and friends.
Independent living communities often offer a wide range of accommodations, from spacious, free-standing residential villas to comfortable senior apartments. You're able to come and go as you please, taking part in activities both on and off campus as often as you'd like. Plus, meal time becomes one of the most enjoyable times of the day as you'll enjoy delicious meal entrees in a fun, social setting.  Imagine dinner out with friends on a regular basis! Like assisted living communities, residents enjoy a variety of services and amenities that allow you more time to do all the things you find most important in life.
While independent living communities generally don't offer the 24-hour medical care you'd find at an assisted living community, you will still have peace of mind that should an emergency arise, help is available when you need it.
Choosing the Right Senior Living Community for You
Everyone has unique needs, and the community your friend recently moved to might not necessarily be the best community for you. It's important to do your research and learn as much as you can about the living options and care levels available that meet your needs now and in the future. Like most everything these days, retirement communities come in all shapes, colors and sizes; the trick is to find a place where you truly feel at home.
Visit websites, take a tour of various communities, engage with staff, and visit with some of the residents to get a good feel for the environment to ensure you're making the best decision for your future and personal lifestyle.
Senior Lifestyle Choices at Silver Maples
At Silver Maples, we're committed to supporting a positive aging experience and connection opportunities for both extroverts and introverts. Contact us when you're ready to learn more about our award-winning community and the wide range of housing options we offer for older adults in all stages of life. We're excited to discuss living options and help you find a lifestyle and support system that meet your needs now and addresses your future goals.
Immediate Assisted Living Availability!