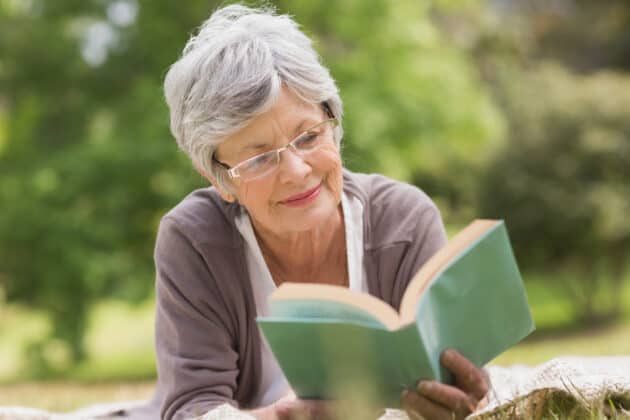 Senior living communities stress the importance of social connections to age well and are often portrayed as a vibrant, active place for outgoing older adults to enjoy retirement. While many are excited at the possibilities, other less social individuals may feel anxiety about these "opportunities". Whether you've always been a private person or have grown more introverted as you've gotten older, senior living offers a diverse blend of connection opportunities for both extroverts and introverts depending on the group you tend to identify with. Before deciding that senior living isn't the right retirement option for you, take a moment to learn more about the benefits of senior living for introverts. 
What Is an Introvert
More than 100 years ago, Swiss psychiatrist Carl Jung theorized that people generally fall into two categories — introverts and extroverts — with introverts being reserved, quiet people who enjoy solitude and gain energy from working alone or in a small group, and extroverts being gregarious, an unreserved person who enjoys and seeks out social interactions. In reality, however, most human personalities are a blend of both, or "ambiverts," with some leaning more toward one or the other, often depending on the situation. Now that you understand the spectrum of personalities, let's look at the benefits of senior living for the quiet, typically reserved individuals. 
Privacy Is a Priority
Introverts value privacy and may be concerned with the amount of on-site staff that would be working in their homes and could appear unexpectedly. Rest assure that the professional staff that offers housekeeping, maintenance services, meals, tech support and transportation understand the importance of personal privacy and the desired amount of interaction you prefer.
Set Your Own Pace
Contrary to popular belief, residents of senior living communities are not forced to join in social activities, trips or events. While the programming staff certainly go the extra mile to provide a diverse array of things to do and places to go, no one is required to participate, unless they want to. Instead, individuals will find options that suit them, like small groups and clubs, fitness centers, lectures, art classes, and quiet spaces like libraries and lounges which allow people to do their own thing. 
Lots of "Me" Time
Introverts generally prefer books to parties and in depth conversations versus light chitchat. They gain energy from being alone and can often feel stressed and drained in social settings. Although each new day brings entertaining and engaging options to experience, quiet more reserved individuals who live in a retirement community can enjoy "me" time doing what they want like reading or listening to a podcast, pursuing a hobby, whipping up something wonderful in the kitchen, meditating, or connecting with friends and family. It's up to each individual to define their preferred lifestyle and live the way they want to live, no strings attached. At Silver Maples we seek to enrich your lifestyle by offering programs, activities and connection opportunities. Whether you wish to be hands-on or prefer a more laid-back experience, there is something for everyone! 
Introverts and Senior Living – A Surprisingly Good Fit
Living alone can often cause older adults to become disconnected from a social routine, making them more introverted, even though they are really outgoing given the opportunity. For these individuals senior living communities provide many opportunities to shed their loneliness and re-engage with others at their own pace. Those however, that prefer a more solitary lifestyle can embrace senior living with the knowledge that at any time, they can elect to meet new friends and try new things, or enjoy "me" time, whatever their desire. Senior living communities like Silver Maples are designed to cater to the needs and desires of all personality types, including introverted individuals.  
At Silver Maples, we're committed to supporting a positive aging experience and connection opportunities for both extroverts and introverts. Contact us when you're ready to learn more about our award-winning community and the wide range of housing options we offer for older adults in all stages of life. We're excited to discuss living options and help you find a lifestyle and support system that meet your needs now and addresses your future goals.