Did you know the human body is composed of more than 50 percent water? In fact, even our bones are 20 percent water. However, we lose around two-to-three quarts of that water daily, and as we sweat to keep our bodies cool during the hot summer months, we lose even more. Water is needed to regulate your body temperature, remove toxins and waste, carry nutrients and more, but some seniors find it challenging to consume the amount of water they need to stay healthy and flourish.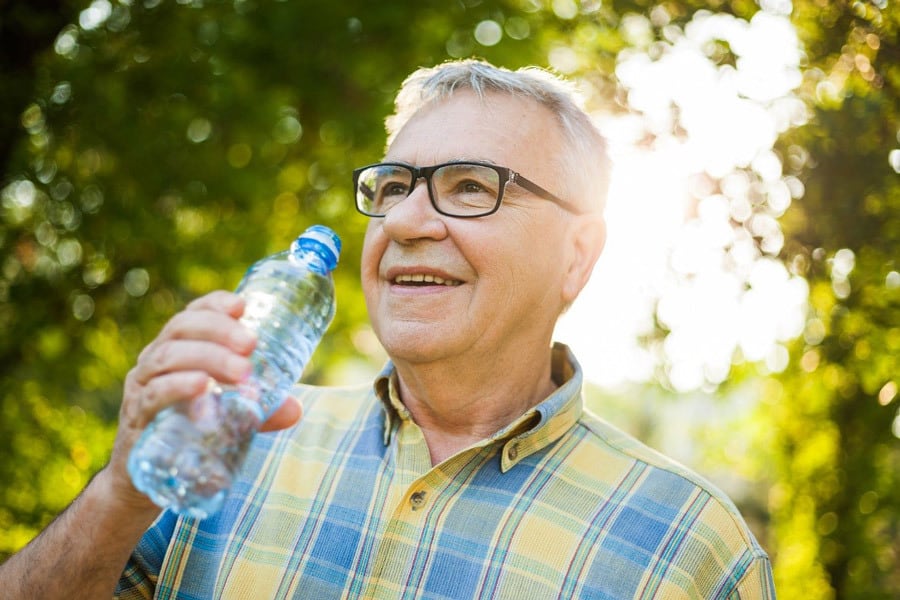 The Effects of Dehydration in Seniors
Recent studies show that when it comes to drinking water, the health benefits for seniors are numerous. Chronic dehydration is a key component in many illnesses seniors face, such as heart disease, hypertension, asthma and even arthritis and joint pain. Many older adults have a decreased sense of thirst as they age, which means they tend to get dehydrated more often than their younger counterparts. In fact, certain medications they take or decreased kidney function can also play a role in dehydration for people in this age group.
When you get dehydrated, you face a variety of health issues. Some of the effects of dehydration include headaches, confusion, fatigue, memory troubles, kidney stones and blood clots. This is why it's important to recognize some of the signs of dehydration, which include:
Difficulty walking or other mobility issues
Rapid heart rate and low blood pressure
Dry, sticky mouth or nose and sunken eyes
Low tear or sweat production
Dry skin or less skin elasticity
Decreased urine output or constipation
Keep in mind that if you already experience health issues like cardiac or renal problems, even mild dehydration can adversely affect your overall health.
Stay Healthy by Staying Hydrated this Summer
Water is stored in our bodies in lean tissue, and older adults tend to have less of this lean tissue. This means your body has proportionally less water and you can easily get dehydrated in circumstances like warm weather.
The good news is there are a few things you can do to ensure you're consuming the right amount of fluids, especially during these hot summer months. Seniors should get around 40 ounces of water every day, or eight (8) five-ounce glasses. Keep these tips in mind to help prevent dehydration and its effects on your health:
Find a beverage you enjoy. While plain water is best, it's understandable that you simply might not like the taste of it. In this case, to increase your water intake, you should find an alternative you enjoy, like herbal tea, 100 percent fruit juices or milk. Just avoid sugary, high calorie drinks like soda.
Create a schedule for drinking water. It's not feasible to think you can drink that recommended 40 ounces of water all in one sitting. Instead, create a schedule for drinking to stay on track. For instance, get used to having a glass of water first thing in the morning, a drink with every meal, and another in the evening (just not right before bedtime!). Also, keep a water bottle nearby at all times so whenever you do feel thirsty, you can simply reach for it and get the fluids you need.
Eat foods that contain water. Another great way to ensure you're upping your water intake includes adding certain foods with a high-water content, like soup, yogurt, jello and fruits and vegetables to your diet. This is an easy to way to help you meet your daily water requirement.
Balance water output with water input. Remember, when you exercise, you'll sweat even more, so if you're going to be partaking in any physical activity, make sure to increase your fluid intake. Before, during and after your workout, drink plenty of water to replace those vital fluids you're losing.
A Healthy Lifestyle at Silver Maples of Chelsea
There's no denying that residents at Silver Maples Retirement Neighborhood thrive, enjoying comfortable apartments and spacious residential villas, as well and an enriching lifestyle that keeps them engaged with others and the world around them. It's our goal to keep residents happy, healthy and living their best lives.
If you're interested in learning more about our vibrant senior living community near Ann Arbor, we invite you to come see Silver Maples for yourself and check out the various senior living options we offer. If you're still researching your options and aren't quite ready to visit, we encourage you to get to know us from afar by viewing our videos and reading some of the personal stories and testimonials shared by residents, their families and our staff. Or, feel free to connect with us through social media to get a peek at daily life at Silver Maples. You can even request more information to receive our brochure packet. We're eager to discuss options when you're ready, so contact us to learn more.