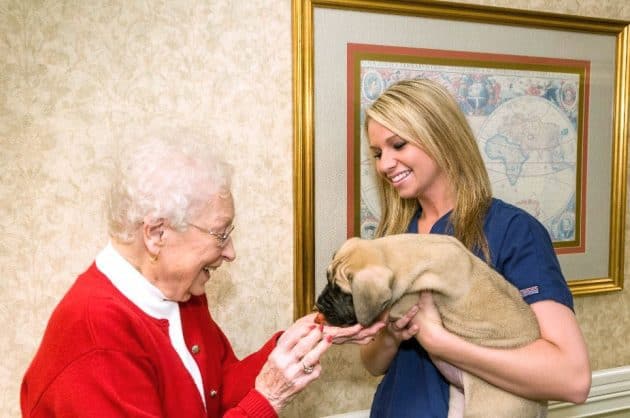 Physical, occupational and speech therapy for seniors are well-known therapy programs designed to aid in recovery from an illness or injury and improve overall quality of life. These forms of therapy are integral components in improving mobility, balance, coordination and fine motor skills, as well as for relieving pain and helping with communication.
However, many senior living communities today offer programs above and beyond these traditional therapies with the goal of enhancing residents' lives in a number of ways. It's not uncommon to see programs like art therapy, music therapy and pet therapy on the activities calendars regularly due to the benefits these innovative programs provide individuals.
Creative Therapy Programs for Seniors that Boost Wellness
Art Therapy for Seniors: The Beauty of Creation
Painting with watercolors. Sculpting with clay. Crafting with yarn and fabric. Using art as therapy allows individuals to truly express themselves and can be a powerful, meaningful form of communication. Recent studies have revealed that seniors who participate in an art therapy program tend to experience less depression, visit the doctor less often and even need fewer daily medications. Art provides a means of expanding one's mind and looking at things in a different light, leading to improved cognitive skills. Plus, art requires small, purposeful movements that can improve motor skills, and as seniors focus on the task at hand, they often experience fewer chronic aches and pains.
Music Therapy for Seniors: Letting the Rhythm Flow
Music therapy is utilized in senior living communities across the nation as a highly successful dementia treatment program. Listening to music takes little to no cognitive processing, so even those in the later stages of dementia are able to engage with familiar music from their past. Additionally, this innovative therapy helps improve behavioral issues and reduce agitation, while also providing a means to connect after verbal communication skills have diminished. Music therapy can also impact physical skills, because through toe-tapping and hand-clapping the blood starts flowing, and some individuals see an improvement in their coordination and endurance.
Pet Therapy for Seniors: Unconditional Love and Support When it's Needed Most
Animals have been faithful companions to humans throughout the course of history. There's nothing quite like being greeted by a happy, furry face when you come home after a long day, and recent studies have shown that even just 15 minutes of bonding time with an animal promotes positive hormonal changes in the brain. Therapy animals are often brought in to senior living communities as a means of boosting health and healing for seniors of all ages or health conditions, regardless of whether they are chronically ill, suffer from depression, memory loss or other ongoing disabilities.
Staying Healthy and Active at Silver Maples of Chelsea
Creating and supporting a positive aging experience is our passion; offering creative therapy opportunities like those mentioned above assist in that experience. Where one program might spark our residents' compassion to give unconditional love, another may build confidence or reconnect them with fond memories from years ago.
Our art therapy program instructor encourages and guides residents through various techniques which helps build confidence and taps into their creative side. Bi-annual art shows give residents an opportunity to show off their uniquely beautiful long-term projects and helps them develop their language as artists as they explain the new techniques they've learned to neighbors and friends.
Our Music and Memory program is ideal for those who suffer from significant memory loss as it can restore, temporarily but repeatedly, the sense of self which is often lost when one's memory fails. "Residents who participate in our program light up at a song from their past, and surprise themselves when they know all the words," recalls Winn Mahoney, Activities Coordinator. "Giving someone a gift of music is like giving them a road map back to their memories that otherwise was obstructed. Hearing them sing along, tap to the beat or recount when it was they heard the song is a bond-building experience for both the facilitator and the resident."
If you're interested in learning more about our vibrant senior living community near Ann Arbor, we invite you to come see Silver Maples for yourself and check out the various senior living options we offer. If you're still researching your options and aren't quite ready to visit, we encourage you to get to know us from afar by viewing our videos and reading some of the personal stories and testimonials shared by residents, their families and our staff. Or, feel free to connect with us through social media to get a peek at daily life at Silver Maples. You can even request more information to receive our brochure packet. We're eager to discuss options when you're ready, so contact us to learn more.