Back in the early 1900s, average life expectancy peaked at around 50 years old. Compare that to the average life expectancy today, which is 78.7 years old! In fact, recent studies report the population of those age 85 and older is projected to increase 351 percent from the year 2010 through 2050.
Thanks to advances in medicine and the recognition that making healthy choices improves your lifespan, seniors today are more actively engaged in life than ever before. You might stay employed longer or volunteer in your community, or you may enjoy a relaxing retirement lifestyle, spending quality time with friends and family and discovering new hobbies.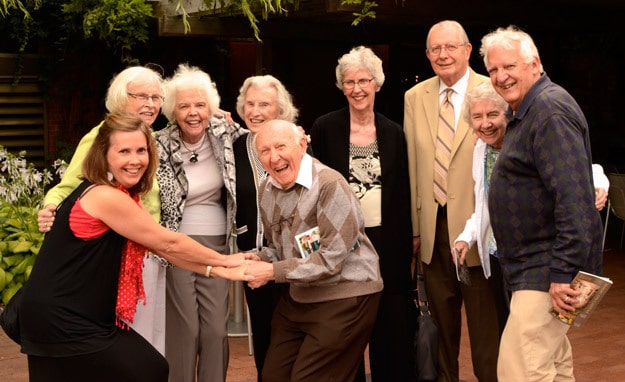 The Lifestyle Offered in Senior Living Communities
One thing is for sure, more and more seniors today recognize the benefits of downsizing their current home and moving to a senior living community. These communities are designed with residents' specific needs, health and happiness in mind and allow them to remain physically, mentally and socially active. Senior community living offers a maintenance-free lifestyle where day-to-day living is convenient, engaging, and support is easy to access when needed.
If you are still on the fence about whether community living is right for you, we've rounded up some of the best benefits you'll enjoy, including:
Continuing care for future peace of mind. Moving into an independent living villa or apartment home while you're still healthy and active can help keep you that way. However, if your needs do change down the road, senior living communities often provide additional levels of support like assisted living to ensure you continue to enjoy the highest quality of life possible.
Leave the home maintenance to someone else. In senior living communities, home maintenance tasks become a thing of the past. Leave the grass cutting or snow shoveling to others! This also means you'll have more time to spend on the activities you enjoy most.
Boost your health with life-enriching activities and wellness programs. Enhancing your mind, body and soul is easy at a senior living community. At Silver Maples, you'll enjoy countless opportunities for lifelong learning, plus creative and cultural activities. Additionally, we offer in-house wellness programs and free access to the nearby Chelsea Wellness Center.
Get spoiled with delicious, nutritious meals. Don't feel like cooking tonight? No worries! Senior living communities like Silver Maples offer a true dining experience with tasteful, nutritious choices served in either an elegant dining room, or casual café setting – the choice is yours!
Improve relationships with your loved ones. One of the best benefits of moving to a retirement neighborhood is the positive impact it can have on your family relationships. Your loved ones will have peace of mind that you're enjoying a vibrant lifestyle with all the support you need to truly thrive. Instead of your relationship ultimately becoming one of caregiver/care recipient, you'll have the opportunity to continue to enjoy your relationship as parent/child.
The staff becomes your second family. Silver Maples residents Dick and Ginny say, "At Silver Maples, we felt welcomed and part of the community right at the outset." Likewise, one of our resident's family members agrees, saying "The sincerity and caring is so real! It took me a while to let go when my dad moved to Silver Maples. You see, I always thought no one could take care of my dad better than me. Well, I now know that the staff here at Silver Maples does just that!"
To put it simply, residents in our retirement neighborhood are treated, cared for and respected as valued family members. Visit our Personal Insights page to read more comments from our residents and their families.
Experience Dynamic Senior Living in Chelsea at Silver Maples
Find a variety of senior living options to fit your lifestyle at Silver Maples in beautiful Chelsea, Michigan. You'll not only enjoy comfortable, spacious housing and peace of mind, but also the enriching lifestyle our retirement neighborhood provides regardless of your personality and interests. You'll feel the warmth and vibrancy of the community the moment you walk through our door. Contact us today to schedule your personal tour to see all that our beautiful community has to offer as you continue your positive aging journey.