Is it Time for an Assisted Living Community?
It's common to want to live in your home that you have enjoyed for many years for as long as possible. However, with aging comes challenges to one's independence. While 24-hour skilled nursing care may not yet be needed, some may require a bit more personal attention to continue enjoying the highest quality of life possible.
It's important to start the conversation about future needs sooner rather than later, so you and your family can all be a part of the decision-making process. Involvement is paramount to the success of a smooth transition, and quickly squashes the fear many seniors have that someone is making a decision for them, not with them.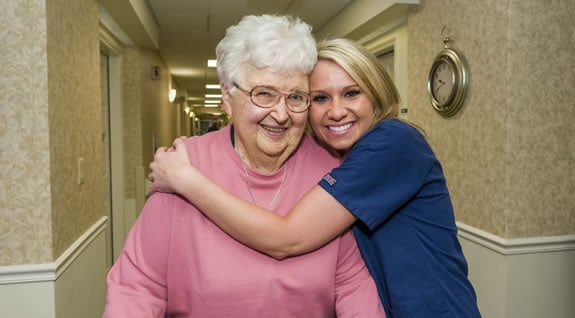 Assisted Living Benefits the Individual and their Families
While the loss of independence is often a major concern for individuals considering a move to an assisted living community, many seniors report that the daily support they receive actually allows them to feel more independent than they ever did when living alone in their previous home. Plus, they enjoy lifelong learning and social opportunities, trips to destinations within the community and wellness activities, all which continue to add enrichment to their lives.
"I thought I was coming to Silver Maples simply to live out the remaining years of my life. How wrong that was. I have discovered life here to be far more pleasant and fulfilling than I ever dreamed possible," a resident recently shared.
In addition to the independence the individual gains, families are able to enjoy more quality time with their loved ones. They know the burden of any possible caregiving duties has been lifted, and that loved ones' needs will be met, now and in the future.
6 Signs it's Time to Consider Assisted Living
Research has shown that up to 70 percent of all seniors over the age of 65 should expect to need some form of long-term care in the future. Assisted living is one of the fastest-growing senior housing options. While every situation is unique, there are several indicative signs to look for that could reveal an assisted living community may be the right option for you, your aging parents, or possibly a spouse. Below are signs to be aware of:
Decline in overall health. Chronic conditions like arthritis or osteoporosis can worsen with age and cause health issues to escalate. Family caregivers may not be able to provide the level of care loved ones need to thrive. However, assisted living communities are staffed by a team of caring professionals who are available around the clock, ensuring loved ones stay as healthy and as safe as possible.
Limited mobility. The chronic conditions mentioned above can make moving about the home or even simply doing daily routines difficult. Dependence on family or an outside agency can be frustrating, making individuals feel less independent and more focused on their frailties.
Concerns with memory or cognition. Individuals may begin to display signs of forgetfulness that puts them at risk. For example, forgetting to turn off the stove or skipping medications and meals. Even mild cognitive impairment can be problematic for seniors, who may exhibit poor judgment or fall victim to scams targeting seniors.
Trouble maintaining a home. Mobility issues combined with cognitive decline may lead to difficulty properly maintaining the home, or even safety concerns. Simple chores like vacuuming or getting on a ladder to change a lightbulb can be perilous situations that lead to debilitating falls. Or, bills may start slipping through the cracks as loved ones forget to make payments and have trouble managing finances correctly.
Becoming socially isolated. When seniors live alone, it's not uncommon for loneliness to lead to depression, cognitive decline, and other health concerns. Staying engaged and connected with others by continuing to build relationships is so vital for the best quality of life, and assisted living communities offer countless opportunities for residents to stay socially engaged.
Relationships start focusing on needs and caregiver tasks. Often when an individual needs support, family quickly jumps in. As time goes on, the relationship once enjoyed as mother, son, father, daughter, etc. has evolved to caregiver and recipient of care, and focuses on the laundry list of tasks and questions surrounding meds, appointments, and duties that need to be completed. An assisted living setting offers help in these areas so family relationships can continue to grow, and individuals can enjoy these final chapters of their lives. After all, quality life is what it's all about!
All-Inclusive, Supportive Assisted Living at The Meadows at Silver Maples
The focus at Silver Maples is to support individuals when and how they need it, while offering the freedom to be independent in decisions and tasks as much as possible. Warm, friendly staff is available 24/7 and often become an extension of the resident's family. We offer assisted living apartment options that can be personalized with your favorite pieces, décor and unique personality.  In a retirement neighborhood like Silver Maples of Chelsea, the transition to assisted living can be freeing to all parties. Check out some of the personal stories and testimonials shared from residents, their families and our staff or contact us today to schedule a personal tour and visit.
Immediate Assisted Living Availability!