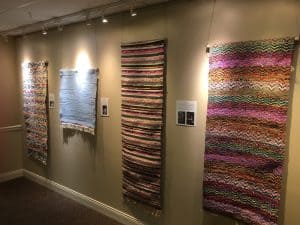 In September/October, Gallery 100 at Silver Maples features "Ethnic Rag Rugs" an exhibition featuring rugs made by several Finnish rugmakers.
The collection, on loan from Michigan State University, was curated by Silver Maples resident Yvonne Lockwood, who worked with the Finnish artists to document their craft. Be sure to take the time not just to admire these stunning rugs, but to read the labels sharing the Finnish artists' stories.
Gallery 100 is located at 100 Silver Maples Drive and is open to the public Monday-Friday 8:30am-5pm, Saturday/Sunday 10am-5pm.