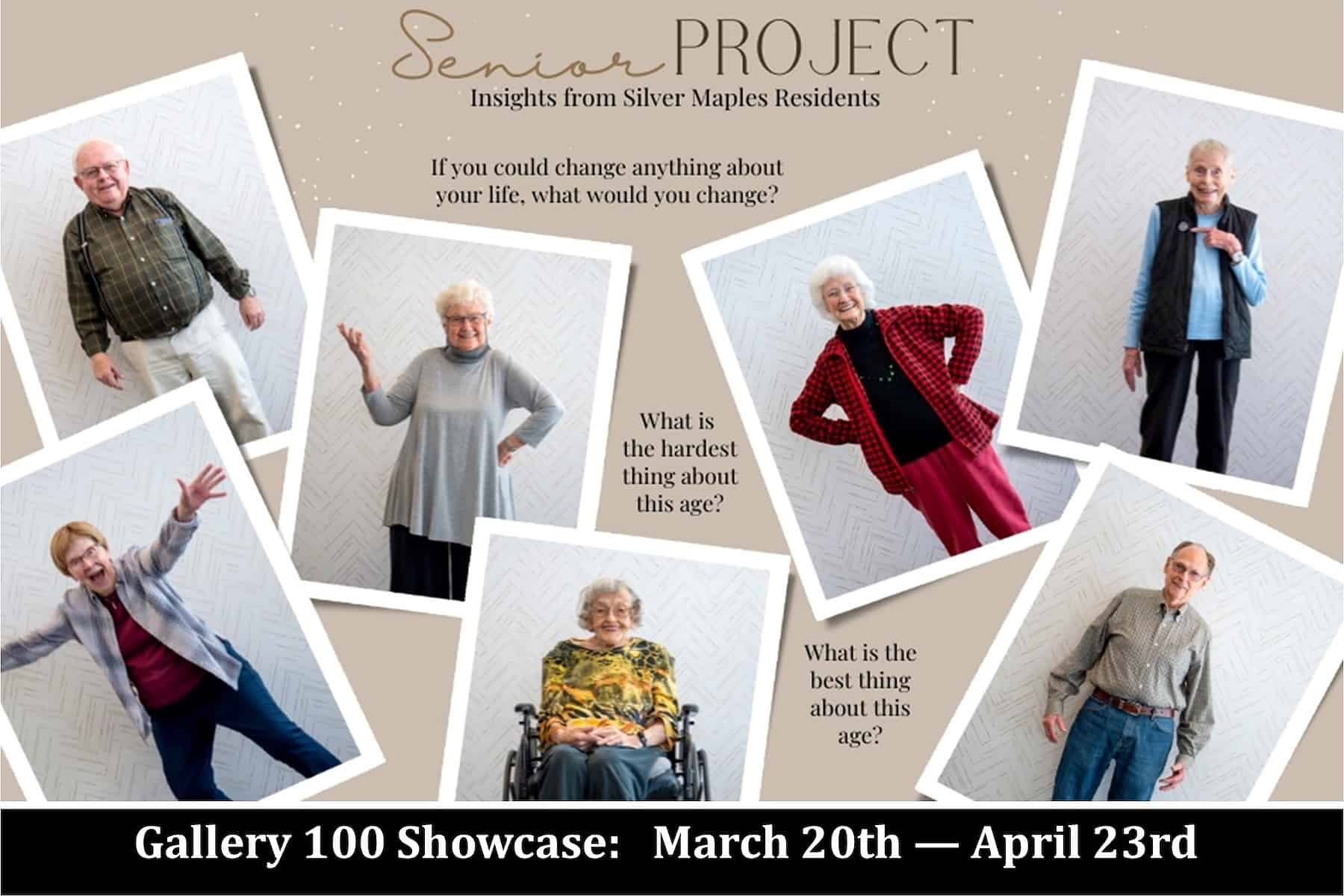 The Gallery 100 is exhibiting a new show called "The Senior Project," from March 20-April 23
This show is a collaboration between Silver Maples Residents, Programming Director, Winn Nichols and photographer, Max Harrison Johnson and was inspired by "The Fourth Grade Project" by artist Judy Gelles that was recently exhibited at the Chelsea District Library. In this project, Gelles photographed students from all over the world and transposed their image with the answers they gave to three questions:

Who do you live with?
What do you wish for?
What do you worry about?

The answers to these questions gave insight into the societal issues children face today, and taught these young students the power of empathy and understanding. Silver Maples residents visited the exhibit at the Chelsea District Library and were inspired by the project. Lois Deleon has lived at Silver Maples for 16 years and has helped plan several art events and Gallery 100 showcases over the years. She reflected on the Fourth Grade Project and shared, "You don't always hear the perspective of someone in their 80s, 90s or 100s," and began thinking about creating the "Senior Project" and what thought provoking questions to ask the residents of Silver Maples that would evoke insightful responses. A small focus group met and developed the following questions:

Would you change anything about your life?
What is the hardest thing about being this age?
What is the best thing about being this age?
This new Gallery 100 showcase idea quickly spread through the community, residents responded positively to the project, and were eager to participate. The Gallery 100 walls are currently lined with over 30 beautiful resident portraits and interesting insights.
The Gallery 100 at Silver Maples is open to the public; we invite the community to stop by and get to know their neighbors at Silver Maples. Enjoy a leisurely stroll through the Gallery as you take some time to read the responses that have been integrated into each photograph. Afterwards, be sure to stop by the Courtyard Café, located at Silver Maples for lunch or a light snack.
The Gallery 100 is open Monday-Friday from 10am-5pm and Saturday-Sunday 10am-3pm and is open to the public. The Courtyard Café lunch hours are 11:00am-2:30pm, cash sales only.