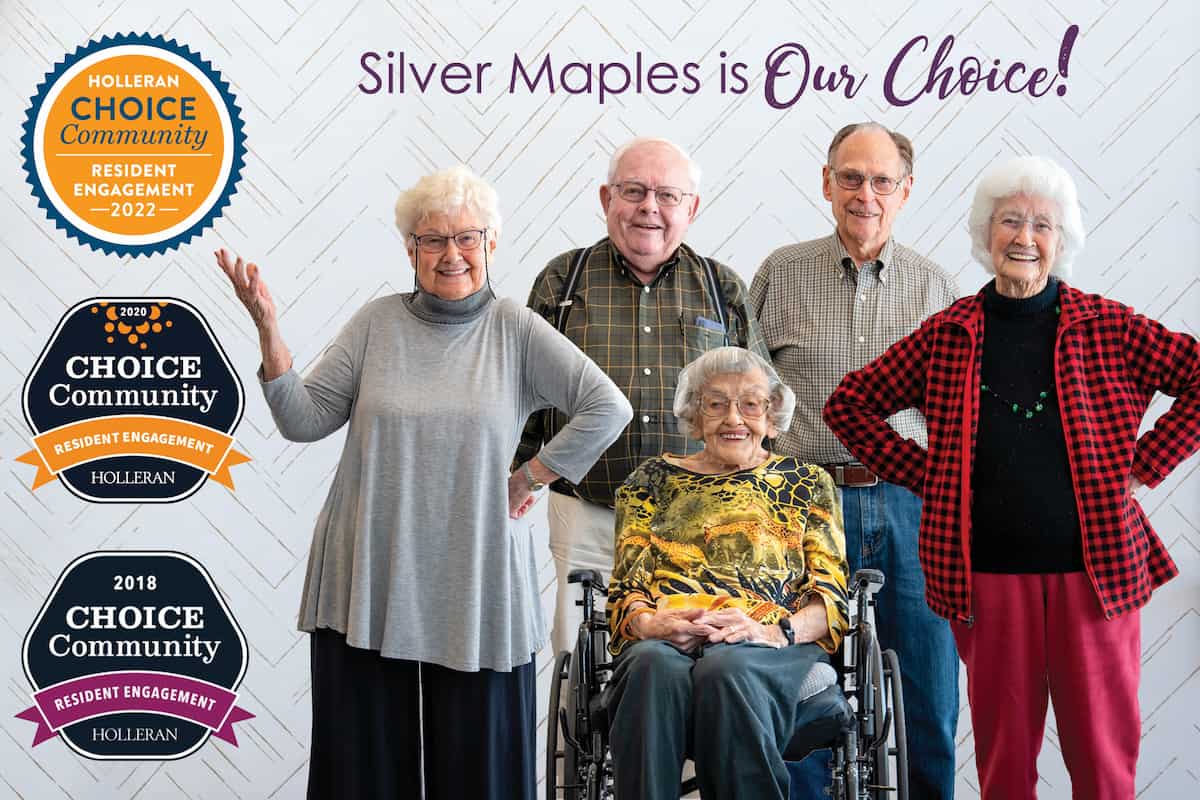 Holleran, the premier research and consulting organization offering employee and resident engagement and satisfaction benchmarks to senior living communities across the country, has announced the recipients of the Choice Community Award Winners for 2022.
Silver Maples of Chelsea Retirement Neighborhood, is excited to share they were recently awarded the Choice Community Award for the third year in a row, and were among just three (3) communities honored nationally in 2022 for their exemplary efforts in creating a culture of engagement and satisfaction for their residents. Holleran's Choice Community Award recognizes organizations with strong cultures of engagement; where residents' voices are heard, connections are rich, well-being is enhanced and personal fulfillment can be realized. This accolade means they are engaging with their stakeholders at the highest possible levels, placing Silver Maples of Chelsea at the top of the Holleran National Benchmark, ranking them in the top 15th percentile of more than 1,000 surveyed communities nationwide.
Michele Holleran, CEO and founder of the research firm states, "It is important to have an industry gold standard such as the Holleran Benchmark, by which to measure and recognize top employee and resident engagement communities." This designation was created 11 years ago to recognize extremely high performing communities in our industry. These communities boast strong cultures of employee and resident engagement where employees feel their workplaces honor them, and residents feel they are supported in their successful aging," expresses Michele Holleran.
"Receiving the Holleran Choice Community Award once again, is something we are extremely proud of as it demonstrates that we have been recognized as one of the most engaging senior living organizations across the nation," shares Julie Deppner, Executive Director and CEO. Silver Maples of Chelsea is a special place that has created an environment that promotes and facilitates our residents' investment in themselves, the organization and the community. Our survey results highlight our comprehensive programs and services that allow our residents to engage with the community, maintain strong social connections, have a sense of purpose in life while pursuing goals, and have access to all aspects of well-being. By creating an engaging, inclusive environment for our residents, Silver Maples of Chelsea is able to truly thrive as both a community and a business.
Holleran has the largest benchmark of senior living engagement scores by which communities can compare performance relative to their peers. "Choice Communities earn this designation—this is the one that really counts and is legitimate. It is not an award that communities apply for; it is more than a marketing technique," explains Michele Holleran. Backed by over 30 years of solid research and uncompromised measures, Holleran provides communities with the data they need to increase their employee retention and provide a culture of engagement to their residents.