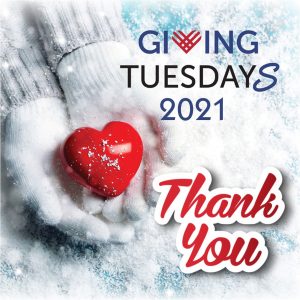 Giving Tuesdays 2021 Matching Fund Campaign – A Huge Success!!
On behalf of our entire Silver Maples community, we extend to all Giving Tuesdays 2021 donors a ton of gratitude, a bushel of hugs, and a peck of pride for making our end-of-year campaign an historical and resounding success.  You deserve a standing ovation and thunderous applause!
Final Campaign Overview:
Matching Fund of $20,000 from 1 donor secured!
Matching Pool Fund of $20,000 from 11 donors secured!
Giving Tuesdays 2021 campaign total = $91,450! (Up nearly 50% from last year.)
Campaign potential goal of $80,000 exceeded by $11,450!
69 donors made history with their gifts ranging from $10 – $20,000.
73% residents…16% staff & board members…11% family & community friends.
Donors designated gifts as follows:
Silver Lining Fund                             $66,900
Art Matters                                          $855
Employee Recognition                      $3,475
Employee Scholarships                     $14,530
Greater Good                                       $1,930
Kaleidoscope                                        $2,680
Landscaping & Memorial Garden   $775
Library Plus                                          $305
Please join us in eagerly looking forward to witnessing, experiencing, and learning about the impact and wonderful difference our gifts make in the lives of those we care so much about.
Thank You & Happy New Year!
Contact Shelley MacMillan for additional information. 734-475-4111 ext. 214