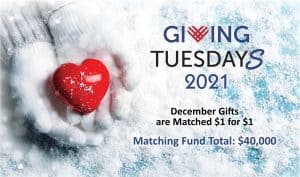 Giving Tuesdays 2021 Matching Fund Campaign Enhances Community Programs
We invite you to participate in our end-of-year campaign called Giving Tuesdays 2021. This year we're thrilled to share that we have $40,000 in matching funds due to the amazing generosity of dedicated donors. All charitable gifts received in December will be matched dollar for dollar thereby doubling the impact of your gift in support of Silver Maples programs and services. With your help we will reach our campaign potential of raising $80,000!
Silver Maples again joins the global GivingTuesday movement.  We hope to build on the success of our Giving Tuesdays campaign last year when we raised just over $61,000 in one month.  Here are a few examples of the impact those gifts made in our community during 2021 alone:
Art Matters:  Three original works of art by Michigan artists that were first on exhibit in our Gallery 100 space were purchased for our permanent collection, placed on display for residents, staff and visitors to enjoy, and supported local artists.
Employee Scholarships:  Over $8,000 was received bringing the total awards to employees from our local communities working toward an undergraduate or graduate degree to over $28,000.
Kaleidoscope Concerts:  Seven concerts open to the public were presented with full houses at all.  It looked like COVID restrictions were going to thwart such presentations, but our staff moved into action and created safe outdoor—under the tent—performance spaces.  That left just the threats of summer storms from Mother Nature to contend with!
Library Plus:  Two sets of computer How-To books and numerous large print books refreshed and added to these collections which are often in high-demand.  We launched a new library web page on the Silver Maples website and purchased new barcodes and labels to allow easy use of the new online catalog.  New printed book spine labels were added which save library committee volunteers and residents time when shelving or locating titles, and greatly improve the look of our library's book collection.
We hope we can count on your support this year!  Please consider donating to one or more programs and projects you or your loved one is passionate about.  Below is a list of those supported in part or fully by charitable contributions:
Art Matters: expanding, displaying, caring for, and celebrating art campus wide to enhance the beauty and spirit of Silver Maples.
Employee Recognition: celebration programs and events for those who provide excellent care, service, and support to our residents each and every day.
Employee Scholarships: supporting employees in their pursuit of higher education degrees to better prepare them for their future.
For the Greater Good: allowing leadership staff to address unanticipated needs in support of residents and staff.
Kaleidoscope Concerts: presenting a wide variety of concerts throughout the year that feature gifted musicians and ensembles; all admission free for residents and community members.
Landscaping & Memorial Garden: keeping our grounds and walkways beautiful and accessible year round for the enjoyment of our residents and community members, and a 3-season garden of remembrance.
Library Plus: keeping the collections current, varied, organized, and user-friendly; plus providing an inviting gathering space.
Silver Lining Fund: bringing peace of mind through financial assistance to residents who outlive their financial assets, ensuring they remain "at home" in the Silver Maples community.
Contact Shelley MacMillan for additional information. 734-475-4111 ext. 214