6th annual show features artists from lower Michigan and beyond
When Silver Maples first began thinking about hosting an art fair, the question was: how do we make this different?  How do we make this appealing and affordable for both the artist and the shopper? How do we create a boutique show that will become a perennial favorite?
Thus was born the term "market mix," which became the credo for organizers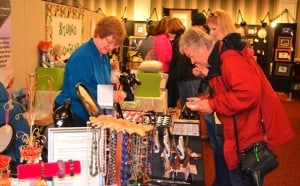 "The Harvest Art Market has grown and evolved over the past six years," said Shawn Personke, director of wellness and public relations for Silver Maples.  "But we've stayed true to our original thought that we wanted the show to offer really interesting items, handmade, and fair prices.  So that's the kind of artist we welcome and who finds the most success."
This year's show features six new artists, including the funky repurposed zipper art from the Zipper Lady, Heather Merritt, ironsmith Russ Shackson from Webberville,  ceramic artisan tiles from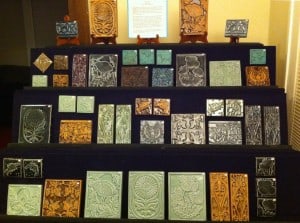 Julie Cohen of Ann Arbor, Chelsea's own Lindsey Dahl, John Knapp's frames and vintage art, the Mad Potters from Lambertville.
"Each year we seek out a couple of new artists and this year we specifically wanted to add something different.  We're really excited about these new artists.  Heather Merritt was named Best of Show at the 2011 Henry Ford Maker Fair.  We haven't had a blacksmith or a tile maker before, and I think both Russ and Julie will be offering some beautiful work," said Personke, who organizes the show with the help of the Silver Maples Art Committee.
The show also brings back some of past year's favorites.
Maker Jill Andrews fashions unique dolls based on real people and celebrities, as well as designer, one of a kind clothing.
"Joyce Nass, from Saginaw, creates beautiful silk and handmade paper items.  Cheryl Green's botanical pottery is both original and affordable.  And every year I have to buy something from beekeeper Jan Sevde.  She makes all kinds of soaps, hand lotions, and lip balms," said Personke.  "We have three returning jewelry artists, all of which have are very busy and popular."
Susan Falcone, an inaugural vendor at the Harvest Art Market, said she likes to come back to the show every year because it's such a great mix of artists.
"As an artist, I enjoy participating in these types of smaller, local invitational art fairs, where the quality of work is high.  The Harvest Art Market is also one of Chelsea's well attended events,"  said Falcone.
"Although I also exhibit at larger, fine art only shows, I find that they often lack the intimacy of small shows such as Silver Maples, where the interaction between artists & visitors is a plus."
The show also features entertainment by the Allegro Winds at 11 a.m. and jazz/folk guitarist John Latini at 1 p.m.  As usual, a bake sale by the Silver Maples heritage bakers will benefit the Resident Council Scholarship Fund.
The 6th annual Harvest Art Market will be held on Saturday, Oct. 12, from 10 a.m. to 4 p.m. at Silver Maples of Chelsea, 100 Silver Maples Dr., Chelsea, MI.  The event is free and open to the public.
[nivoslider slug="harvest-art-market-2013"]