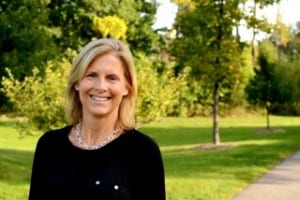 When Cece Keiser started at Silver Maples, she really had no idea how much the job would change her life.
Her role overseeing the adult day service program seemed like a good fit with her educational and customer service background.  But what she found was a place that provided a mutually beneficial situation.  It was win-win.
"I think the residents believe we are helping them," Keiser said, "but they don't really realize how much they are helping us."
She said she's learned so much – both in terms of life experiences, but also compassion and kindness.
"I can be having a terrible morning, but when I walk in the door, my whole disposition changes.  I'm so lucky I've landed here at Silver Maples."
Keiser, whose role began as the Maples Club Coordinator, now includes recruiting, training, and positioning volunteers.
"We can always use an extra hand," she says.  "We've got high-schoolers that are helping with everything from calling bingo to re-organizing storage closets.  Our adult volunteers help with computer training, words games, present travelogues, or accompany staff on trips such as concerts or picnics."
She says volunteers find the experience as rewarding as she does.
"Both the staff and residents are wonderful to be around. It's an incredible community of people."
Keiser, a 12-year resident of Chelsea, adds that Chelsea's new Volunteer Portal, funded by the Chelsea Area Wellness Foundation, is a great way for volunteers to find a place to utilize their skills and help others.  It's also a great way for organizations like Silver Maples to recruit volunteers.
As coordinator for the Maples Club, Silver Maples' adult day service program, Keiser meets with families who have a loved one that may have some form of dementia and needs a social outlet for a day or two a week.  She  said that the Maples Club also provides a respite for the person who is caring for their loved one 24/7.
"Taking care of a person with dementia all day, every day, can be exhausting.  I'm glad that the Maples Club helps give the caregiver a break from the everyday routine.  It gives them a chance to take care of themselves so they can better care for their spouse or parent who needs so much help."
When the caregiver returns to pick up their loved one, you can clearly see that they are ready again to take on the responsibility that comes with caring for someone with some level of dementia, she said.
"They are physically and mentally revived to take on the challenges that are ahead of them."