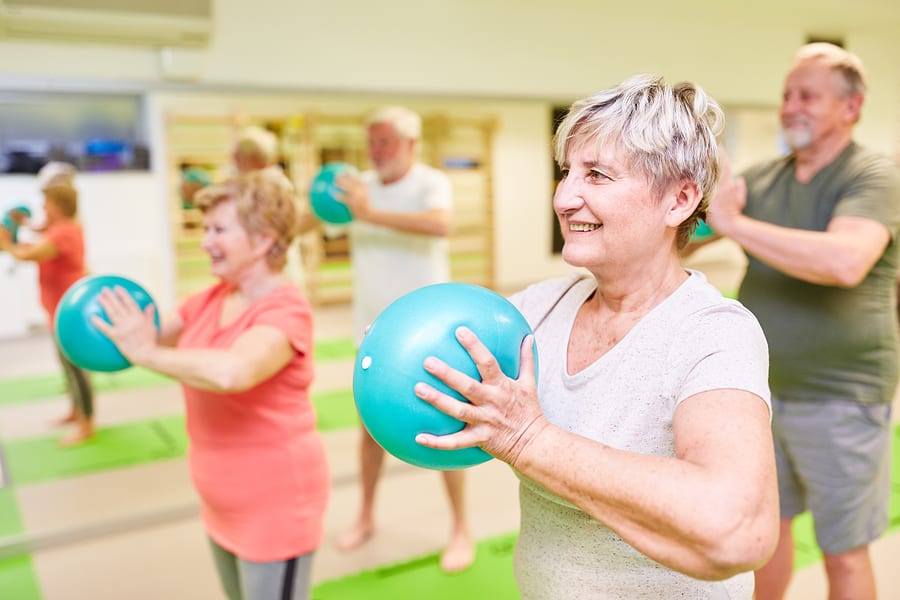 Your heart is such a powerful muscle. Like a well-oiled machine, it pumps 1.5 gallons of blood a minute throughout the body, keeping you going day-in and day-out. But your heart's resiliency doesn't come from just anywhere. Regular physical activity is needed to ensure both short- and long-term heart health. In fact, exercise is the single most important component for a healthy heart.
The winter months make it challenging to stay active and often give us a great excuse to hibernate and pause our regular exercise routine. However, indoor activities like aerobics, a fun group class, or resistance training can help you maintain an active lifestyle, push through the winter blues and keep your heart going strong.
Why Exercise is Good for Your Heart
Think about a specific skill or hobby you're really good at, like project management or painting. You probably needed the right tools, resources, and practice to help you improve. Exercise does the same thing for your heart.
Your heart muscle has many responsibilities, such as pulling oxygen from your blood and pumping your blood out of the lungs and back into the rest of your body. Regular physical activity strengthens your heart muscle so that it pulls oxygen from the blood more easily and pumps out more blood with each beat. All this allows your heart to work better under stress and maintain healthy blood pressure levels.
Exercise provides even more heart healthy benefits, including:
Increased endurance for longer exercise sessions
Increased levels of HDL cholesterol or "good" cholesterol
Lower risk for heart disease
The building of new branches and connections between blood vessels
Improved heart failure systems
A sedentary lifestyle or a lack of exercise can increase your risk for high blood pressure, weight gain, and heart disease.
How Much Exercise is Needed for a Healthy Heart?
Research shows that even just 30 minutes of activity a day can improve your heart health. But if you really want to protect your heart and stay active during the winter season, your source of truth is the American Heart Association.
They recommend that adults get at least 150 minutes a week of moderate-intensity aerobic activity, such as dancing, biking, and brisk walking. If none of those activities interest you, the American Heart Association says you can trade in moderate-intensity aerobic activity for at least 75 minutes a week of vigorous aerobic activity. This type of activity includes running, swimming laps, and aerobic dancing.
If you're new to exercising, it's important that you speak with your healthcare professional. They can help you determine what activities are safest for you and how much exercise per week you should start with.
5 Heart Healthy Activities for Seniors
If you're feeling sluggish throughout the winter months, the following indoor activities can help get your blood pumping and keep you active:
Swimming. Swimming is a full-body aerobic exercise with countless benefits. It's gentle on the joints, improves flexibility, eases osteoporosis, and is a great workout for your heart. It strengthens your heart muscle and can help lower your risk for high blood pressure and heart disease. At Silver Maples, we know how beneficial swimming can be. That's why all our residents have a free membership to the Chelsea Wellness Center that has two indoor pools for swimming aerobics or laps.
Walking or Running on an Indoor Track. Recreation or wellness centers like the one in Chelsea typically have an indoor track for members to use. Brisk walking or running gets your heart rate up and builds up your heart's durability. With increased endurance, you'll be able to work out for longer and more easily complete other activities like running errands or physical labor.
Cycling. If walking or running feels too difficult on your knees, cycling is another aerobic activity that is great for your heart. You can cycle on your own or you can participate in group classes at the Chelsea Wellness Center where an instructor can guide you through heart-healthy workouts. At Silver Maples, our on-site exercise room is open 24/7 and features a few NuStep recumbent cross trainers that works both your upper and lower body.
Weight Lifting. Strength training or power lifting where you're performing repetitive motions with weights or bands is also great for your heart health. This activity gets your heart pumping and can provide additional benefits like preventing the loss of bone mass as you age.
Group Exercise Classes. If you have trouble feeling motivated to exercise, group classes are just what you need. You'll join others in aerobics or another activity like yoga where the instructor will guide and encourage you through the exercise. This physical activity is good for your heart and gives you a chance to socialize and make new friends. At Silver Maples, we offer instructor- led exercise classes 6 days a week! These classes combine chair exercises with weights, bands, and rubber balls to keep the class interesting and fun, offering a nice mix of aerobic activity and socialization – it's a crowd favorite.
We also shouldn't forget that emotional and mental well-being play a role in your heart health. Happiness and emotional vitality (alongside regular exercise) can help lower your risk of heart disease. At Silver Maples, we offer enrichment programming that addresses all seven dimensions of wellness. Activities like happy hours, art classes, and lecture series can keep you socially, emotionally, and intellectually satisfied – all important aspects needed for a fulfilling life and healthy heart.
Enjoy an Active Lifestyle at Silver Maples of Chelsea
Health and wellness are important to aging well. That's why Silver Maples offers various senior wellness and fitness options to help you maintain an active, independent lifestyle. From our in-house exercise room and instructor-led exercise classes to all that's available to you at the Chelsea Wellness Center, there's plenty of ways for you to stay active and keep your heart healthy during the cold, winter months.
If you're ready to find out more about our community and discuss living options, current availability, and wait list options that will fit your timeline, contact us today. We encourage you to also schedule a visit, as seeing our community firsthand makes all the difference. Our knowledgeable staff is eager to assist and help you find a retirement community that fits your individual needs when you're ready.