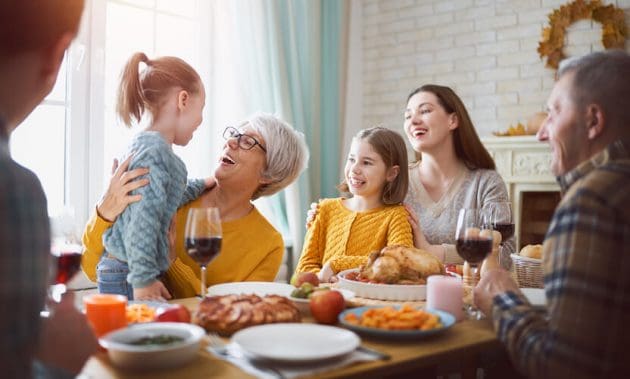 The holidays are filled with our favorite recipes and desserts. Even our favorite Christmas and holiday songs mention figgy pudding, roasted chestnuts, pumpkin pie, eggnog and so many more delicious foods that make our mouths water! But as tasty as holiday foods are, they're not exactly known for being the healthiest options. This can be a challenge if you're trying to prioritize your nutrition and avoid unwanted weight gain. Luckily, there are some strategies you can follow to help you eat healthy during this year's holiday season.
Healthy Holiday Eating Tips to Follow
You may think this all sounds promising, but how are you supposed to keep yourself from trying the delectable homemade stuffing or from indulging in a luscious yule log? The good news is there are plenty of ways to help you eat balanced meals during the holidays.
Have a healthy snack before going to a party.

Resisting hors d'oeuvres and treats at holiday parties can be difficult, especially when you see others eating and enjoying themselves. Keep your appetite and cravings at bay by eating a light meal or healthy snack before you go.

Start with healthy appetizers.

Instead of filling up on gingerbread cookies and chocolates, snack on vegetables, fruits, cheeses and meats. This approach can help you feel full without consuming unnecessary amounts of sugar and useless calories.

Eat small meals regularly throughout the day.

One of the golden rules of nutrition is to eat six smaller, healthy meals a day to help regulate your metabolism and keep your blood sugar levels steady. If you eat smaller meals and snacks leading up to a holiday party, you'll be less likely to overeat during the festivities.

Don't socialize by the food

. Food brings people together during the holidays, but don't use that as a reason to overeat. A good way to keep yourself from overindulging is to move away from the food when socializing with family and friends. This will prevent tasty desserts from catching your eye or you absentmindedly grabbing a snack as you talk.

Limit your alcohol intake.

Holidays and alcohol often go hand-in-hand. But if you're trying to stay healthy this holiday season, replace alcoholic drinks with water, sparkling water or tea. These beverages are healthier for you and can help keep you hydrated.

Participate in activities that keep your mind off the food.

Overeating can be easily avoided if you are busy participating in other activities that don't involve food. Try playing board games or card

games with family and friends during a holiday party

. Or if it isn't too cold and icy outside, help your grandkids build a snowman.

Eat slowly and purposefully

. How often do you slow down and really enjoy the food you're eating? Challenge yourself to do this during the holidays. Eating quickly can leave you grabbing for more snacks, so try to slow down and savor your food. You'll appreciate your food more and feel fuller longer.
The Benefits of Eating Healthy During the Holidays
Eating healthy during the holidays doesn't mean you have to swear off desserts completely. After all, everything in moderation. But the challenge is when you're tempted by cravings or see others indulging in sweets.
If you find yourself struggling with a sweet tooth during the holidays, keep in mind a few of the top benefits of eating healthy:
Improved mood and energy levels.

Eating healthy foods like proteins and vegetables offer the nutrients your body needs. These nutrients help improve your mood and give you the energy you need to maintain an active lifestyle.

Heart health.

Cutting back on sugars and unhealthy fats is also beneficial for your heart.

Proper nutrition

can help you maintain healthy blood pressure levels and lower your risk of heart attack and stroke.

Improved memory.

Foods that are good for your heart are also good for your brain. Sustaining a healthy diet can help keep your memory sharp and ward off signs of dementia.

Weight loss.

Eating a balanced diet with plenty of nutrients and fiber can help you feel fuller longer. This means you'll be less likely to indulge in foods packed with sugars and unhealthy fats, which can help you hit your weight loss goals.

Cancer prevention.

Eating healthy can help prevent obesity, a condition that has been linked to higher risks of cancer. Fruits, vegetables, nuts and other healthy foods may also help lower your risk of liver and colorectal cancers.   
Healthy Eating at Silver Maples of Chelsea
We know how important it is to eat healthy, especially during the holiday season! At Silver Maples, we create tasteful and nutritious meals that keep you healthy and help you continue your active lifestyle. From casual to restaurant-style dining, we offer several dining options and a variety of meal and menu items to promote a healthy diet. Check out our breakfast, lunch and dinner menus for our various dining venues (Trellis Dining Room,  Bistro 100, Arbor Dining Room and Courtyard Café). 
When you're ready, contact us to learn more about our vibrant community and discuss living options, current availability and waitlist options that will fit your timeline. We encourage you to schedule a visit as seeing the community firsthand makes all the difference.  Our knowledgeable and experienced staff is ready to assist and help you find an active, engaging lifestyle that you'll love and will fit your individual needs now and in the future.