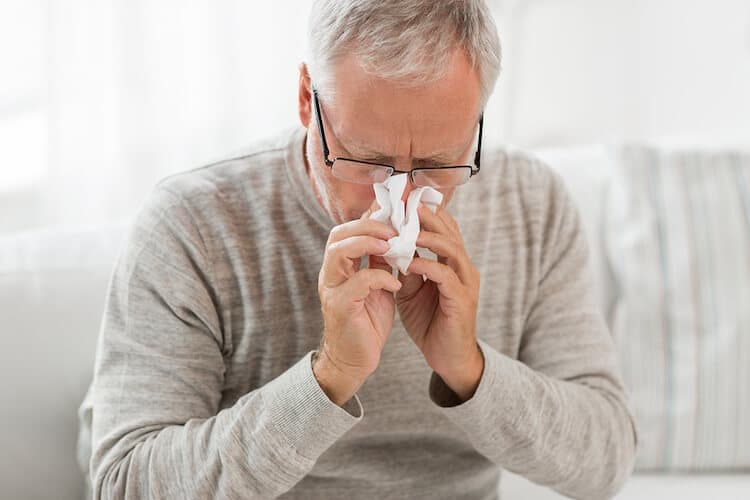 The fall and winter seasons bring about crisp breezes, beautiful transformations of the colors of leaves and wintery wonderlands. Unfortunately, there's something else in the air during this time of year: the flu. The flu is a miserable experience for anyone who catches it; but for seniors, the flu can be more severe and even life-threatening.
Luckily, there's ways to protect yourself from the flu. Whether you're living on your own or a resident at a senior living community like Silver Maples, we've highlighted 4 key ways you can prevent yourself from catching the flu this year.
How to Prevent the Flu
1. Get a Flu Shot
The very best precaution during flu season is to get your flu shot. This is something everyone should do to protect themselves and others around them, but it's especially important for seniors. As we naturally age, our bodies produce fewer antibodies to fight against viruses like the flu. Because of these changes, many doctors offer flu shots designed for seniors. Ask your doctor about high dose flu shots for seniors. The high dose vaccine can provide an extra boost to your immune system during flu season.
If you haven't gotten the flu shot yet, now is the time to go to your doctor or local pharmacy to get one. According to the CDC, it can take up to two weeks for your body to get the full benefits of a flu vaccine. In order to protect yourself throughout the rest of the winter season, get your flu shot as early as possible. This is the most effective way to prevent the flu and reduce its severity if you do get sick.
2. Practice Healthy Habits
Other than the flu vaccine, practicing good hygiene is one of the most underrated flu prevention tips. Good hygiene includes washing your hands thoroughly throughout the day. Use soap and warm water, and don't forget to wash between your fingers and under your fingernails. Don't forget that viruses like the flu can survive on surfaces like public door handles and handrails. So, we recommend carrying a small bottle of hand sanitizer to keep your hands clean, no matter where life takes you.
Speaking of healthy habits, remember to keep your hands away from your face. It can be difficult to avoid touching your face, but doing so can spread germs and viruses into your system. During flu season, try not to touch your face or use a tissue the next time you have an itch.
3. Diet and Flu Prevention
A healthy diet is an important part of flu prevention, especially for older adults. In fact, having a well-balanced diet can naturally boost your immune system to lower your risk of getting the flu. If you're looking for a place to get started when it comes to your diet, we've got you covered. You can actually increase your immunity by getting more Vitamin C.
Here's a quick list of foods that are rich in Vitamin C that you can incorporate into your diet right away:
Red and green bell peppers
Broccoli
Strawberries
Brussel sprouts
Pineapples
Mangos
4. Laughing Can Boost Your Immune System
There might be some truth to the old adage "laughter is the best medicine." Laughing is actually one of the easiest flu prevention tips to follow. It's a natural reaction of living your life to the fullest! Laughing not only lowers your stress, but it has also been shown to boost our immune system by increasing the production of anti-infection antibodies and disease fighting T cells in the blood that helps protect us from infections. So, don't forget to laugh and enjoy the silliness in life. That's why, at Silver Maples, we strive to offer a list of engaging programming to keep people engaged, connected and laughing when the opportunity arises.
What to Do if You Catch the Flu
Chances are you've suffered from the flu before, so you're familiar with the symptoms. But as mentioned earlier, flu symptoms can become more severe the older that we get. The most important thing to remember is that the flu is highly contagious, so it's important to take precautions to prevent spreading the virus to others. Here are some general guidelines to follow if you have the flu:
Rest and Recover – get plenty of rest, allow your body time to fully recover
Stay Hydrated – drink plenty of clear liquids such as water, tea or broths
Manage Symptoms – take over the counter medications to alleviate symptoms
Isolate Yourself – stay home from work or school to prevent spreading the virus
Practice Good Hygiene – wash your hands frequently and sanitize spaces you've touched
Seek Medical Advice – if symptoms are severe or you have underlying medical conditions
Your Health and Safety is a Priority at Silver Maples
We prioritize the health and safety of those that call Silver Maples home; this is especially true during cold and flu season.  Annually we organize a flu vaccine clinic for our residents and staff to make it easy for everyone to protect themselves, each other and our community. And during the COVID pandemic we coordinated COVID shots and booster clinics to keep our vibrant retirement neighborhood healthy and safe.