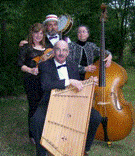 The popular Kaleidoscope Concert Series resumes on Tuesday, Sept. 17, at 7pm, with the Picks & Sticks String Band.  The concert is sponsored by community donations.  The concerts are free and open to the public, but tickets are required.  Free tickets are available at the Chelsea Senior Center. Held at Silver Maples of Chelsea, 100 Silver Maples Dr, Chelsea.
Virtuosos on over 10 instruments, from the hot fiddle of Michael Gleason to the vivacious  banjo and guitar of Morgan Humecky, Picks & Sticks String Band has performed all over the country.  The group has toured playing their brand of swing, folk, light pop, jazz, and ethnic tunes at Greenfield Village, the Detroit Festival of the Arts, and at Branson, Missouri's Artfolk.  Their artistry paints musical pictures textured with images of down home, seasons of life, romance, family, and plenty of whimsy!
A second seating will take place after tickets holders are seated to fill any remaining seats.