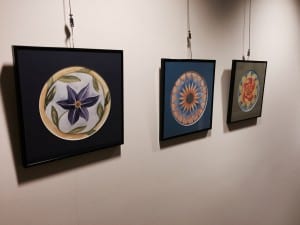 The Dexter Painters have brought their beautiful, personal, and elegant collection of Mandalas to Silver Maples Gallery 100.
Mandalas, as an art form, can be personal expressions of representing a dreamer's search for completeness and self-unity.  And that is the case for this collection of art created by the Dexter Painters.
The group gathers on most Tuesdays at the St. James Episcopal Church in Dexter to explore new techniques and personal interests relating to watercolor painting, said artist and workshop leader Jennifer Wolf.
"The group approached mandalas from the most basic definition, a circle, to create their own, unique interpretations of the art form," she said. "Repeating patterns and spirals with evolving content are common themes in the works."
The Sanskrit meaning of mandala is circle. The circle is a symbol of perfection, eternity, unity and completeness. Mandalas are often associated with their use in Hindu and Buddhist symbolism, representing the universe.
Wolf adds that helping students create mandalas provides a sense of personal satisfaction, too.
"As a teacher, I am motivated by three things:  one, seeing the "light bulb" go off when a students acquires a new skill; two, seeing a student's excitement when they achieve a goal; and, three, knowing the benefits that come with creative pursuits – improved mood, cognition, motor skills and emotional well being."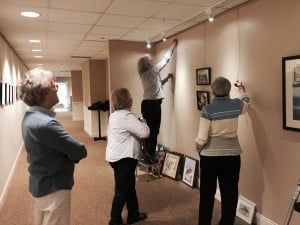 Resident Lois deLeon, who volunteers to coordinate Gallery 100, says the group illustrates beautifully what she's discovered about the Chelsea, Dexter and southeastern Michigan.
"The wealth of artistic talent in this area is truly incredible. Gallery 100 focuses on local talent and groups like this make my job as gallery coordinator a delight.  I'm forever discovering new treasures!?
Artists represented in the exhibit include:
Sandy Hansen
Noriko Shiomi
Laura Baur
Adrienne Burroughs
Janet Vecchio
Jocelyn Rinker
Iris Mechigian Gruhl
Jan Marble Stagg
Karen Cavell
Suzanne Stevens
Robin Meloche
Ellen Meyer
Keiko Watanabe
Gladys Dettling
Suzanne VanNatter
Sue Urquarht
Jennifer Wolf
Mary Robinson
Deborah Wilson
Gallery 100 hours are Sunday through Saturday, 10 am to 5pm.  Silver Maples is located at 100 Silver Maples Dr., Chelsea.  734.475.4111.