It's that special time of year when we all want to show those we hold dear how much they truly mean to us. Throughout the hustle and bustle of the season, it's easy to get carried away with all the decorating, baking, holiday parties, and of course, shopping for those perfect gifts for everyone on your list.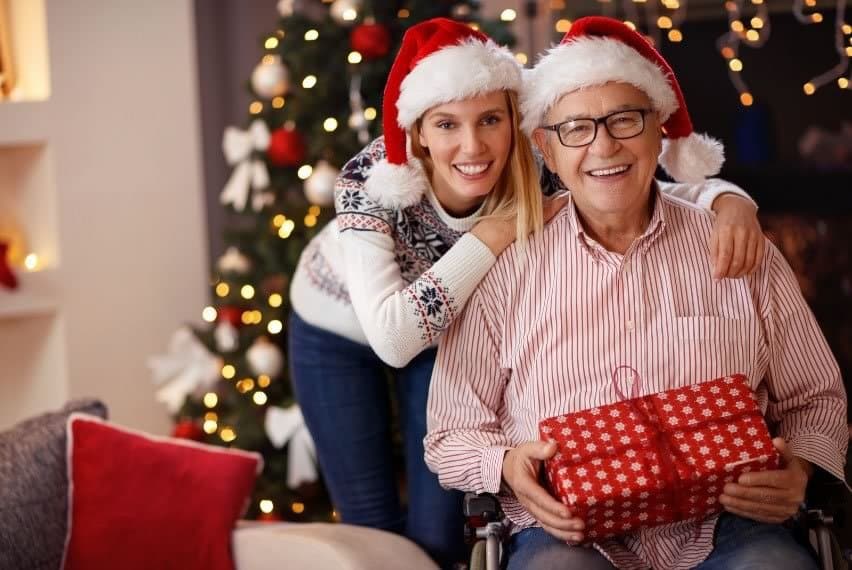 When your loved one resides in an assisted living community, finding just the right gift can be even more challenging. After all, your loved one's needs have changed, and they no longer have much use for some of the more frivolous items you would purchase for others on your list. Plus, after downsizing their home, their living space is now smaller and storage can be tight, so it's important to find items they not only find useful, but don't take up much space, too.
7 Great Senior Gift Ideas
Don't despair! There are still plenty of great gifts seniors will appreciate. In fact, we have eight ideas you can consider:
Personalized gifts. Items like personalized coffee mugs, a "license plate" for a walker, or monogrammed throw blankets are all great gift ideas for seniors in assisted living communities. As an added bonus, your loved one will always know what items belong to them if there are ever any mix-ups during community events.
Handmade/homemade goods. Perhaps your loved one has a special treat or favorite dish they remember from the past that they rarely get to enjoy these days. Search for the recipe online if you don't have it on hand, and bake or cook up something delicious that will stir up memories. Or, gather the kids and spend a day making some unique crafts or drawings. Seniors always enjoy homemade gifts created from the heart.
Puzzles or games. Puzzles and games are not only entertaining, but many can also stimulate the brain and help improve memory and cognition. Plus, games provide a way for seniors to socialize with other residents. Go for jigsaw puzzles, board games, checkers, or word and trivia games.
Cozy items. During these chilly Michigan winters, who doesn't enjoy snuggling up with a warm robe, soft socks, snuggly cardigan, or cuddly blanket? Look for socks and slippers that are easy to pull on and have non-skid bottoms to keep your loved one safe from a fall.
Technology and entertainment. Seniors today are embracing technology more than ever, and it can help them live more active, safer lives. Consider loading an iPod with your loved one's favorite music or an e-reader with their favorite books. Or, a cell phone can help them stay connected and safe, as they can keep it with them at all times.
Practical items. Favorite toiletries like lotions, toothpaste, hand sanitizer, shampoo, soap, etc. are always welcomed by seniors at assisted living communities. Or, items like pencils, stationary, and stamps are also great gifts for seniors who aren't able to go out on a regular basis and purchase them on their own. Consider arranging these practical items into a festive gift basket when you present them to your loved one.
Companionship. Of course, one of the very best gifts for seniors is simply the gift of your time. Visit the assisted living community as often as possible throughout the holiday season, or take your loved one out for dinner at a favorite restaurant. Enjoy a movie night together, or a cozy evening just talking about fond family memories of holidays past.
Compassionate Assisted Living at Silver Maples Retirement Neighborhood
Find vibrant, compassionate assisted living in The Meadows at Silver Maples, where your loved one will enjoy 24/7 care and the support they need to thrive. Our assisted living apartments are available in a variety of floorplans with all the amenities and engaging activities located just steps away. Check out some of the personal stories and testimonials shared from residents, their families, and our staff, or contact us today to schedule a personal tour.
Immediate Assisted Living Availability!