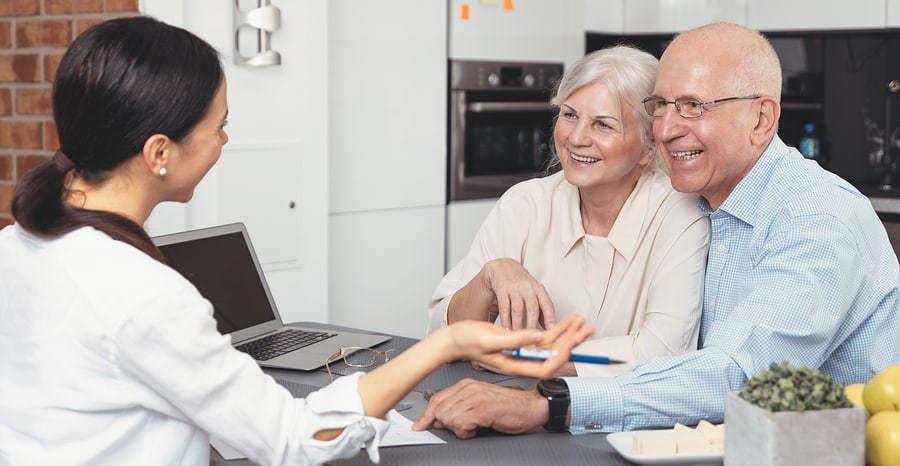 You've seen the advertisements that showcase beautiful grounds, spacious living accommodations, convenient services and amenities, dining options and everything else residents of a senior living community enjoy. While this is certainly appealing, some people think a retirement neighborhood is financially out of reach or not completely necessary at this point in their lives. What you may be surprised to learn is just how affordable it could actually be – especially when you compare the cost of home ownership with the cost of living in a retirement neighborhood like Silver Maples.
In this post, we'll take a closer look at how much it really costs to continue living in your current home versus moving to a senior living community. We'll also explore some of the costs associated with maintaining your current lifestyle and wellness goals, as several of these may be included at no additional charge in a senior living community setting. Let's get started!
Basic Cost of Staying In Your Home
The cost of staying in your current home is more than the mortgage or rent you pay. To really get a sense of what it takes financially to live in your home, you should also consider your monthly utilities, taxes, home maintenance and other bills. With the exception of your phone and cable service, all of these basic home ownership costs are included at no additional charge as a resident of a senior living community:
Mortgage/rent

Homeowners/condo association fees

Homeowners insurance

Property taxes

Utilities (electric, gas, water, sewer, trash)

Home maintenance & general upkeep

Property maintenance (lawn care, snow removal, gutter cleaning, tree pruning, leaf removal)
Costs you should definitely include in your calculations are those major home expenses, like the replacement of a roof or new windows, or an emergency repair expense like a new furnace or air conditioning unit. Living at a retirement neighborhood offers you peace of mind that these home maintenance issues, whether small or large, are taken care of quickly and are no longer an area of concern for you. It's often difficult to attribute a dollar figure to that sort of convenience and peace of mind, however it's an important area to note.
Additional Lifestyle & Wellness Costs
In addition to basic home ownership costs, residents of senior living communities also find that several of their daily living expenses are reduced or even included in the monthly fees; a convenient and consistent, once-a-month payment where everything is covered in a single check. For example, Silver Maples residents can enjoy a diverse calendar of enrichment programs and events – from music, art and culture to lifelong learning opportunities, planned social outings and more, which makes it easy to stay connected. Consider how much you currently spend each month on the following:
Social outings

Groceries and meals

Housekeeping

Transportation (gas, insurance, vehicle maintenance)

Cultural activities and entertainment

Fitness Club/Wellness Center membership
How Much Is Your Time Really Worth?
Maintaining a home doesn't just take financial resources, it also requires a lot of your time – time that you might rather spend with friends and family or pursuing new hobbies. It's hard to put a price on moments like these, but most people find they have more free time to enjoy life on their own terms after moving to a senior living community. What would you do if you had an extra hour or two to spend however you wish? 
The Cost of In-Home Personal Care at Home
It's normal to feel somewhat invincible and not truly consider what might happen if you need additional care down the road. The reality is we all will need some sort of support as we continue to age. The biggest cost difference between living in your own home or a retirement community is often the cost of providing in-home personal care and support. There are typically two options for in-home care: hire a home care agency or have a loved one provide the support. Home care agencies typically charge $20-$25 per hour which can quickly add up as care needs change. While it is often more comfortable and cost-effective to have a family member or friend provide this support when needed, you should consider the toll caregiving can take on that individual both emotionally and physically. In contrast, additional care can often be easily coordinated in a community setting like Silver Maples which is specifically designed to support you and your family as needs change.
Find Out if Senior Living is the Right Fit for Your Budget
While a large number of older adults believe the most desirable option is to remain in their homes, we encourage you to look at some of the challenges this option may present, and to consider all that a retirement neighborhood has to offer. Many factors go into determining how much it costs to move to a senior living community; we recommend that you speak with a sales counselor who can help you understand your options, the various price points, and everything that is included within your monthly fee. As you consider senior living in the area, and develop a short-list of communities you're interested in, be sure you understand the financial implications of choosing one option over another – including the cost of staying in your current home.
Silver Maples of Chelsea Wants to Be Part of Your Future
We know you love your home and the familiarity of the neighborhood.  It's a big decision to transition to a retirement neighborhood like Silver Maples, however the benefits and advantages our senior living community provides will offer more assurances and comforts than you can imagine.
Still in the early stages of your decision? We invite you to learn more about our vibrant senior living community in Chelsea, MI, including our passion and mission to provide a positive aging experience for all who call Silver Maples home. You can visit our website to access informative videos, personal stories, and testimonials from residents, their families and our staff. Or, feel free to connect with us through social media to get a peek at daily life at Silver Maples. You might decide that the convenient amenities, readily available care services and peace of mind that comes with the support a retirement neighborhood has to offer, outweighs what you thought were benefits of remaining in your current home. As Irish novelist Cecelia Ahern says, "Home is not a place, it's a feeling."
Contact us when you're ready to discuss options, our knowledgeable staff is eager to assist and help you find an active, engaging lifestyle that you'll love and will fit your budget.