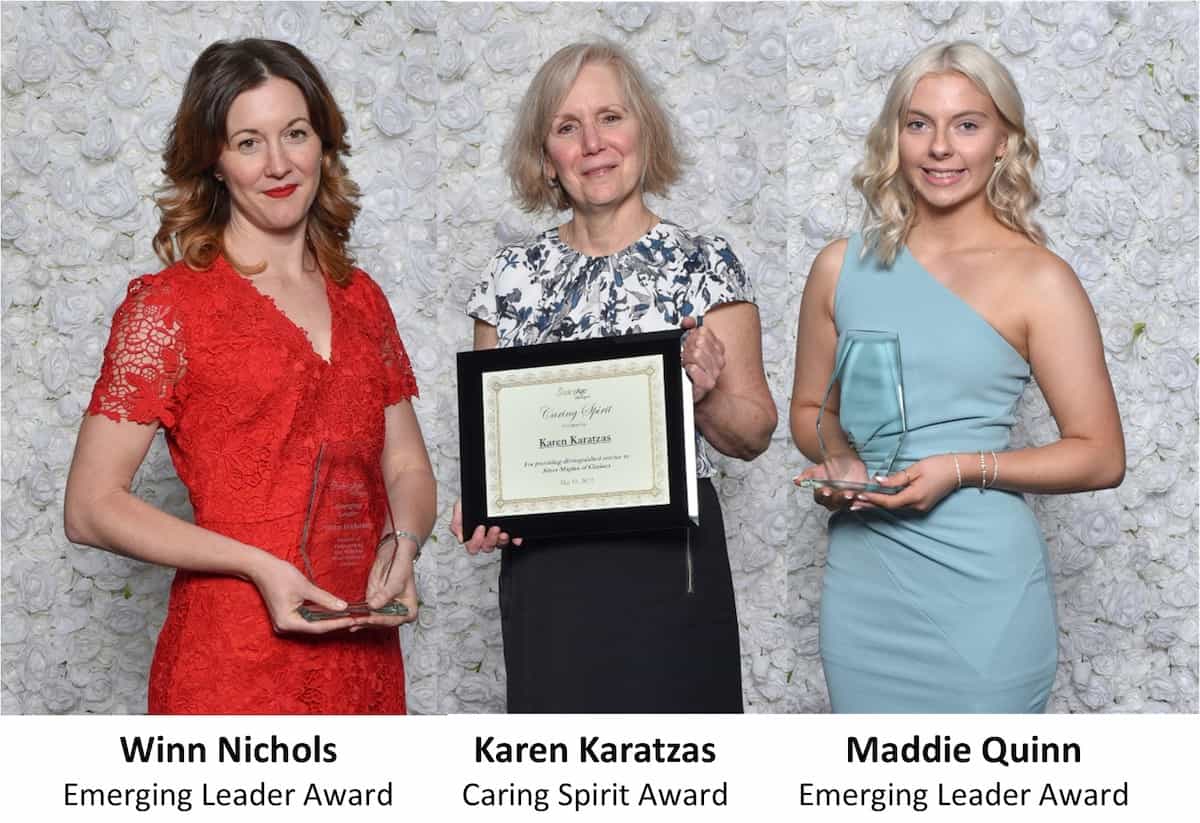 LeadingAge Michigan was pleased to honor three (3) Silver Maples of Chelsea staff members at the 2023 Member Awards Gala on Tuesday, May 16.
Annually, LeadingAge Michigan honors individuals who embody excellence in leadership, care, and service innovation in the field of aging service. Award winners were nominated by their peers and selected by an esteemed group of committee members among many nominations across the state. This year's gala took place at the Radisson Plaza Hotel in Kalamazoo, Michigan. Nearly 200 people gathered to celebrate the elite group of 26 award winners and recognize their collective achievements.
The Emerging Leader Award recognizes an individual who has demonstrated an aptitude for and commitment to professional growth as a leader. Additionally, they have successfully assumed expanded leadership responsibilities within a LeadingAge Michigan member organization in the past three years. This year, Silver Maples had two staff members receive this prestigious award.
Winn Mahoney joined the Silver Maples of Chelsea team in February 2017 as the Activities Coordinator and was promoted to Assistant Director of Programming and Wellness in 2018. As the Assistant Director, she managed programming for The Meadows, the assisted living residence, and worked closely with the Director to plan engaging events for the entire community which is made up of 168 independent and assisted living resident homes/apartments and consists of over 200 residents. In April 2021, Winn was promoted to Director of Programming and Wellness.
This leadership role includes the management of the programming staff as well as the transportation department. Winn is touted as an invaluable leader who strives to incorporate fun and laughter into her teaching and the support of the residents. A goal of Winn's was to enhance communication with residents and provide a single location for residents to access calendars and announcements and even connect with one another. She has worked relentlessly with her team to implement the Lifeloop app, Silver Maples has over 50% of residents enrolled and actively using the app with more joining every day.
Maddie Quinn began her career at Silver Maples as a server in the dining rooms in March of 2018. She quickly took ownership of her role and began helping outside of her normal job description. She was then promoted to Team Lead, where she excelled at ensuring the team was running efficiently while offering the best dining experience to our residents. After an unexpected resignation, Maddie quickly stepped up to assist with scheduling, training, organization of section assignments, and assisting with meal preparation in the café. Ultimately landing in her current position as Dining Room Supervisor.
Maddie is committed to Silver Maples, promoting the mission and values every day, and is always ready to help. She handles additional tasks with ease and grace, regardless of the situation. For example, when Maddie learned the assisted living department needed additional staffing support, she quickly volunteered to step in and assist with resident care and recruited others to do so. She found a passion for taking care of residents and asked to be fully trained to assist with medications and care in assisted living when needed.
The Caring Spirit Award recognizes the achievements of frontline staff and direct-care employees who, while working for the nominating organization, have made a significant impact on the lives of older adults.
Karen Karatzas began working at Silver Maples in 2017 and is one of those rare, exceptionally dedicated professionals every senior living community desires and deserves. As the Independent Living Receptionist, Karen always listens to each resident and team member to understand how she can help, then follows through on rendering aid. She makes each person feel important and is careful to give individualized attention.
When Silver Maples participated in the Holleran Resident Engagement Survey, the highest-ranked response from all residents was "Helpfulness of our Front Desk." Karen played a major role in this honor because resident after resident commented about the friendliness and welcoming environment created in our community, especially by our Front Desk Receptionist. Karen is proclaimed to be an example of the Amazing Spirit of Silver Maples because she continually makes a significant, positive impact on the lives of our seniors.
LeadingAge Michigan extends a heartfelt congratulations to Winn Nichols, Maddie Quinn and Karen Karatzas for their continued excellence and mission-based care and quality work to better the lives of older adults in the state of Michigan! To learn more about the 2023 Member Awards Gala and other award honorees, review the 2023 Member Awards Gala Program or visit LeadingAge Michigan on YouTube.