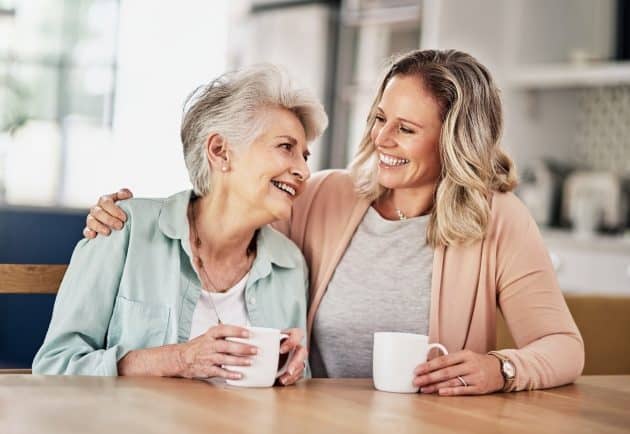 Life is filled with choices. From the moment we're born to well into our later years, we have to make decisions on a daily basis – some more consequential than others. One of the biggest decisions your family may face is whether your parent(s) would benefit from living in a retirement community. After that decision comes the research phase as they determine which community is right for them, followed by knowing when is the right time to make the move.
These are not decisions to take lightly. It's important to help support your parent(s) as they work through the various options, fine-tuning what's important to them. You need to understand how they envision their future and their plan for dealing with changes related to their health and age. Do they have uncertainties or doubts about senior living communities based on rumors, popular culture, or misconceptions? Are they curious to see firsthand what living in a retirement community like Silver Maples is like?
Signs that Senior Living May be Perfect for Your Parent(s)
Retirement communities are not everyone, but here are some signs that senior living could be an ideal option for your parent(s):
Withdrawal from social groups or clubs
Difficulty driving
Struggling with household maintenance
Dietary changes – not eating well balanced meals, or not eating frequently enough
Missing medications or not taking them at the right times
Mobility changes
Memory related issues
Changes in personal hygiene
Senior living communities offer multiple levels of care which is a great feature.  If your loved one doesn't need much help – or any help at all – they can choose independent living initially and know that if their needs change in the future, they are part of a great support system that can offer solutions and easily adjust to additional care needs.
Steps to Choosing Senior Living Communities
You have the opportunity to guide your loved one through all of the above, and we're here to help you do so with the following seven guidelines.
Step #1: Start the conversation.
The first step is always the hardest. Once you open up the dialogue you may be surprised to find that your parent(s) were already thinking about a retirement community and contemplating how to get the process started. If, however, a retirement community was never part of their plan and they are adamant about staying in their home (which is a common desire), try mentioning areas of concern and how you feel a community setting could offer a better quality of life, now and as future needs develop.
Step #2: Compile a list of your parents' questions and concerns.
You can't possibly know everything there is to know about retirement communities in your area, but you can help your loved one put together a list of questions and concerns to talk through with a professional when you call to ask questions and set up a community tour. The more knowledge you can arm yourself and your parent with, the better you both will feel about the decision to explore the benefits of a retirement community.
Step #3: Make a list of your parents' wants/needs, then a list of communities that offer them.
Discuss features, amenities, services, and characteristics of senior living communities that fit their initial wish list. Keep track of what each community offers that's important to your parent(s). Try to narrow down your list to three or fewer communities to visit. You'll also find a great deal of information available on-line or in brochure packets that can help you trim your list to only those communities you feel would be perfect.
Step #4: Schedule a tour of your top three retirement communities.
Make time to do in-person visits with your parent(s). Remember that you're simply researching options at this point so make the visit fun and relaxing. Take note of the overall feeling of the community. How are you greeted by staff, were you able to interact with residents, do people look happy?  Also consider the overall cleanliness of the community and note the various community spaces as well as the homes or apartments you're considering. If possible, dine at the community you are touring or even ask to observe or participate in one of their programs or activities. It's natural to try and tour a few places on the same day (especially if you're taking a day off work), however be careful about scheduling too many. You could get tired and find it hard to remember what communities offered which options.
Step #5: Ask lots of questions.
No question is silly. Be sure to bring along your parent's list of questions and concerns. You have an opportunity to meet with individuals who either work or live at the senior living community. Staff members and residents can offer personal insights into the community; their shared experiences can play an important role in your loved one's decision process.
Step #6: Post visit recap.
It's important to talk with your parent(s) about each place you've visited, and it's best to do this right after the tour when things are fresh in your mind. Talk about things they liked and didn't like about the community. What were their initial impressions? Is it a place they can feel at home? Did they like the campus, the food, and the vibe? Rather than inflecting your opinion, let your parent(s) do the talking and simply ask questions and absorb information. Yes, this decision affects you, but it affects them more.
Step #7: The decision must be your parent's.
 This is one of the most important steps. We all like to feel we're in control, often our biggest fear is the day when someone will make decisions for us rather than with us. Keep this in mind and be sure your parent(s) are part of the discussion as much as possible. Your role is to support them as they explore options. Help coordinate tours, answer remaining questions, and seek additional information if needed, but leave the final decision up to your loved one.
Vibrant Senior Living Options for Your Parents at Silver Maples of Chelsea
Whatever your parent(s) decide, remember they can enjoy all the benefits of a planned retirement and a vibrant lifestyle by moving to the Silver Maples Retirement Neighborhood in Chelsea. Just a few minutes from Ann Arbor, our community offers a wide variety of condo-style villas, spacious independent living apartments and peace of mind knowing that should they need additional support, we offer assisted living apartments with amenities, services and compassionate support designed to provide the support you need with the independence you desire.
If you're still exploring options and aren't quite ready to visit, we encourage you to get to know us from afar by visiting our website; there you can access floor plans, included services, pricing and video tours of several floor plans.  Or, connect with us on Facebook to get a peek at daily life at Silver Maples. You'll see programs we're offering, events we're celebrating and places we're exploring. When you're ready to learn more, we invite you to schedule a tour to experience our award-winning community first-hand; you'll feel the warmth of the community the minute you walk through the doors.
Immediate Assisted Living Availability!