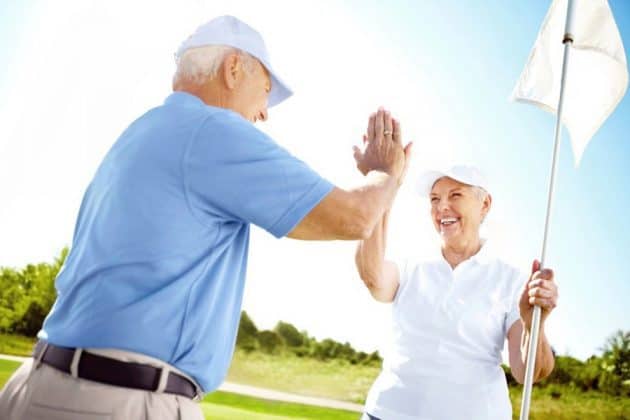 You've probably been looking forward to your retirement your whole life. You escape the daily grind and the days become yours again, full of possibilities. Maybe you'll finally sit down to write a novel. Maybe you'll travel across the country, stopping to visit friends and family along the way. Or, maybe you'll simply kick back, relax and enjoy all your newfound free time for a while.
No matter how you choose to spend your retirement, one thing is for certain: you want to make sure you're living comfortably, both financially and health-wise. And there's no better way to accomplish that than by moving to a senior living community.
A Secure, Vibrant Future at a Senior Living Community
You might be familiar with the term "age in place." However, the scenario that enters your mind is probably one where you remain in your current home for as long as possible, only receiving care and assistance as it becomes necessary. However, is this really the best option for your future?
Studies show that older adults who move to senior living communities or retirement neighborhoods while they are still active and independent are more likely to stay that way longer. Why? It's due to the fact that these individuals have access to a variety of programs, amenities, activities and maintenance-free living that simply make life easier, healthier and more enjoyable overall. "I wish I would have moved here sooner!" is a comment we often hear from our residents and their families as they quickly realize that living at Silver Maples allows them to lead active, fulfilling lives with peace of mind knowing that additional support is easily accessible should they need arise in the future.  "I have come to believe that moving earlier is really better than later," remarks Barbara, who moved to Silver Maples with her husband 5 years ago when they were in their mid-70's. "It's not because I need to get settled before my body begins to have problems, but because in this new community I am discovering new ways of living and growing. It's important to make new friends and do new things, because when we 'age in place' it is easy to get stuck."
Some of the benefits of moving to a retirement community for a vibrant, secure and well-planned future include:
Financial Security
Staying in your current home can come with a big price tag, even if your mortgage is paid off. There may be major repairs on the horizon, like a new roof, furnace or windows. Additionally, it's important to remember that the cost of healthcare is continually on the rise. To get a true picture of your budget, take a moment to add up all your monthly expenses, including healthcare costs; you might find that the costs associated with senior living communities are very affordable.
Plus, senior living communities make budgeting easy. You'll only have one monthly check to write to cover all your expenses, from your utilities and property taxes to the variety of amazing amenities that come along with the community like housekeeping and yard maintenance.
Wellness Options
Residents at senior living communities enjoy a wide variety of opportunities for whole-person wellness. You'll stay physically active with exercise classes for those of all abilities, from chair yoga and strength-training to walking groups, or even a membership to a fitness facility. Since staying socially active is key to healthy aging, you'll find it easy to stay connected and engaged with an array of daily and weekly social events and outings like happy hours, discussion groups, museum trips and movie nights, to name a few. Stay intellectually stimulated by attending a seminar from a visiting speaker or taking a continuing education class. There's no doubt you'll lead a fulfilling, engaging lifestyle and a higher level of overall wellness by moving to a retirement community.
Varying Levels of Care
Finally, independent living communities also offer different care levels on the same campus. In other words, should your healthcare needs change in the future where you would benefit from some assistance with daily activities like dressing or bathing, you can receive the help you need in the place you already call home. Transitioning from independent living to assisted living is seamless and convenient with the help of professional, supportive staff. This is also a great option for couples who may have differing health needs, as they can stay together, each receiving the right amount of support and care they need to thrive.
Living Options as Unique as You Are at Silver Maples of Chelsea
Enjoy all the benefits of a planned retirement and a vibrant lifestyle by moving to Silver Maples Retirement Neighborhood of Chelsea. You'll find a wide variety of spacious residential villas, comfortable apartments and peace of mind knowing that should you need a higher level of care, we offer assisted living services, right in the location you already call home.
If you're interested in learning more about the enriching lifestyle we offer, we invite you to come see Silver Maples for yourself. If you're still researching your options and aren't quite ready to visit, we encourage you to get to know us from afar by viewing our videos and reading some of the personal stories and testimonials shared by residents, their families and our staff. Or, feel free to connect with us through social media to get a peek at daily life at Silver Maples. You can even request more information to receive our brochure packet. We're eager to discuss options when you're ready, so contact us to learn more.