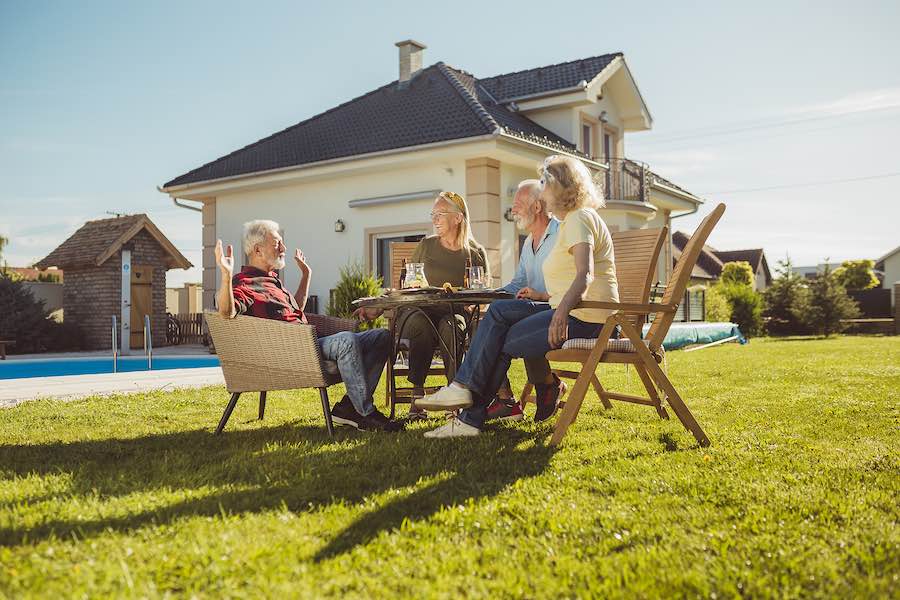 Summer means cookouts with family and friends, backyard gardening, and fun summer festivals! Now that the official first day of summer is here, summer safety is a top priority, especially for seniors. As you age, your body changes in more ways than you probably realize, making summer safety even more important for seniors.
5 Summer Sun Safety Tips for Active Seniors
We all need to get outside and enjoy the weather when we can, and summer is a perfect opportunity to do so. Whether taking long walks in the park, riding a bike on local nature trails, or doing some backyard gardening, it feels good to get Vitamin D from the sunshine.
To make sure you're spending time outdoors in the safest way possible, use these helpful tips to keep you safe and protected all summer long.
Stay Hydrated — While it's important to stay hydrated all year long, it's most important when the weather heats up. It's easy to get dehydrated when spending long periods of time in the sun, especially when exercising.

Keep water on hand everywhere you go in the summer, and be sure to sip regularly. It's recommended you drink eight or more glasses of water or sports drinks daily, and avoid alcohol and caffeinated drinks such as soda, coffee and tea as they can dehydrate you more quickly.

Dress in Appropriate Fabrics — The best way to protect your skin from UV rays is by covering up; invest in breathable fabrics. It's hard to add layers in the summer months, so reach for light-colored, loose-fitting, breathable fabrics that will block the sun while still helping keep your body cool. Some fabrics even offer built-in UV protection. Wear a hat whenever you'll be outside for long periods of time to protect your scalp and face, and keep sunglasses with you to keep your eyes safe.
Keep Your Body Cool — It's not hard to overdo it in the summer sun and become overheated. This is preventable. When spending time outside, opt for shady spots, or limit your time outdoors to times when the sun isn't as strong. The peak hours of sunshine in the summer are 10 a.m. to 4 p.m. Consider cutting grass, gardening, and going for walks when the sun's rays aren't as strong.
Watch Your Diet — If you fuel your body properly in the summer, you'll be better protected when battling the heat outdoors. Go easy on the protein; instead opt for a fresh salad or freshly cut fruit.
Get Your Skin Checked — As the years pass, your skin begins to weaken, and over time it loses fat and becomes thinner. This can allow UV rays to penetrate the skin more easily, making summer safety an even bigger priority for seniors. One of the best ways to protect your skin from the sun is to get it regularly checked by a dermatologist. Getting regular skin checks can ensure you have any issues addressed promptly and help you avoid potential problems.
Following sun safety guidelines is important at any age, but for older adults, it's even more critical to pay attention to your body and what it's telling you. By taking every precaution to stay hydrated and keep your skin safe in the sun, you can spend more time enjoying all the fun summer offers.
Enjoy Dynamic Senior Living Year-Round at Silver Maples of Chelsea
At Silver Maples, we're committed to supporting a positive aging experience and are prepared to assist you and your family through every stage of retirement. If you're interested in learning more about our vibrant, award winning senior living community near Ann Arbor, we invite you to see Silver Maples for yourself. Check out the various senior living options we offer to best suit your needs and lifestyle.
Contact us when you're ready to learn more. We're excited to discuss options and help you find a lifestyle and support system that meet your needs now and addresses your future goals.