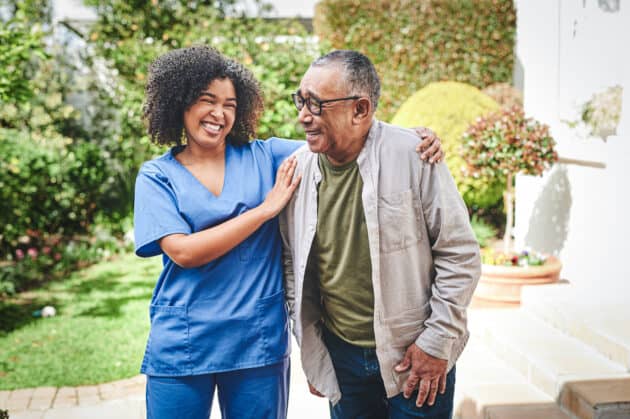 Making a move to an assisted living community can be one of the best moves you ever make, but choosing the right community requires a little due diligence. You want a perfect fit that encompasses everything from housing choices to care options to amenities and services, all in an environment that offers an enriching lifestyle.
The best way to evaluate an assisted living community is to take a tour, experience the community, meet residents and staff, and ask questions. While there are no right or wrong questions, here are six essential questions to guide your decision making to ensure you're making the right decision for you or your loved one.
#1) What housing options are offered?
Apartment layouts will vary from community to community, but all apartment styles should be designed to enable a safe and independent lifestyle for each resident. A well-designed studio may be just right for your personal situation, while others may enjoy the additional space offered in a one- or two-bedroom style, especially if a couple is making the move together. When touring assisted living apartments, also ask about included amenities, such as:
Meals
Utilities
Housekeeping
Laundry
Wi-Fi
Emergency call system
#2) What levels of care are available?
Assisted living communities offer different levels of cares designed to meet a variety of needs, while helping individuals enjoy an enriching lifestyle. It's important to discuss the areas in which support would be helpful to better understand how the community will meet these needs and the frequency the assistance is available. For example, are you able to manage your medications or is ongoing medication management the best idea? For those with mobility concerns who want to stay active, will help be there as needed to get you from one place to another when desired? Since everyone's needs are unique it's essential to know you can receive as little or as much assistance as you need when you need it.
#3) What types of activities are planned?
A move to a community setting is an open door to a whole new world of possibilities that just aren't available in the family home. The best assisted living communities offer a resort-like environment where each day brings different options for personal enrichment celebrations and outings. While touring, take a moment to stop by exercise classes, educational workshops, game rooms, and cultural activities in session to get a feel for what to expect. Also ask about planned off-campus trips like to art galleries, concerts, and theaters in local communities, as well as special on-campus get-togethers like holiday parties and Happy Hours.
#4) What on-site services and amenities are provided?
One of the disadvantages of living at home is that pretty much all of the services you want or need are somewhere else. In an assisted living community, however, life is easier simply by having services and amenities onsite. For example, getting to a weekly hair appointment will no longer be a hassle because many communities offer hair salon and barber services within the community. Other on-site services may include medical care like doctor-ordered blood work or attendance by a foot care specialist, even complimentary transportation for off-site appointments.
#5) Is wellness a priority?
Wellness and happiness go hand-in-hand, which is why getting healthy and staying healthy should be an ongoing endeavor. An onsite wellness program should reflect the commitment of the community to help residents improve their health and their quality of life. Many assisted living communities provide exercise space with a variety of equipment, trained staff and daily instructor-led exercise classes designed for a range of abilities and preferences. Exercising with friends is a great way to stay motivated and is more fun than exercising alone!
#6) How would you describe the lifestyle of the assisted living community?
One of the best ways to assess if an assisted living community is right for you is to ask staff and residents to describe the overall lifestyle. Words like lively, fun, engaging, and enriching are all good indicators that a community is the right choice. The greatest recommendation, however, is the number of smiles you see on the faces of residents and staff. Happy people at work and at play, enjoying a class or a meal, or just chatting with friends are all positive signs that you have found the perfect new home and a place that can improve your quality of life! To learn more, check out our blog, "Why Assisted Living Improves Quality of Life."
Learn More About Assisted Living at Silver Maples
Finding the right assisted living community is an important task, one which is often time-sensitive due to the changing needs of your loved one.  We encourage you to start this process early; before a health event requires a quick decision.
Come explore assisted living at Silver Maples of Chelsea; you'll feel the warmth of our vibrant community the moment you walk in the door. To start the process you can get to know us from afar by visiting our website; there you can access floor plans, included services, pricing, and video tours of several floor plans.  When you're ready to learn more, we invite you to schedule a tour to experience our community first-hand.  For more information or to schedule a tour, contact us today!
Immediate Assisted Living Availability!