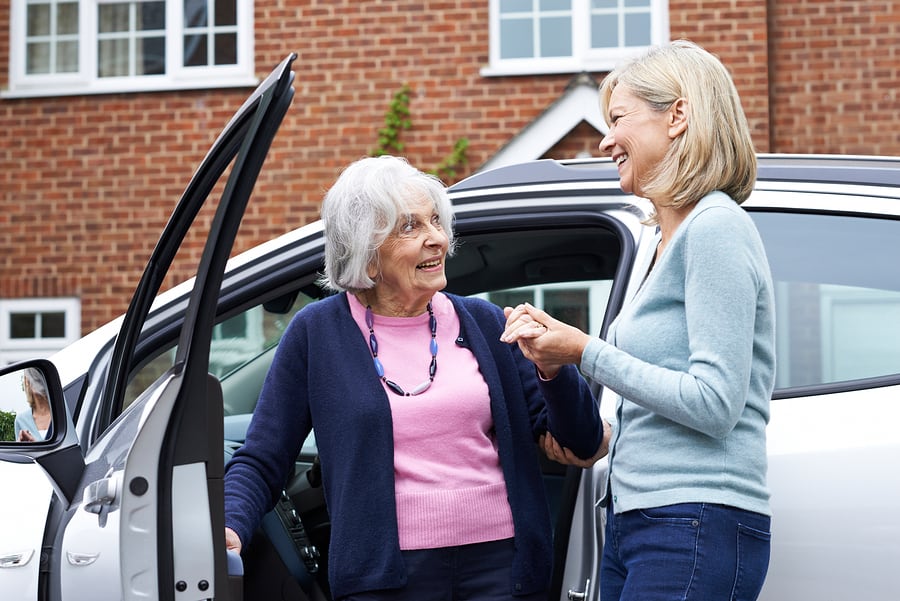 There are many benefits associated with being able to travel. It broadens our horizons, creates new memories, and forces us to step outside of our comfort zones. But, for a person struggling with Alzheimer's or another form of dementia, travel can also be a major source of stress, anxiety, and confusion. However, this doesn't mean traveling is completely off limits for seniors with memory loss. 
In observance of Alzheimer's and Brain Health Awareness Month, which takes place each June, we're sharing some suggestions for caregivers who frequently travel with someone who is living with dementia. Spend some time with us and we'll show you how you can help your loved one enjoy traveling while minimizing potentially stressful experiences.
Suggestions for Traveling With Alzheimer's and Other Forms of Dementia
As a caregiver for a person living with dementia, you know the importance of maintaining structure and routine from one day to the next. Even a modest departure from the norm can feel overwhelming and uncomfortable, especially as the disease progresses. The following suggestions could help you and your travel companion enjoy all the benefits of traveling while being comfortable and safe.
Get Medical Clearance to Travel:

Before you plan a trip, check in with your loved one's doctor. There could be important travel restrictions you don't know about, or your loved one may not be a good candidate for extended travel at this time.

Schedule a "Staycation" First:

  One creative idea to help you determine your loved one's ability to travel and enjoy a few nights away, is to stage a mini "staycation" to test the waters. When planning your staycation, treat the experience exactly as you would if you were a tourist in your own town. Book a few nights at a nearby hotel, drive around for an hour or two and eat all of your meals out. Even consider visiting some local attractions – just like you'd do on a real vacation. The change in environment, scenery and routine will allow you to see first-hand how your loved one adjusts to these changes. You'll be in a much better position to evaluate the possibility of an actual trip.

Give Your Loved One an ID Bracelet: Wandering is a common symptom of dementia; unfamiliar surroundings can sometimes exacerbate this behavior. To be safe, be sure your loved one is wearing an identification bracelet or necklace so if you do get separated you can be reunited quickly and easily. For an added layer of security, you can also consider signing up for a "safe return" program, similar to this one from the Alzheimer's Association.
Pack Important Documents in an Easily Accessible Location:

In addition to comfortable traveling clothes, familiar snacks, and plenty of water, it's a good idea to bring the following items and pack them in a location that is easy to access:

Emergency contact information

List of food allergies & medications

Physician & insurance information

Copies of legal documents (power of attorney, advanced directives, etc.)

Travel itinerary

Plan for Extra Time and Set Realistic Expectations:

People in later stages of Alzheimer's or dementia may need a little extra time to process and feel comfortable with their new surroundings and schedule. It's important to be patient and set realistic expectations regarding what you are able to participate in and when you will be there. Know your loved one's limits; know your own limits. By planning your trips accordingly, and including some extra time in your schedule, you'll help reduce stress for both you and your travel companion – making the trip an enjoyable one.

Limit Travel Time to Four Hours or Less: Whether you're traveling by car or plane, being on the road takes a toll on all of us. It's best to avoid long car rides, flights and layovers; this is not the best time to take the scenic route or save money with more layovers. It's best to keep travel time to four hours or less when possible. To help prevent your loved one from becoming agitated or bored, make sure to pack a sensible selection of appropriate activities to pass the time. Fun games, old photos, favorite music – sometimes simple distractions like these are enough to get through the road-weary blues.
Consider Staying in a Hotel Rather Than With Relatives:

Even if you have friends or family who would love to host you and your traveling companion, choosing to stay in a hotel instead might be a better decision, regardless of the added expense. A hotel offers both you and your loved one a calm place to retreat to if things become hectic during the trip. Regular daily routines may also be easier to maintain in a hotel setting, just be sure to make the hotel staff aware of any special needs in advance.

Choose a Familiar Destination:

If possible, try to limit traveling with dementia to familiar locations the person has already experienced – ideally before the onset of their dementia symptoms. While you're away, you'll also want to help maintain your loved one's daily routine as much as possible, including their meal times, bed times, or other familiar rituals.
For people living with Alzheimer's or other forms of dementia, traveling can help keep the brain active as they explore new places, experience new sensations, and make new friends. As a caregiver, traveling can also pose new challenges for you. The key to successfully overcoming these potential road blocks is to plan ahead, take your time, and enjoy the journey.
Learn More About Silver Maples
At Silver Maples we're passionate about creating and supporting a positive aging experience that fits your personal lifestyle. We want to be the people you turn to when changes occur in your life; a resource to you and your family. We offer beautiful independent living and licensed assisted living accommodations perfect for singles and couples alike. We invite you to come for a visit; tour our grounds, see our various living accommodations, and chat with people who call Silver Maples home – we promise you won't regret it!
Not quite ready for a visit?  Get to know us from afar by exploring our website. You'll find enlightening personal stories and testimonials from residents, their families, and our staff, video tours and so much more. You can also request more information to receive our brochure packet full of great information. Or, feel free to connect with us through social media to get a peek at daily life at Silver Maples. Contact us when you're ready to learn more. We're eager to discuss options and help you enjoy a lifestyle and support system you and your family will love.