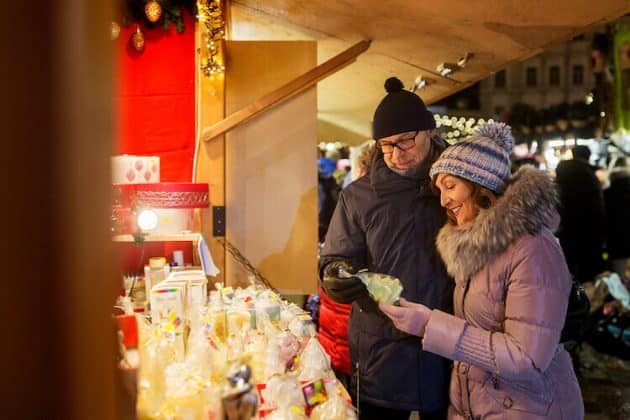 Every year, you love the way your kids' eyes light up when they rip open the bright red wrapping paper and see what you got them for the holidays. And the laughter and excited squeals your grandkids make when they open their gifts always warms your heart.
But what you don't love is the crowds and long lines at the mall. And it seems like it's getting harder and harder to find gifts that your family will enjoy. Fortunately, we can help! With the right holiday shopping ideas and tips, you can find gifts your family will love and ensure you get your shopping done in a timely fashion.
Holiday Shopping Ideas and Tips
Aim for Experience Gifts Instead of Material Presents
When we talk about Christmas gifts, we tend to think of material possessions like clothes, action figures, videogames and home décor. And of course, there's certainly an argument to be made for these types of gifts. For example, your grandkids may have asked specifically for a certain toy they saw in the store or your kids may need new bed sheets or a new painting for their living room.
But did you know experience gifts can actually be more meaningful? In fact, a University of Toronto study found that experience gifts elicit a stronger emotional response and can nurture relationships better than material gifts. If your kids and grandkids have enough stuff in their lives, experience gifts can be much more exciting, fun and memorable.
Experience Gift Ideas for Your Adult Kids
Book a Table at Their Favorite Restaurant. Do your kids need a night out to relax and enjoy themselves? This is a great way to get them out of the house and enjoy an evening with their spouse or friends.
Concert or Broadway Tickets. The excitement and passion at a concert or Broadway show is unbeatable. If your kids have a favorite band or musical, go with this experience gift.
A Spa Appointment. Between work and running a household, self-care is hard to come by. Give your kids a gift card or certificate to a spa for some much-deserved pampering.
Donate to Their Favorite Charity or Organization. Is there a charity your kids are passionate about? Give a donation as your holiday gift! Many organizations will send you and your kids a certificate, information kit or other item to show what a difference your gift is making.
Experience Gift Ideas for Your Grandkids
Museum Passes. This gift will get your grandkids away from the TV and computer and help them learn new things. Plus, you can go with them and enjoy the experience together.
Zoo Tickets. Do your grandkids love the zoo? Get them tickets and spend an entire day checking out the exhibits and enjoying the holiday lights and decorations.
Class or Lesson Certificates. This gift is fun because it taps into your grandkids' personal passions. You can gift them with horseback riding, dance or swimming lessons, all of which provide a great form of exercise. Music, art or even a cooking class can be fun, too!
Yoga Class. Yoga improves flexibility and helps relax the mind. This is a great gift for your grandkids if they need to focus their energy or if they suffer from stress and anxiety.
Where to Purchase Your Christmas Gifts this Year
Now that you have some new ideas of what to get your family for the holidays, the question is where to actually purchase your gifts. Whether you are purchasing material gifts or experience gifts, you can either shop in person or purchase online.
Mall Shopping Tips
If your kids or grandkids want a specific item for Christmas, ask them where you can find it. This way, you can go directly to the stores you need to instead of wasting time wandering around the mall.
Go shopping earlier in the week during the morning or early afternoon hours. This will help you avoid the large crowds that hit the mall and surrounding stores after school and work hours.
Check the Sunday newspaper for ads and coupons that you can use at department stores and restaurants. Coupons can help you purchase your gifts at discounted rates instead of paying full price.
Online Shopping Tips
Purchasing your gifts online means you don't have to go out and brave the holiday crowds. If you're purchasing material gifts, try websites like Amazon or Etsy to compare brands, check out customer reviews and find the best prices.
If you're buying experience gifts, try websites like Groupon and Cloud 9 Living to explore the latest events and activities in your area. If you already have an experience in mind (like a museum or restaurant), visit that specific website and see if you can purchase tickets or passes online.
When ordering gifts online, check the delivery dates and make sure you're buying from a trustworthy source. You can tell a source is reliable by looking for customer reviews, FAQs, delivery information and if they have a customer service center.
Give the Gift that Keeps on Giving at Silver Maples of Chelsea
At Silver Maples, we love the holiday season because it gives us an opportunity to spend more time with loved ones and give back to residents and our community. Experience gifts and donations to causes that are near and dear to our hearts is perfect for those hard-to-shop-for people and is a great way to spread joy.
With the new year just around the corner, we encourage you to begin thinking about your future and where you want to live in your retirement years. Start exploring options well before you're ready to make a move. Initial information gathering can be done easily by visiting our website. There, you can access informative videos, personal stories and testimonials from residents, their families and our staff. Or, feel free to connect with us through social media to get a peek at daily life at Silver Maples.
When you're ready, please contact us to discuss options and schedule a visit. Our knowledgeable staff are eager to assist and help you find an active, engaging lifestyle you'll love.