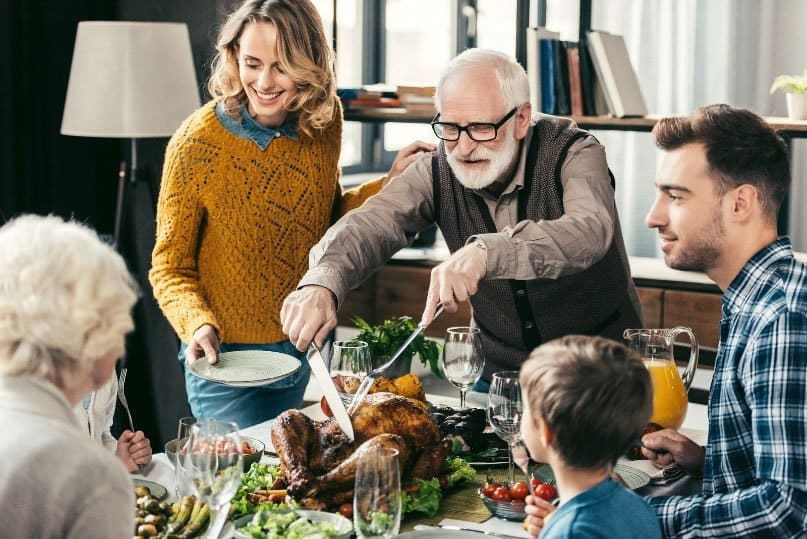 Thanksgiving is just around the corner, which means the holiday season is already upon us – even though it might seem like we just took down the decorations from last year! This is a special time of comfort and cheer, and most importantly, offers the opportunity to celebrate with family we may not see often enough during the normal hustle and bustle of our busy lives.
If you don't live near your aging loved one who is still living independently, the holidays also represent the chance to visit them, making sure they're thriving in their home.
Is it Time to Start the Conversation about Retirement Communities?
While you're visiting your aging parents this holiday season, take note of signs that suggest they may need help with daily activities, or that their health may be on the decline. While bringing up the topic of retirement communities may need to be handled delicately, it's important to discuss the future while your loved one is still actively involved in life. Discussing the assistance they may need, as well as any related financial or legal matters while they can participate in the decision-making process, is a vital step to take before a real crisis may occur. Plus, it's important that they feel their opinion is heard and considered before a final decision is made.
If you aren't sure if your loved one is really maintaining the highest quality of life possible, here are a few warning flags to watch for while you visit over the holidays:
Signs of weight loss. As you give your loved one a big hug, take note of how slender he or she may be. It's common for seniors to experience a loss of appetite due to changes in their health, medication side effects, or even because they simply no longer enjoy cooking for just one person. Check the refrigerator and cupboards to make sure they are stocked with healthy, fresh options. Maintaining a proper diet is vital, so if you notice a significant weight loss, talk to a doctor about your concerns.
Social isolation and emotional well-being. Inquire about friends and neighbors to learn how often they are seeing and meeting up with them to find out if they may be isolated socially. Loneliness can easily lead to emotional concerns like depression. Also, watch for signs of withdrawal from family activities, friends, or sudden changes in mood or personality.
Note the home environment. Take note of how your loved one is getting around the house. If rooms are dirty and not well-maintained when loved ones have always taken pride in their homes, this could be a sign they are having trouble moving about and keeping up with daily household tasks. Plus, if they seem unsteady on their feet, this could lead to a debilitating fall or accident.
Increased Memory Concerns. While it's normal for seniors to become forgetful or experience those "senior moments," if you're finding items in strange places or stacks of bills that haven't been paid, these are signs that the memory loss may be a more serious concern.
Talk to neighbors. If possible, take a few minutes to talk to neighbors or nearby friends. They may be able to provide some valuable insight into the overall health and wellness of your loved one. For instance, they may notice they aren't leaving the house often or haven't been taking out the trash regularly.
The above signs all mean your loved ones may benefit greatly from making the move to a retirement community. They'll not only receive the right level of support to ensure they're aging as independently as possible, but will also be provided with countless services and amenities that improve physical, social, mental, and emotional wellness.
Vibrant Senior Living in Chelsea at Silver Maples
At Silver Maples Retirement Neighborhood, your loved one not only has a variety of senior living options to choose from and a wide array of amenities for an enriched lifestyle, but you'll have peace of mind knowing that they're in a place they will love and can truly call home. You'll feel the warmth and vibrancy of our neighborhood the minute you walk through the door. Check out some of the personal insights and testimonials shared from residents, their families, community members, and our staff, or contact us today to schedule your personal tour of our beautiful retirement neighborhood in the quaint community of Chelsea, Michigan.