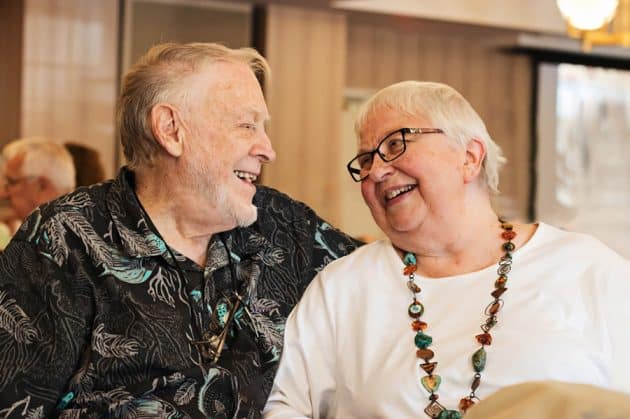 Imagine that the next episode of your favorite TV show debuts tonight, and you're tired of watching it on your small, outdated television. If you wanted to, you could head to the store right now, pick out the latest, greatest model, and be back on your sofa hours before the opening credits start to roll. Because TVs are readily available commodities, sold at any number of nearby stores, it's easy to get exactly what you want, at the exact time you want it.
When it comes to finding a senior living community, though, it's not as simple as waiting until you want to move in. Due to the high occupancy rates at some communities, prolonging your search until you're ready to move could mean spending a year or longer on a waiting list. And, unlike buying a TV, it may be difficult to find a comparable alternative to a community you fell in love with. In this post, we'll recommend the ideal age to begin your search and explain why it's important to start before you're actually ready to move.
At What Age Should You Start Finding a Senior Living Community?
While there is no "perfect" age to start considering a senior living community, the ideal age is most definitely earlier than you think. Take it from Donna and her husband Johan who have called Silver Maples home for the last decade.
"When we were in our early 70s, we had no desire to think about a retirement community – period! But, when one of our friends made the move to Silver Maples, we decided to take a look for ourselves and were pleasantly surprised by what we found. We took advantage of the VIP Stay, an overnight stay in the community, which gave us a good sense of the lifestyle that was being offered.  Now, ten years later, we have absolutely no regrets."
The takeaway? The best time to look for a senior living community could be when you least want or need to! Our recommendation is to start your search in your late 60s or early 70s. Although it may seem strange to begin this process before you feel ready to move, it's important to remember that you're doing this for the "future you." In the future, you may find yourself tired of dealing with yard-work, household maintenance or costly home repairs. You may decide that you're ready to put down your oven mitts – at least occasionally – and let someone else do the cooking. Or, you might even feel an urge to broaden your social circle, with an array of events, trips, and programs that make life interesting.
Exploring independent living options now, puts you in a much better position to take action when or if the time feels right.
Choosing a Senior Living Community Is a Journey, Not an Event
Deciding where you want to spend the next chapter of your life isn't a decision anyone should make overnight. There are many variables to consider, including proximity to loved ones, amenities and services offered, variety of dining, social programming and access to healthcare, just to name a few. Perhaps the most important variable, though, is the way the community itself makes you feel when you visit. This isn't something you can get a sense for by browsing a website or reading a brochure. It requires you to set aside the time to truly immerse yourself in the culture of the community.
Immerse Yourself in Silver Maples
Chelsea, Michigan is a great place to spend your retirement years, and Silver Maples could be the perfect place for you to call home, when the time is right. We'd love to have you out for a visit, but if you aren't quite ready, we encourage you to get to know us from afar by exploring our website. There, you'll find enlightening personal stories, and testimonials from residents, their families, and our staff, video tours and so much more. You can even request more information to receive our brochure packet full of great information. Or, feel free to connect with us through social media to get a peek at daily life at Silver Maples. Contact us when you're ready to learn more. We're eager to discuss options and help you enjoy a lifestyle and support system you and your family will love.