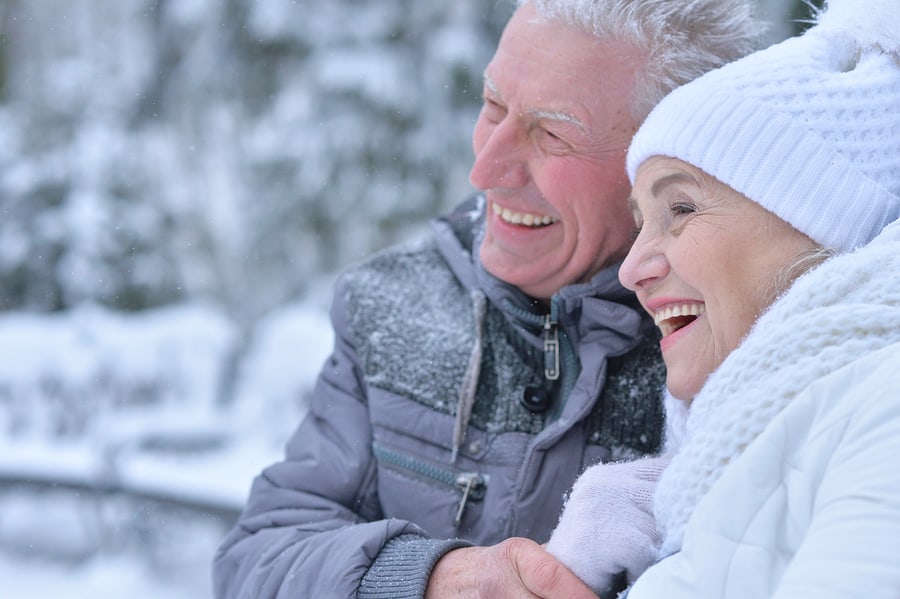 It's often said that the change of seasons is the best part of Michigan; from balmy summer nights and the dramatic burst of color in the fall, to the beautiful blanket of snow and icy glaze we experience during the winter months. While the change of seasons can be wonderful, the transition to winter can be challenging. Winter is our longest season, commencing on December 21st (and often much sooner) and progressing through March 19th and sometimes later.
The effects of winter can make it difficult for seniors to go about their normal routines, causing them to choose to stay home and avoid snowy roads and icy sidewalks. While safety should always be a top priority, social isolation is an unfortunate side effect of winter and can lead to cognitive decline, depression and even poor physical and mental health.
So how do you stay active and connected in the winter months?  Seniors who chose to live in a senior living community find it easy to stay connected and engaged in life regardless of the season.
Community Living Advantages Especially in the Winter
There are so many benefits and perks to choosing a life plan community for your home after retirement. One of the biggest benefits these communities offer their residents is the convenience of having everything you need to enjoy an engaging lifestyle, all available on one campus. While the benefits are countless, they become essential in the winter months.  Here's what you can expect from community living in the winter:
Delicious and Engaging Dining Experiences
Winter weather can cause last-minute delays and cancellations. In times like this, it's easy to opt for a prepackaged frozen meal or even to skip the meal all together. Senior living communities offer a variety of delicious, healthy, restaurant-style meals in a beautiful setting on a daily basis. This takes the guesswork out of the question, "What should I do for dinner tonight?" The added benefit is the ease of social connections that take place over dinner. The simple act of gathering around a table with friends provides both physical and mental health benefits beyond measure. When we eat together, we promote healthy aging. When dining with others we share stories (successes and challenges), learn from other's mistakes and triumphs, and build relationships that create bonds that contribute to our quality of life and overall well being.
Easily Accessible Personalized Transportation Services
Cold temperatures and low visibility in the snow can make driving quite an ordeal in the winter, even for the most experienced drivers. Do you have a doctor's appointment, need to go to the grocery store or have a much-anticipated hair appointment? Don't cancel your plans just yet. When living at a senior living community like Silver Maples, you have the option to utilize easily accessible transportation services. Drivers are experienced, professional and provide personalized, compassionate support to ensure you're able to make your scheduled appointments on time and enjoy those special event excursions. It's hard to put a price tag on peace of mind and service like this!
Convenient On-Site Amenities and Services
Part of the hassle of wintertime is the ability to get your errands done in a timely manner. With winter comes shorter daylight hours, and unpleasant and even unsafe travel conditions as mentioned above. Many senior living communities offer on-site amenities and services for your convenience like:
Salon and barbering
Massage therapy
Foot care
Lab Draws
Postal and notary
Having the option to get all of your errands done in one place, and in the community you live, allows you to maintain your independence, stay safe, and enjoy a quality life.
Plenty of Social Connection Opportunities and Programs
Do you get bored in the wintertime when you're cooped up indoors? Senior living communities have long recognized the importance of staying socially active as you age. Residents of life plan communities enjoy many social, educational, and entertainment opportunities both on-site and in the surrounding communities and stay active and engaged year-round. Examples include art and computer classes, instructor-led exercise classes, lectures, gardening, themed parties, trips to local museums, theatrical performances, favorite restaurants and so much more. You'll never get bored in a community setting, regardless of the season!
Experience Dynamic Community Living at Silver Maples
"The words 'neighborhood' and 'community' are not just buzzwords at Silver Maples. They have carefully created a truly warm, interactive culture," said the Werner family in an online review of our community. Our mission is to create and support a positive aging experience that is personalized to the desires and needs of those that call Silver Maples home. If you're interested in learning more about our vibrant senior living community near Ann Arbor, we invite you to come see Silver Maples for yourself and check out the various senior living options we offer.
If you're still in the research phase and aren't quite ready to visit, we encourage you to get to know us from afar by visiting our website. There, you can view our videos and read personal stories and comments shared by residents, their families and our staff. You can even request more information to receive our brochure packet, or feel free to connect with us through social media to get a peek at daily life at Silver Maples.
Contact us when you're ready to learn more. We're eager to discuss options and help you enjoy a lifestyle and support system you and your family will love, through all seasons.