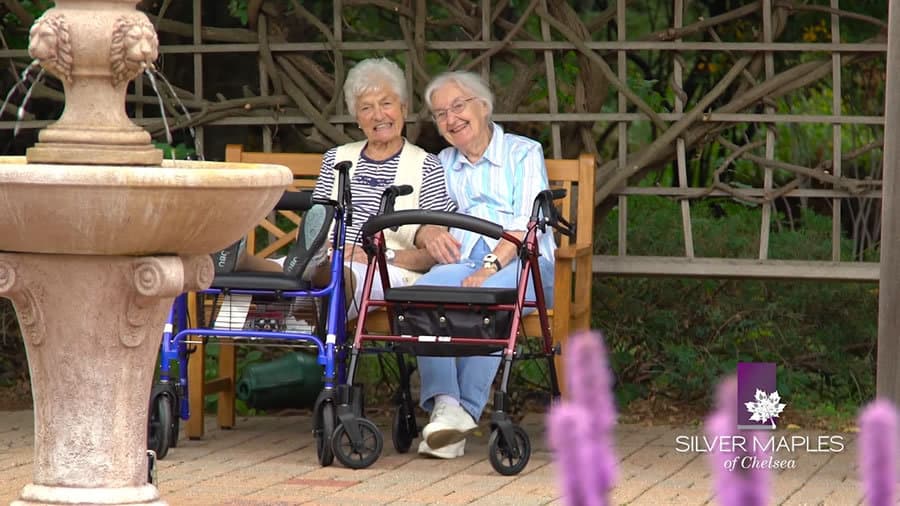 When it's time to move to an assisted living community, it's common for some individuals to experience a certain amount of apprehension. Even though this decision was made after a great deal of research and consideration, you still might be concerned about the impact this transition will have on your current lifestyle, friendships and family.
Assisted Living and Healthy Aging
Studies show that seniors residing in assisted living communities are often healthier, happier, and even remain more independent than those aging in place in their own homes. This may shock you, but it's because assisted living services can improve quality of life for individuals in a variety of ways. First, you'll receive the right level of support to meet your personal needs. This may include simply assisting with daily living activities like meal preparation, housekeeping or managing your medications, to more hands-on support like assistance with dressing or bathing – all services ensure you stay healthy and safe. Secondly, you'll enjoy plenty of options for a vibrant social life and a wide array of convenient services and amenities. All of this contributes to a much higher quality of life.
5 Myths about Assisted Living Communities
Educating yourself about what to expect in your new assisted living community can help alleviate any trepidation you may have about making this important transition. Let's debunk some of the most common myths about assisted living communities so you can feel confident that this lifestyle choice is right for you:
Assisted Living Myth #1: I'll have to give up my independence.
You might be worried that you won't be able to do anything on your own once you join an assisted living community; that you'll need to contact a staff member anytime you want to leave your apartment. It's important to remember that assisted living services are designed to promote and enhance your independence, not take it away. Staff is available around-the-clock to offer support as it's needed, when it's needed, to ensure you and your family have peace of mind regarding your health, safety and overall quality of life.
Assisted Living Myth #2: The food is unappealing.
Most people picture bland, cafeteria style food served in a stark dining room. This couldn't be further from the truth! Assisted living communities today recognize the need for offering a true dining experience, something you look forward to. You'll find a variety of food choices that are both delicious and nutritious. The best part is that these fabulous meals are prepared daily and served in a warm, inviting dining room that feels more like a restaurant and offers you engaging conversation with family and new friends.
Assisted Living Myth #3: I can't afford to make this move.
Being able to afford assisted living care is often cited as a reason not to make the move. However, take a moment to calculate all your current monthly expenses. This includes your mortgage payment, utilities, grocery and healthcare costs, as well as any repairs that may be needed in the future, such as a new roof or windows. When you add up all these items and compare them to the cost of living in an assisted living community, you may find that it's more affordable than you thought. Plus, it's difficult to put a price on the social engagement you'll experience regularly with little to no effort.
Assisted Living Myth #4: The living conditions feel sterile.
You might picture stark white walls, cold floors, and uninviting community spaces awaiting you at an assisted living community, but this image could not be further from reality. Today's communities are warm and welcoming. Individuals enjoy personalizing their private apartments with familiar furniture and décor to make it truly feel like home. Additionally, you'll find warm, cozy common areas ideal for quality time spent with neighbors, new friends and family.
Assisted Living Myth #5: Forced participation in uninteresting programming.
Assisted living communities today are committed to provide programming and engagement opportunities that appeal to all interests, whether you're an outgoing social person or someone who enjoys taking a low-key approach.  From on-site lecture series, art classes, happy hour and a variety of celebrations, to scheduled outings to local hot spots and areas of interest, you're sure to enjoy plenty of opportunities for an engaging lifestyle that fits your personality.
Personalized Assisted Living Services at Silver Maples Retirement Neighborhood
The Meadows at Silver Maples is an assisted living community that focuses on supporting individuals when and how they need it, while offering the freedom to be independent in decisions and tasks as much as possible. Find comfortable assisted living apartments a warm, friendly staff that are available 24/7. Check out some of the personal stories and testimonials shared by residents, their families and our staff. Have we peaked your interest? Contact us today to learn more and start the conversation. We guarantee you'll feel the difference the moment you walk into our vibrant retirement neighborhood, where we're committed to creating and supporting a positive aging experience.
Immediate Assisted Living Availability!