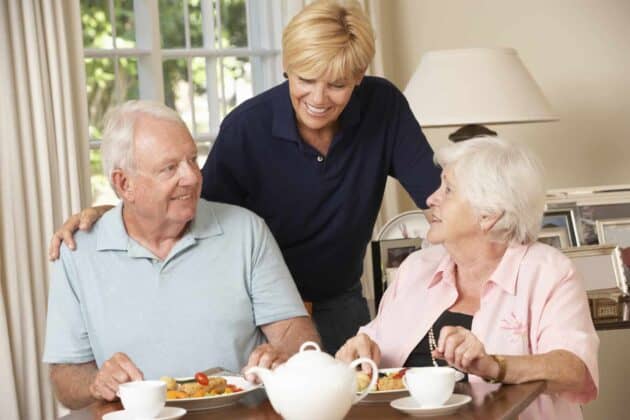 Living a safe, healthy, and independent life are goals we all share regardless of our age. As health related changes occur, this may be difficult to achieve while living at home. Another possibility to consider is moving to an assisted living community. A community setting allows older adults the opportunity to pursue their passions and interests knowing that support is always available if needed to ensure safety, good health and independence. Take a moment to explore the benefits assisted living communities have to offer that could be better than choosing to remain in your current home. We'll highlight areas to consider as you and your family explore and discuss what is best for your personal situation.
1) Assistance With Medication Management – Staying healthy as we age includes taking medications on time and in the prescribed doses, something that can become difficult with time. Changes in memory, eyesight, hearing, and motor skills can inhibit our ability to safely manage medications, resulting in missed doses, overdoses, and worsening health conditions. In an assisted living setting, individuals can rest assured their medications will be stored and dispensed safely and refilled in a timely manner. For more about medication safety, check out our blog, "How to Properly Manage Your Medications."
2) Tasty and Nutritious Meals – As we age it can be challenging to get  all the nutrients we need to stay healthy. Grocery shopping, meal planning, and cooking can become a burden, resulting in weight loss and malnutrition. Dining is one of the main perks and a true pleasure when moving to a community setting. Chef-prepared meals are not just nutritious, delicious and diverse, they also provide a wonderful social opportunity. Plus, no need to stress over the pre-meal preparations and post meal cleanup; it's all taken care of!
For tips about eating well, the everydayhealth.com blog, "Meeting Your Nutritional Needs as You Age," is a great resource.
3) Getting Around Is Easier – Mobility changes often occur later in life which can make social outings, and appointments a chore instead of an enjoyable experience. Whether you'd like help moving from your favorite chair or getting across town for an appointment, traveling from point "a" to point "b" is easier at an assisted living community. Community settings have trained staff and use specially equipped vehicles to provide safe, easy transportation. This allows for participation in all the things you are interested in, without the hassle of coordinating travel arrangements. In fact, many assisted living communities provide complimentary transportation services to get you safely to and from grocery stores, retail stores, worship services and even personal appointments.
4) Socialization Improves Quality of Life – A solitary lifestyle can be one of the greatest threats to healthy aging. Often we think exercise and nutrition are the primary drivers to healthy living and our quality of life, however social connections also have a major impact on our overall wellness.
Research shows that seniors who stay socially active as they age can expect to live longer, feel better, and even have improved cognitive function. Assisted living communities like Silver Maples thrive on socialization and offer the perfect blend of connection opportunities while respecting an individual's privacy and autonomy. Individuals enjoy opportunities to engage in various activities, programs, and outings, all while forging new relationships with fellow residents and staff.
5) A Focus on Independence – Independence is strongly valued at every age; in our autumn years it's something we protect fiercely – and for good reason. Assisted living communities are passionate about protecting your independence as well and work to provide living environments that offer a positive aging experience. For example, apartment layouts are designed specifically with older adults' needs in mind – spacious rooms and doorways, barrier-free showers, and well-placed grab bars make it easier for individuals to move around their homes. People are able to do what they can when they want, all while knowing the staff is there to support and offer assistance when needed.
Make the Most of Life in Assisted Living at Silver Maples of Chelsea
Retirement is a time for joy, new experiences and connections with good friends – there is no better place than Silver Maples of Chelsea Retirement Neighborhood to take life to the next level. Located in Chelsea and close to Ann Arbor, our award-winning community offers a wide range of housing options for older adults in all stages of life with many levels of support. Contact us when you're ready to learn more or get to know us from afar by visiting our website. We're excited to discuss options and help you and your family find a lifestyle and support system that will meet your current needs and address future goals.
Immediate Assisted Living Availability!