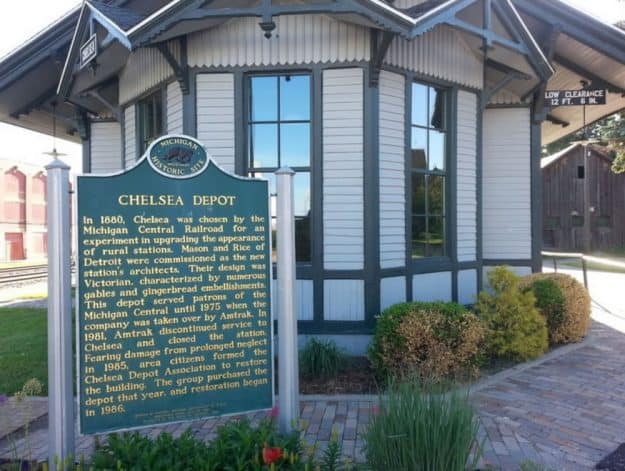 If you aren't already familiar with the area, Chelsea is a quaint city located in southeastern Michigan, just 15 miles west of Ann Arbor. First settled back in the 1830s, Chelsea has grown to an estimated population of over 5,000 residents, keeping that small-town feel with the benefits of big-city amenities and culture.
While the City of Chelsea may have a small physical footprint, it has a big reputation. This thriving small city offers world-class entertainment, first-class health facilities, a variety of unique shops, fine dining, state-of-the-art wellness center, art festivals and educational programs for all ages. It's the perfect setting for seniors who enjoy an active lifestyle and want to engage and connect with their community. Chelsea's quaint size makes it a walkable community which allows seniors to maintain their day-to-day independence for many years.
Countless Things to do in Chelsea
Chelsea is a close-knit, welcoming community rich in history and charm. You feel the inviting warmth the moment you enter the city limits.
Seniors are drawn to Chelsea, below are some of the main reasons:
Year-Round Cultural Events
Chelsea is well-known for its commitment to the arts. Famous actor Jeff Daniels founded the Purple Rose Theater in 1991, offering affordable, professional theatrical performances throughout the year. The art scene is thriving, too, with a wide variety of summer art fairs, festivals and galleries showcasing works from local and national artists.
Easy Access to the Waterloo Recreation Area
Nature enthusiasts love the Waterloo Recreation Area, the largest park in the Lower Peninsula. Residents enjoy spending the day hiking along the 12 miles of trails or guided nature walks at Eddy Discovery Center, fishing in one of the 11 lakes, boating, picnicking and more. And, this 20,000-acre park is located right in Chelsea.
Award-Winning Library
The Chelsea District Library is dubbed the "best small library in America" for good reason. Serving residents of not only Chelsea, but also those in surrounding cities like Dexter and Lima, more than 20,000 people visit the library every month. The innovative facility offers not only an amazing collection of books, periodicals, DVDs, CDs, downloadable e-books and more, but also hosts regular events and programs designed to engage the community.
The Chelsea Wellness Center
The Chelsea Wellness Center, conveniently located adjacent to Silver Maples, recognizes the importance of a healthy body and mind for the best quality of life. Members have access to a variety of cardiovascular and strength-training equipment, a warm water therapy pool, group fitness classes, massage services, personal training, specialized programming for medical conditions and so much more. Residents of Silver Maples enjoy free wellness center membership, too!
State-of-the-Art Health Care
St. Joseph Mercy Chelsea has been providing high-quality health care for over 40 years, and is ranked among the top hospitals nationwide for patient satisfaction. Accredited by the Joint Commission, this world-class facility features leading-edge technology, compassionate care from an experienced team of professionals on a serene campus right here in Chelsea.
Wide Range of Senior Living Options
Despite Chelsea's small size, it offers an abundance of senior housing options for all stages of life and income levels.
Silver Maples Retirement Neighborhood is located on 17 acres of beautifully landscaped grounds and offers a variety of senior housing options. From spacious villas and independent living apartments to licensed assisted living and short stays, you won't just feel like you're right at home – you'll be home.
Chelsea Retirement Community has been offering senior care options for more than 100 years, and offers independent living, assisted living, memory care and skilled nursing all on one campus.
The Pines is a 55 and older community which offers one and two-bedroom apartments.
With Ann Arbor, the sixth largest city in the state of Michigan and home to the University of Michigan Wolverines nearby, residents of Chelsea can still enjoy easy access to the downtown Ann Arbor area. This bustling center of retail shops, cultural attractions, medical facilities and commercial district offers a variety of exciting things for those of all ages to do throughout the year. In fact, countless Chelsea citizens make the easy commute to work in Ann Arbor every day.  The residents at Silver Maples also enjoy regular excursions to Ann Arbor to visit places like the Natural History Museum, go shopping at Briarwood Mall and the Kerrytown Shops, take in a performance from the Ann Arbor Symphony Orchestra or head to the annual Ann Arbor Art Fair.
Discover More Great Reasons to Retire in Chelsea, Michigan
If you've enjoyed reading about what makes Chelsea the right choice for seniors, you won't want to miss our companion piece, "Chelsea Michigan: A Small Town With a Big Heart." In this post, you'll learn even more about what makes our town one of the best places to retire in Michigan, including interesting tidbits about its rich history.
Vibrant Senior Living in Chelsea at Silver Maples
Experience warmth, friendship and passion for life at Silver Maples Retirement Neighborhood. You'll have access to all the amazing amenities in Chelsea and nearby Ann Arbor, plus a wide variety of social and leisure opportunities right here on campus to keep you living life to the fullest. Contact us today to schedule your personal tour to see all that our beautiful community has to offer.