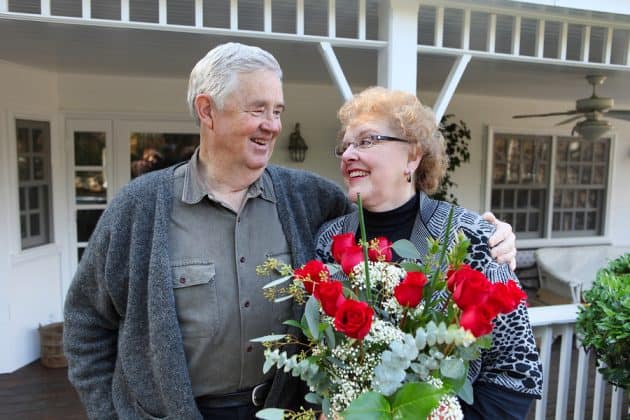 As Valentine's Day quickly approaches, visions of romantic dinners, roses, chocolates, and lavish gifts often come to mind. Most think this is a holiday for couples; however, it's also a day to celebrate the many loves, friendships and important people in our lives. The object of your love can take many forms: a spouse, new romantic interest, special friend, grandparent, parent, children or any family member for that matter. This Valentine's Day, take an opportunity to say "thank you" and show appreciation for those that make life a little easier.
Thoughtful, Inexpensive Ways to Celebrate
Valentine's Day doesn't have to be about expensive nights out or materialistic presents, the point is to show those you love how much you appreciate them. This can be done with small, sweet gestures like post-it-notes hidden in cupboards, drawers or on mirrors with compliments of what you love about them. Personal sentiments are always enjoyed. Or, pick up a few of their favorite (inexpensive) things like their favorite candy, a book by their favorite author, or even their favorite magazine. The holiday should be viewed as a fun way to show your love.
Chelsea Offers an Array of Valentine's Day Opportunities
Chelsea is a close-knit, charming and thriving small city in southeastern Michigan, just 15 miles west of Ann Arbor. Founded in the 1830s, Chelsea is a picturesque community with a quaint downtown area that has an array of delicious restaurants, shopping options and entertainment choices for all ages and interests. For a truly wonderful Valentine's Day (or any date night or day on the town), consider these local suggestions for you and your loved one to enjoy:
1. Wine and Dine at the Common Grill
Located in the heart of downtown Chelsea, the Common Grill restaurant features fresh, imaginative American dishes and great service in a retro chic setting. Seafood is a specialty and their scrumptious, buttery poppy seed dinner rolls are desired by all. The Common Grill's elegant yet airy ambiance and atmosphere is perfect for a romantic date night or afternoon excursion, whatever suits you and your loved one.
2. Indulge Your Sweet Tooth at the Annual Chocolate Extravaganza
Taste a delectable treat at Chelsea's Annual Chocolate Extravaganza, where you can sample more than a mouthful of delicious desserts offered by over 30 local businesses and restaurants. This event is completely free for you and your Valentine, with an opportunity to shop exclusive sales just for Extravaganza participants. "The fun goes beyond chocolate. There are opportunities for our customers to 'make and take' free valentine crafts," shares Jennifer Fairfield, the owner of the Garden Mill. This year's event takes place on Saturday, February 9th from 10 a.m. until 5 p.m.
3. Take a Tour of Ugly Dog Distillery
Michigan's premiere vodka, gin and rum producer is well-known in the Great Lakes area for being the first distillery to offer bacon flavored vodka, a popular ingredient for Bloody Mary devotees. Each hand-crafted batch of spirits is made from Michigan Winter Wheat as a commitment to support the local economy. The entire brewing and bottling process takes place on-site at their distillery in downtown Chelsea.
4. Enjoy a Performance at the Purple Rose Theatre
Founded by actor, playwright and Chelsea's own Jeff Daniels, the Purple Rose Theatre (PRTC) offers original American plays in an intimate 168-seat theatre. The not-for-profit's mission is to "create fresh, original productions that get our audiences talking among themselves and feeling something new." Patrons can also enjoy an apprenticeship program, performance classes, readings, lectures and tours.
Learn More About Chelsea and the Surrounding Area
This cozy, corner café on Main Street in Chelsea, offers an assortment of delicious sandwiches, crepes, desserts, seasonal beverages and an impressive beer and wine selection. Looking for a little entertainment? They've got that too, offering music on Wednesdays with their Wednesday Wines, Rhythm & Brews and additional performances to carry them through Saturday evening. As a special treat, this Valentine's Day you can check out their Two Hearts Valentine's Day Show on February 14th from 8:00 p.m. – 10:00 p.m., featuring nationally known Jason Dennie and Rochelle Clark.
Learn More About Chelsea and the Surrounding Area
If you enjoyed these fun ideas and local Valentine's Day ideas and events, be sure to check out our other recommendations for things to do in Chelsea and the surrounding area, including a profile about our vibrant local art scene, and why we think Chelsea is the right choice for seniors.