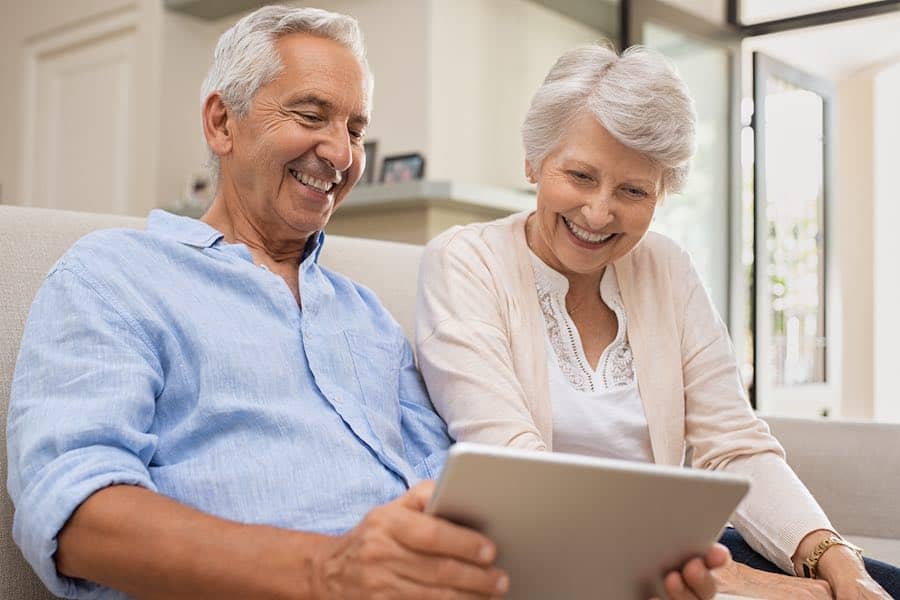 In the second year of its five-year Age Well Study, one area the Mather Institute studied was social activity of individuals in senior living communities. Similar to previous research, results showed that a greater sense of social cohesion and community belonging positively impacted health behaviors and overall wellness. While it may come as no surprise, social activity offers a variety of benefits, including improved cognitive function, better emotional health and even increased longevity. 
But what if you can't physically interact with friends and family due to an illness, a physical injury, or even social distancing recommendations? In these types of situations, technology can temporarily replace in-person experiences to keep you socially engaged.
How Technology Provides Seniors with Social Interaction
Technological innovations over the last decade have opened up entirely new ways for us to build and maintain relationships and take a more active role in our communities. If you're unable to participate in in-person activities you typically enjoy, technology can help provide social interactions in the following ways:
Video Chats
Instead of calling your children, grandchildren and friends, why not do a video call where you can actually see their faces? Seeing their facial expressions on screen will help you feel connected more than simply hearing their voices. Skype, Facetime, Zoom and many other video conference tools are available for you to download onto your smartphone and computer to video chat with loved ones as often as you want!
Social Media
Social media isn't just for kids and young adults. In fact, 46 percent of people 65 and older use Facebook. This is because social media platforms like Facebook make it easier for you to feel close with family and friends when you aren't physically with them. You can use Facebook to view photos and videos your kids and grandkids share to their profiles, and you can even communicate with them through text or video chat in Facebook's messenger app.
Online Volunteering
Are you looking for out-of-the-box ideas for feeling like an active member of your community? During this unprecedented time of social distancing, it's best to avoid in-person volunteer opportunities. However, there are countless ways to volunteer online. For example, one online volunteer opportunity we recently highlighted was Zooniverse, a platform for people-powered research that connects you with a research project you're most interested in. You can even join discussion groups on the Zooniverse website and connect with people who have the same interests and passions as you!
Online Gaming
Games are one of the best ways to exercise your brain and have a good time with friends and family. And thanks to technology, you can still enjoy these benefits at home by playing your favorite games online. Words With Friends and Fairway Solitaire are just two games you can play on all your devices with your kids and grandkids, even if you're not in the same physical location as they are.
Emails
Just like mail, everyone loves getting an email from someone they know. Not only is it a touching gift to receive from a loved one or friend, but the act of drafting a personalized email to someone you care about can help you feel more connected to them. And unlike mailed letters, you won't have to wait days for your message to be delivered to your loved one and then additional days to hear back. Once you click send on your computer or phone, your loved one will immediately receive your email and they'll see it the next time they check their inbox.
Technology Fuels Vibrant Retirement Living at Silver Maples of Chelsea
At Silver Maples of Chelsea, we know technology can enhance the lives of older adults and improve their well being. After all, technology can help combat loneliness and isolation and can even improve cognitive health. This is why we embrace technology as much as possible at our senior living community. We have "How To" classes that highlight social media platforms like Facebook and Instagram, and we offer personal computer assistance through our enrichment programming. We've recently added a community app to offer a convenient way for our residents to easily connect with their neighbors and access calendars and newsletters.  Technology offers convenience and social connection opportunities which is invaluable!
If you're ready to learn more about our award winning community, contact us today to get additional information about our living options, current availability and waitlist options that suit your move-in timeline. Our knowledgeable staff is ready to assist and help you find a retirement community that fits your individual needs when you're ready!